Passage is a platform where creators can replace conventional 2D pages and craft 3D digital experiences. Passage empowers individuals to effortlessly design immersive online events and experiences, easily shareable through a simple browser link.
Essential information for their token is available on the MEXC Digital asset introduction page. Furthermore, we are listing (PASG/USDT – Trade it here) on the Innovation Zone! Check it out now!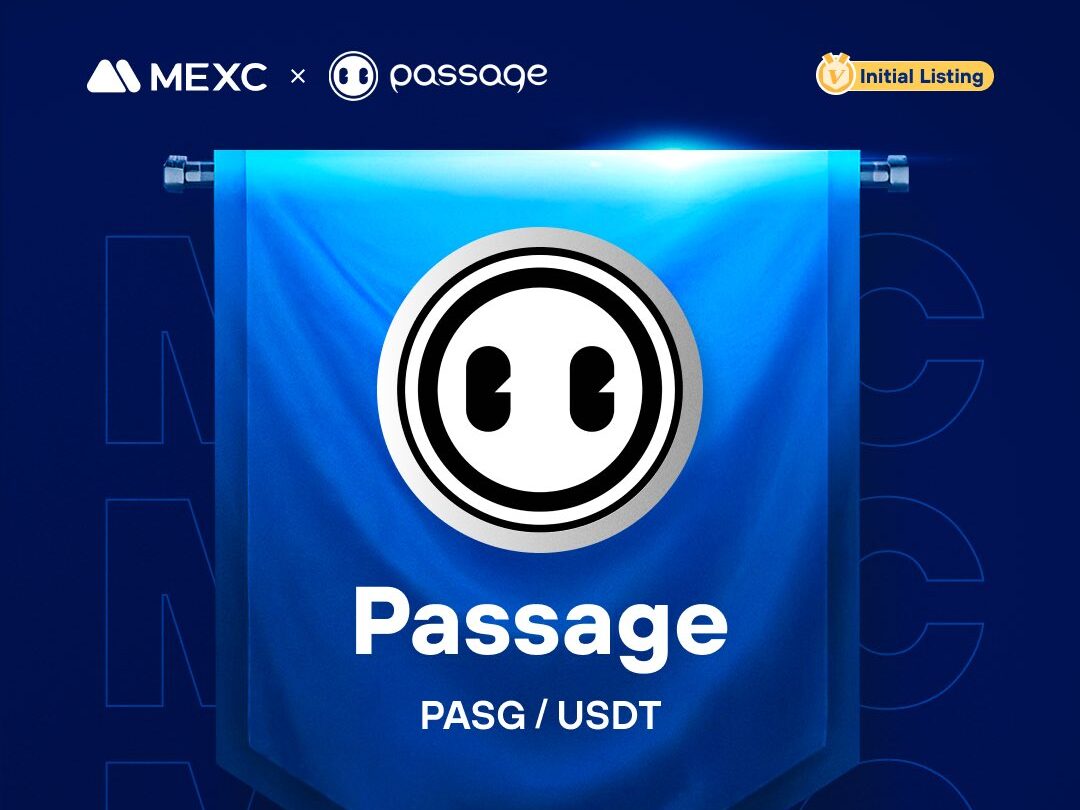 Passage is The Gateway For an Easy 3D Digital Experience
Passage serves as an ecosystem designed to facilitate the creation and interconnection of virtual and physical experiences, all through user-generated games. At first glance, Passage appears as a social network. However, it functions as an open world-building platform equipped with discreet infrastructure, enabling the linkage of digital and metaverse experiences.
The Passage journey begins with a familiar 2D interface, from which users can explore and access captivating 3D environments. Furthermore, it is powered by Cosmos. Therefore, Passage is able to maintain blockchain flexibility and offers an array of tools to enhance the accessibility of virtual worlds. These tools encompass in-browser streaming, cross-world commerce for fungible tokens and NFTs, social features, and a robust 3D communication framework.
Why is Passage Important to The Future of Web3?
As remote work became popular, employers saw a new challenge — maintaining employee engagement. Online meetings became particularly challenging, with a staggering 80% of remote workers experiencing 'Zoom fatigue.' Simultaneously, event organizers, artists, and community leaders sought ways to captivate audiences beyond the confines of flat screens.
Therefore, Passage came to the market with the aim of simplifying the virtual world. Historically, creating 3D experiences was a labor-intensive process. Video games, for example, often took years to develop, even with sizable teams of trained developers. Architecture firms relied on highly specialized software with custom features, making 3D modeling an exclusive industry on the cusp of disruption.
Passage changes the game by offering an accessible way to construct online 3D spaces for your community, events, teams, and more. It's as straightforward as selecting assets from their marketplace. This includes 3D models, plugins, and even game mechanics, and seamlessly assembling them using the Passage World Builder.
Now, the creation of 3D spaces is no longer reserved for professionals. Anyone can do it with a simple drag-and-drop approach. If you're eager to dive deeper and craft something unique, you have the full capabilities of Unreal Engine 5 at your disposal.
What is The Passage World Builder?
Passage World Builder is a versatile and potent toolkit for crafting and linking immersive 3D worlds. With Passage World Builder, creating 3D assets and assembling them into stunning environments becomes easy and accessible to everyone. Furthermore, it is absolutely free! So, what makes 3D worlds so easy? Here is why:
Templates: Start your creative journey with template worlds and dive right in to personalize your virtual space.
Drag & Drop Editor: Select the elements you prefer and effortlessly piece them together like building blocks using the user-friendly drag-and-drop editor.
Marketplace: Explore the marketplace. It features a wide array of 3D assets created by Passage and other contributors, including both free and paid options. You can discover everything from character animations to unique furniture pieces.
AI Integration: Harness the transformative power of Sortium's AI technology. It offers limitless possibilities for customizing your 3D assets, from retexturing to generating entirely new components.
Unreal Engine: For those who desire a hands-on approach and wish to build their worlds from the ground up, you have the full capabilities of Unreal Engine 5 at your disposal!
What is the PASG Token?
PASG serves as the native token within the Passage ecosystem, offering a range of functionalities. For starters, PASG holders have the opportunity to actively engage in governance. They can participate in voting on proposals that shape the platform's future direction and development. Furthermore, PASG holders can stake and delegate their tokens to validators. In return, they receive rewards, which include a portion of tokens spent in the marketplace and inflation-related incentives.
It also encourages open-source contributions. Developers have the chance to earn PASG through their contributions to the platform's open-source development. This includes activities such as resolving bugs, introducing new features, and enhancing existing functionalities.
Where to buy PASG Token
You can find PASG Token here at MEXC! We are listing PASG/USDT in our Innovation Zone!
What is the Price of PASG Tokens?
The PASG Token is currently trading at MEXC with a live price of $0.01263. You can check the live price of their token right here!
How to buy PASG Tokens on MEXC
You can buy PASG Tokens on MEXC by following the steps:
Log in to your MEXC account and click [Trade]. Click on [Spot].
Search "PASG" using the search bar to see the available trading pairs. Take PASG/USDT as an example.
Scroll down and go to the [Spot] box. Enter the amount of PASG you want to buy. You can choose from opening a Limit order, a Market order, or a Stop-limit order. Take Market order as an example. Click [Buy PASG] to confirm your order. You will find the purchased PASG in your Spot Wallet.
You can find a detailed guide on how to buy PASG Tokens here.
Get Free Airdrops with MEXC Launchpad!
Did you know MEXC gives out 20+ free airdrops weekly? Launchpad and Kickstarter events ensure that all our loyal MX token HODLers receive a ton of new tokens! Learn all about it at our MX Zone now!
Meanwhile, check out all of the listings in the Innovation and Assessment zones as well as the major tokens in the Main Zone – we have more amazing projects to come! Visit the Hot Projects section as well to uncover more featured popular tokens. Lastly, feel free to visit MEXC Academy to learn more about cryptocurrency!
Start your travel on MEXC