MoonDAO or MOONEY (MOONEY/USDT – Trade it here) is a space exploration dream. They are hoping to create a self-sustaining and self-governing settlement on the moon by 2030 using MOONEY. Basic information for their token is available on the MEXC Digital asset introduction page. Furthermore, MoonDAO is collaborating with MEXC to bring you 3,000,000 MOONEY, check it out now!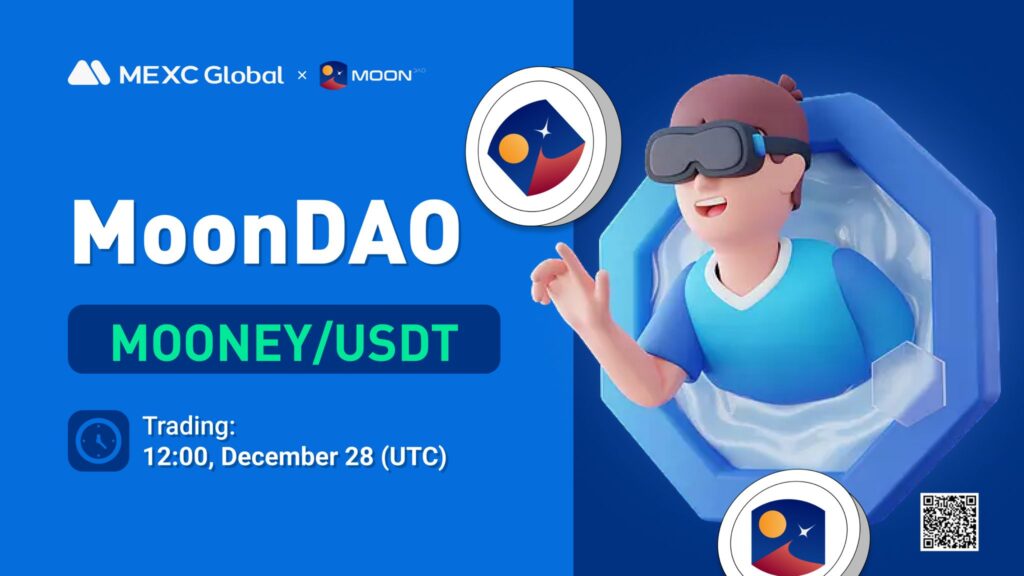 How Does it Work
MoonDAO wants to serve as a base for humanity's exploration of the universe. They believe that space is the future of mankind. It is also a great potential to redefine our current civilization. As we take our first steps into the unknown, it is best to have a safety net protecting us, and there is where MoonDAO comes in.
MoonDAO accumulates the power of freedom, equality, transparency, and decentralization for everybody, converting it into an achievable target. Now, the platform will serve as a meeting place for people to work together. It will also be a platform of the future, where everyone strives to bring life beyond Earth.
Furthermore, MoonDAO will create, promote, and assist mankind in fulfilling the space exploration goal, starting with the moon. Space research, exploration, and many more are all available on the platform. Additionally, they are indifferent to nations. Therefore, everyone can freely join in and share bright ideas.
What is next for MoonDAO? According to their Moon Phase 2, they are planning to send a MoonDAO member to space. This is not a joke, it is in their roadmap and it is something very achievable. They will also provide funding for future space research and explorations. Collect MOONEY now and prepare for your journey to space!
Recent Price & Performance of MoonDAO (MOONEY)
Currently, their market price is $0.005143 per unit. It has a fully diluted market cap of $13,657,542. It also has a 24-hour trading volume of $413,311. You can check the live price of their token right here!
How to buy MoonDAO (MOONEY)
You can buy MoonDAO (MOONEY) on MEXC by following the steps:
Log in to your MEXC account and click [Trade]. Click on [Spot].
Search "MOONEY" using the search bar to see the available trading pairs. Take MOONEY/USDT as an example.
Scroll down and go to the [Spot] box. Enter the amount of MOONEY you want to buy. You can choose from opening a Limit order, a Market order, or a Stop-limit order. Take Market order as an example. Click [Buy MOONEY] to confirm your order. You will find the purchased MOONEY in your Spot Wallet.
You can find a detailed guide on how to buy MOONEY token here.
Keep Yourself Updated With The Crypto Trend
Check out all of the listings in the Innovation and Assessment zones as well as the major tokens in the Main Zone – we have more amazing projects to come! What's more, MEXC lists moonshots and offers access to trade major cryptocurrencies. Visit the Hot Projects section as well to uncover more featured popular tokens. Lastly, feel free to visit MEXC Academy to learn more about cryptocurrency!
Start your travel on MEXC Global