Medieval Empires or MEE (MEE/USDT – Trade it here) is a brand new multiplayer online strategy game. It runs on the Polygon blockchain, bringing users a new blockchain gaming experience like never before. It will be available on PC, MAC, and mobile with full interoperability. Basic information for their token is available on the MEXC Digital asset introduction page. Deposit MEE now and earn rewards!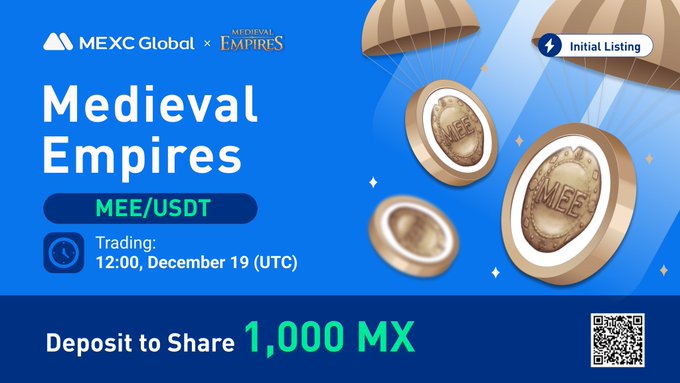 How Does it Work
Medieval Empires takes place in the 13th century, during the start of the legendary Ottoman Empire. In the game, Erturul Gazi of the Trukic Tribe will battle the future King Edward 1st who led a triumphant 9th Crusade across Europe. This game takes place in a passive PvE environment. Players will begin constructing cities while trading, battling, and establishing alliances. Additionally, players' decisions and conflicts will shape the future expansion of the global map. This will create an unpredictable environment and an ever-changing gaming universe.
The voyage of players begins with NFT and PvE. You are an NFT landowner aiming to construct your own town training heroes. Meanwhile, there will be frequent assaults on your land that you must deal with. Alternatively, you can choose to rent a spot from another player's land and build your property there. However, you need to pay taxes.
Players can also construct temporary camps and participate in events. It comes in the form of PvE quests and PvP combats. Furthermore, event winners will earn amazing rewards and fame! Are there any less violent options? The answer is yes! Players can choose to concentrate on maintaining their land or property to earn tax money in the form of tokens. Players can also become merchants and trade with other players for in-game items (NFTs). Then, you can exchange the items for cryptocurrencies. If this game piques your interest, you should immediately check out their official page and collect some MEE tokens at MEXC!
Recent Price & Performance of Medieval Empires (MEE)
Currently, their market price is $0.01329 per unit. It also has a 24-hour trading volume of $598.53 million. You can check the live price of their token right here!
How to buy Medieval Empires (MEE)
MEXC will list Medieval Empires (MEE) in the Assessment Zone and open trading for the MEE/USDT trading pair. Trading starts at 12:00 on 12/19/2022 (UTC).
You can buy Medieval Empires (MEE) on MEXC by following the steps:
Log in to your MEXC account and click [Trade]. Click on [Spot].
Search "MEE" using the search bar to see the available trading pairs. Take MEE/USDT as an example.
Scroll down and go to the [Spot] box. Enter the amount of MEE you want to buy. You can choose from opening a Limit order, a Market order, or a Stop-limit order. Take Market order as an example. Click [Buy MEE] to confirm your order. You will find the purchased MEE in your Spot Wallet.
You can find a detailed guide on how to buy MEE token here.
Keep Yourself Updated With The Crypto Trend
Check out all of the listings in the Innovation and Assessment zones as well as the major tokens in the Main Zone – we have more amazing projects to come! What's more, MEXC lists moonshots and offers access to trade major cryptocurrencies. Visit the Hot Projects section as well to uncover more featured popular tokens. Lastly, feel free to visit MEXC Academy to learn more about cryptocurrency!
Start your travel on MEXC Global