Solidus has successfully created an ecologically aware, cutting-edge High-Performance Computing (HPC) Data Centre spanning over 8,000 square feet. Now, Solidus is on the verge of delivering to the world a pioneering deflationary AI infrastructure utility coin called AITECH.
Essential information for their token is available on the MEXC Digital asset introduction page. Furthermore, we are listing (AITECH/USDT – Trade it here) on the Innovation Zone! Check it out now!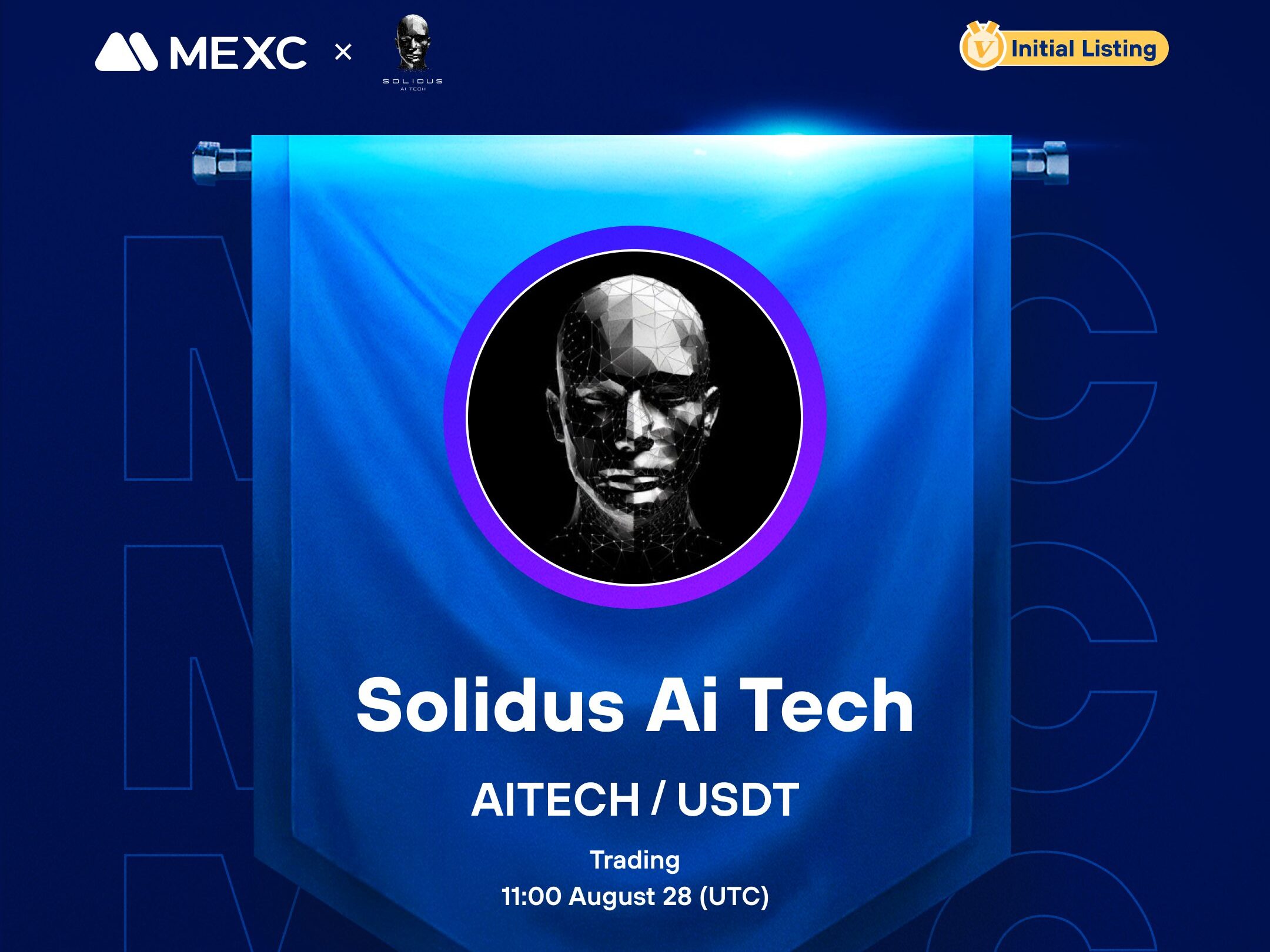 What is Solidus Ai Tech Bringing to the Community?
Solidus Ai Tech is at the forefront of cutting-edge computation networks. It aims to provide organizations involved in complex AI projects with the high-performance computing power they demand. In today's landscape, the significance of computing power cannot be overstated. Therefore, the team offers Governmental Authorities, Corporations, SMEs, Professionals, and Metaverse projects unparalleled access to exceptional computing resources.
The infrastructure Solidus Ai Tech brings is highly adaptable and intentionally crafted to cater to everything Metaverse. Their program fosters a peer-to-peer network among computers, allowing application administrators and users to tap into the computing resources of other users. These innovative tools empower users to complete tasks requiring varying degrees of computing time and capacity.
Benefits of Using Solidus Ai Tech
Their HPC Data Center is strategically located in Bucharest, situated in a secure green energy facility. Meaning, Solidus Ai Tech benefits from access to cost-effective electricity and enjoys the fastest internet speeds across Europe. Their biggest strength comes from the Intellectual Property (IP) technology. It optimizes hardware efficiency by approximately 40% more than the industry standard. This efficiency advantage allows the team to provide HPC services at competitive price points and lightning-fast speeds.
Meanwhile, Solidus Ai Tech's cyber security protocol boasts military-grade encryption measures to ensure the utmost protection for users' data. The unique IP software further delivers unmatched speeds while simultaneously reducing operational costs. In the realm of HPC services, the cloud is the predominant platform, enabling on-demand access to computing resources. What makes their HPC distinct is the utilization of cutting-edge technology. They have the capability to power down nodes or place them in a dormant state, resulting in substantial energy savings. By deploying the latest HPC servers, they anticipate that they do not need replacements for up to a decade.
Where to buy AITECH Token
You can find AITECH Token here at MEXC! We are listing AITECH/USDT in our Innovation Zone!
What is the Price of AITECH Tokens?
The AITECH Token is currently trading at MEXC with a live price of $0.02281. It also has a fully diluted market cap of $45,573,688. You can check the live price of their token right here!
How to buy AITECH Tokens on MEXC
You can buy AITECH Tokens on MEXC by following the steps:
Log in to your MEXC account and click [Trade]. Click on [Spot].
Search "AITECH" using the search bar to see the available trading pairs. Take AITECH/USDT as an example.
Scroll down and go to the [Spot] box. Enter the amount of AITECH you want to buy. You can choose from opening a Limit order, a Market order, or a Stop-limit order. Take Market order as an example. Click [Buy AITECH] to confirm your order. You will find the purchased AITECH in your Spot Wallet.
You can find a detailed guide on how to buy AITECH Tokens here.
Get Free Airdrops with MEXC Launchpad!
Did you know MEXC gives out 20+ free airdrops weekly? Launchpad and Kickstarter events ensure that all our loyal MX token HODLers receive a ton of new tokens! Learn all about it at our MX Zone now!
Meanwhile, check out all of the listings in the Innovation and Assessment zones as well as the major tokens in the Main Zone – we have more amazing projects to come! Visit the Hot Projects section as well to uncover more featured popular tokens. Lastly, feel free to visit MEXC Academy to learn more about cryptocurrency!
Start your travel on MEXC