Hosky Token (HOSKY/USDT – Trade it here) is Cardano's first-ever meme coin. It has no fundamental value; the only reason it exists is to give crypto enthusiasts another reason to go on a roller coaster ride and bet on crypto's next dog-themed mascot. Basic information for their token is available on the MEXC Digital asset introduction page.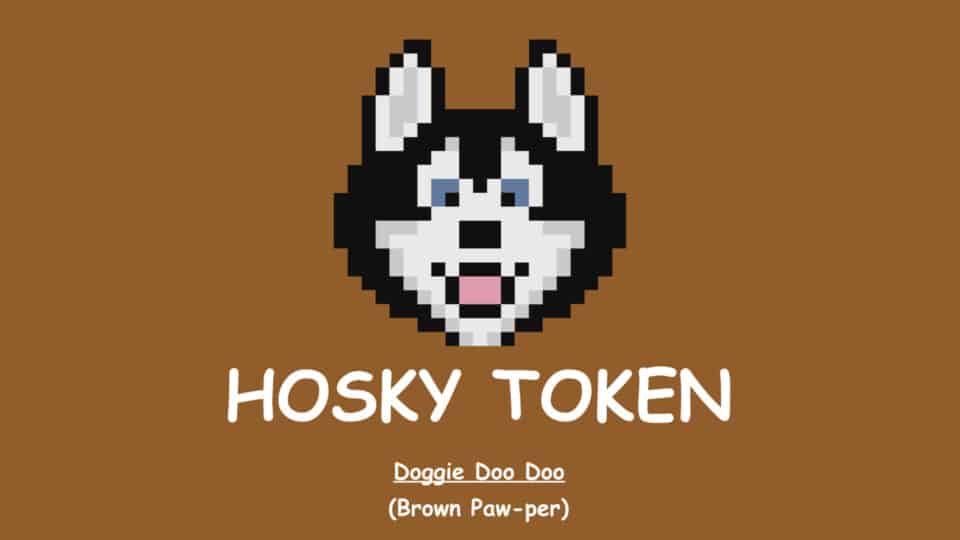 What is Hosky Used For
The HOSKY Token was created due to the lack of low-quality shit coin meme tokens in the Cardano Ecosystem. The team saw that such a great need existed and are here to fill that gaping hole as any good boy would. The team brings absolutely nothing other than low-quality memes, no financial value, no promises of mastiff gains, no mind-beagle-ing technology 1, just doggo memes.
Core features of Hosky
Marketing Strategy
Constantly putting the crypto projects down and still getting followers is not everyone's cup of tea. This is the element that makes the Hosky token stand out from the other meme coins in the market.
Doggie Bowl Pull Rates
Users never know how many Hosky tokens they are going to get. Unlike other crypto projects where users do know the exact amount of tokens they're getting for their money, the Hosky token keeps you in suspense, as explained later in this article.
Tokenmics of Hosky
The initial token mint puts exactly 1,000,000,000,000,000 into circulation.
50% of the tokens will be "Gifted to the Master" (presumably the founder of Cardano, Charles Hoskinson), and the other 50% will be allocated as shown by the following chart:
To-Be-Determined
60% of the supply has no designation at this moment; howl-ever (however), the team plans to use all of our dexterous doggo brains to get this token into as many paws as paws-ible (possible).
Meme Acquisition
10% of the circulating supply will be used to further grow the meme pool and to increase its meme howl-dings.
Stake Pool Operators
10% of the circulating supply will be allocated to SPOs for distribution. This does not mean users can expect a $HOSKY Pool, but it also does not mean that it is completely out of the question. This is for the community to decide.
Doggie Bowl™
10% of the circulating supply will be available through the Doggie Bowl™, which is our token faucet available on hosky.io.
Founders
10% of the circulating supply has been sent as a treat to the wallets of the token founders. We have no intention of selling and plan to increase our howl-dings.
Recent Price & Performance of Hosky Token (HOSKY)
Currently, the market price for HOSKY is $0.00000001778 per unit. They have a market cap of $1,765,627 and a fully diluted market cap of $17,067,190. You can check the live price of their token right here!
How to buy Hosky Token (HOSKY)
You can buy Hosky Token (HOSKY) on MEXC by following the steps:
Log in to your MEXC account and click [Trade]. Click on [Spot].
Search "HOSKY" using the search bar to see the available trading pairs. Take HOSKY/USDT as an example.
Scroll down and go to the [Spot] box. Enter the amount of HOSKY you want to buy. You can choose from opening a Limit order, a Market order, or a Stop-limit order. Take Market order as an example. Click [Buy HOSKY] to confirm your order. You will find the purchased HOSKY in your Spot Wallet.
You can find a detailed guide on how to buy HOSKY token here.
Keep Yourself Updated With The Crypto Trend
Check out all of the listings in the Innovation and Assessment zones as well as the major tokens in the Main Zone – we have more amazing projects to come! What's more, MEXC lists moonshots and offers access to trade major cryptocurrencies. Visit the Hot Projects section as well to uncover more featured popular tokens. Lastly, feel free to visit MEXC Academy to learn more about cryptocurrency!
Start your travel on MEXC Global