Dotori or DTR (DTR/USDT – Trade it here) is the digital currency for Korea's social networking service Cyworld. Cyworld was Korea's top social networking site that pre-dates Facebook. Now, they are back with a vision for the future. Basic information for their token is available on the MEXC Digital asset introduction page.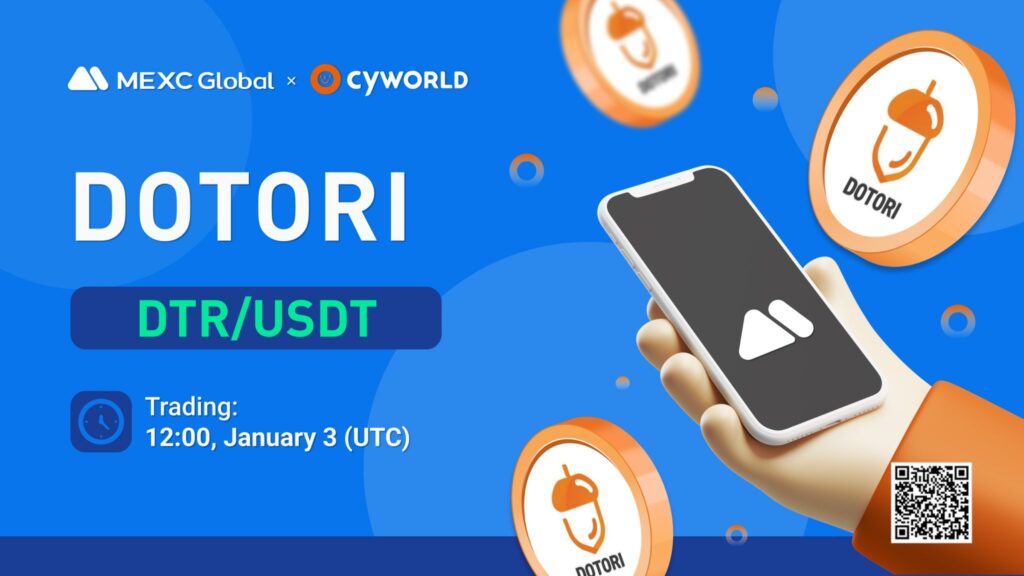 What is the History of Cyworld?
Before Facebook, Cyworld was the first social networking platform for Korea. It was in the same generation as MSN, a hugely successful and popular networking site. Furthermore, they conquered over 25% of Korea's heart, an industry giant of their time.
Additionally, they pioneered the idea of buying and selling virtual goods in Korea back in the 2000s. At that time, users will acquire Dotori as a currency and purchase virtual products. In fact, it became so popular nearly every south Korean in their twenties was a user. However, the growth of newer technologies and networking spaces rendered them obsolete. Ultimately, it became a website of the past.
Now, Cyworld and Dotori are back! They are once again here to be the leading social networking service in Korea. Furthermore, they are incorporating blockchain, metaverse, and NFTs in the all-new Cyworld platform. Dotori (DTR) on the other hand, will be the digital currency for all transactions in the app.
What is the Usage of Dotori (DTR coin)?
Dotori is the Korean language for acorns. It started as a digital currency for Cyworld back in the 2000s. Users can use Dotori to purchase background music, avatars, images, and many more. Sounds just like the metaverse right? Furthermore, this happened 20 years before NFTs and Web 3 became popular. Their only limitation was technology.
Now, technology is on the rise and Cyworld can once again fully utilize Dotori. The new Cyworld will be a metaverse ecosystem. incorporating Dotori as their main cryptocurrency. Additionally, users will experience, AR/VR along with blockchain all in Cyworld. Soon, users will relive the moments with NFTs and avatars on Cyworld.
Is Cyworld (Dotori) a good investment?
According to the market outlook, Dotori is suitable for a long-term investment. They were one of the biggest names in Korea SNS two decades ago. In fact, their return created huge momentum in the Korean market. They certainly have the potential to be one of the top metaverses in the upcoming years. However, it is crucial to set up a good exit strategy before investing. Please consult your financial advisor and make proper research before investing as this is not financial advice.
Where to buy Dotori (DTR Coin)
You can find Dotori here at MEXC Global! We are listing DTR/USDT in our innovation zone!
What is the Price of Dotori (DTR Coin)?
DTR is trading with a market price of $1.01 per unit. It has a fully diluted market cap of $10,058,719,151. It also has a 24-hour trading volume of $4,016,415. You can check the live price of their token right here!
How to buy Dotori (DTR Coin)
You can buy Dotori (DTR Coin) on MEXC by following the steps:
Log in to your MEXC account and click [Trade]. Click on [Spot].
Search "DTR" using the search bar to see the available trading pairs. Take DTR/USDT as an example.
Scroll down and go to the [Spot] box. Enter the amount of DTR you want to buy. You can choose from opening a Limit order, a Market order, or a Stop-limit order. Take Market order as an example. Click [Buy DTR] to confirm your order. You will find the purchased DTR in your Spot Wallet.
You can find a detailed guide on how to buy DTR coin here.
Keep Yourself Updated With The Crypto Trend
Check out all of the listings in the Innovation and Assessment zones as well as the major tokens in the Main Zone – we have more amazing projects to come! What's more, MEXC lists moonshots and offers access to trade major cryptocurrencies. Visit the Hot Projects section as well to uncover more featured popular tokens. Lastly, feel free to visit MEXC Academy to learn more about cryptocurrency!
Start your travel on MEXC Global