Crust Network or CRU (CRU/USDT – Trade it here) is a Web 3 storage space for the metaverse. It is a cloud storage provider focusing on privacy, assurance, and decentralization. Basic information for their token is available on the MEXC Digital asset introduction page. Furthermore, we are listing CRU/USDT on our innovation zone, check it out now!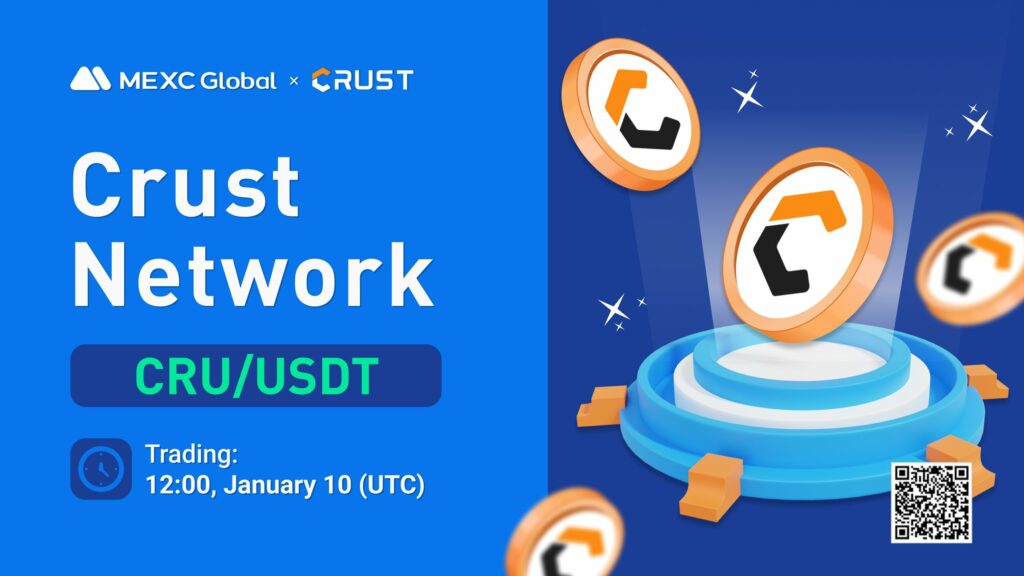 What is The Usage of Crust Network?
Crust Network is a cloud storage focusing on Web 3 data. it supports numerous storage-layer protocols including IPFS. It also provides users with rapid access to on-chain storage services. Furthermore, their technological stack allows data manipulation and computation.
Currently, Crust Network focuses on three major functionalities:
NFT and Metaverse Metadata Storage
Personal File Storage
Website and dApp hosting
Is Crust Network Trustable?
Definitely! Crust Network has a Meaningful Proof-of-Work. They also pride themselves on decentralization and privacy. Crust leverages a trustless and low-cost TEE-based technology called MPoW. It develops the Crust Decentralized Storage Market, which verifies and maintains storage resources. It is also an open network that allows various storage servers to connect. Additionally, all files on the network are encrypted to ensure anonymity.
Adding on, it is a blockchain network that uses Guaranteed Proof-of-Stake (GPoS). It is a PoS-derived consensus that promotes safety and efficiency. It is also resilient to attacks with token assets and storage resources as safeguards. Using Crust Network, users can quickly upload files and make storage orders within 2 minutes. Furthermore, the network will create 50 replicates of the file to ensure file availability.
Is Crust Network a Good Investment?
It has an overall good performance and a good future roadmap. It has the potential for a long-term investment. Furthermore, Web 3's growth will further increase Crust Network's demand. However, it is crucial to prepare a safe exit strategy before investing. It is also important to do your own research and consult a proper financial adviser before any investment.
Where to buy Crust Network (CRU)
You can find CRU tokens here at MEXC Global! We are listing CRU/USDT in our innovation zone!
What is the Price of CRU Token?
CRU token's live price will come to you as soon as it is listed on MEXC Global.
How to buy Crust Network (CRU)
You can buy Crust Network (CRU) on MEXC by following the steps:
Log in to your MEXC account and click [Trade]. Click on [Spot].
Search "CRU" using the search bar to see the available trading pairs. Take CRU/USDT as an example.
Scroll down and go to the [Spot] box. Enter the amount of CRU you want to buy. You can choose from opening a Limit order, a Market order, or a Stop-limit order. Take Market order as an example. Click [Buy CRU] to confirm your order. You will find the purchased CRU in your Spot Wallet.
You can find a detailed guide on how to buy CRU token here.
Keep Yourself Updated With The Crypto Trend
Check out all of the listings in the Innovation and Assessment zones as well as the major tokens in the Main Zone – we have more amazing projects to come! What's more, MEXC lists moonshots and offers access to trade major cryptocurrencies. Visit the Hot Projects section as well to uncover more featured popular tokens. Lastly, feel free to visit MEXC Academy to learn more about cryptocurrency!
Start your travel on MEXC Global