CoreDAO or CORE is a new independent blockchain that promotes true decentralization. It is a scalable, secure, and decentralized blockchain for everyone. Essential information for their token is available on the MEXC Digital asset introduction page. Furthermore, we are listing (CORE/USDT – Trade it here) on our spot trading zone very soon!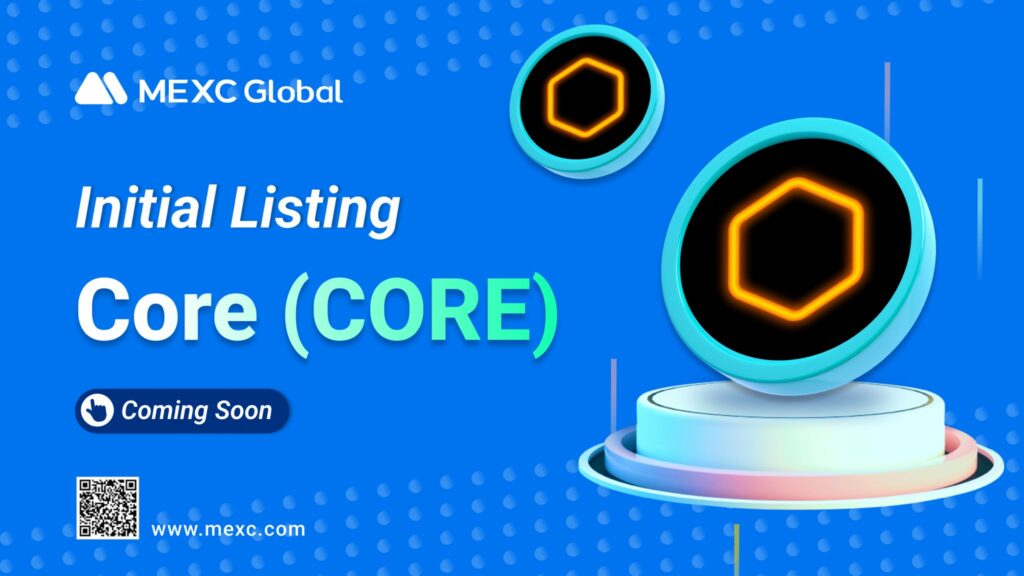 How Does CoreDAO Function?
CoreDAO is the official decentralized organization in charge of the development of the Satoshi Plus ecosystem. They are creating Web 3 infrastructure for the future and public chain promotions. Check out Core DAO now!
It is a Turing-complete blockchain that leverages the Bitcoin mining hashrate and Ethereum Virtual Machine (EVM). Furthermore, it runs on a new consensus mechanism, the Satoshi Plus. Satoshi Plus employs a protocol-driven validator election process. It combines the best characteristics of PoW and DPoS to maximize security, scalability, and decentralization.
The CoreDAO team believes that Satoshi Plus consensus can capitalize on the strength of both PoW and DPoS while mitigating their respective weaknesses. In particular, Bitcoin's computing power will ensure decentralization. Meanwhile, DPoS ensures scalability and holistic security. At the moment, CORE is the first chain to use the new Satoshi Plus consensus. They also believe that they will produce a viable currency while serving an opportunity for wider Web 3 adoption.
In the meantime, we highly suggest that you check out CORE's whitepaper and learn more about their work. It will help you understand the idea behind the project and inspire innovations.
Is CORE a Good Investment?
CORE is an innovative project with a lot of market traction and hype. Overall, it is a good project with a lot of potential for long-term investment. Furthermore, a lot of CEXs such as MEXC will begin listing CORE tokens very soon. However, it is crucial for users to prepare a proper exit strategy before investing. It is also important to consult your financial adviser for any investment plans. This is not financial advice.
Where to buy CoreDAO (CORE)
You can find CoreDAO (CORE) here at MEXC Global! We are listing CORE/USDT in our spot trading very soon!
What is the Price of CoreDAO (CORE)?
The live price of their token will come to MEXC very soon. You can check the live price of their token right here!
How to buy CORE Token
You can buy CoreDAO (CORE) on MEXC by following the steps:
Log in to your MEXC account and click [Trade]. Click on [Spot].
Search "CORE" using the search bar to see the available trading pairs. Take CORE/USDT as an example.
Scroll down and go to the [Spot] box. Enter the amount of CORE you want to buy. You can choose from opening a Limit order, a Market order, or a Stop-limit order. Take Market order as an example. Click [Buy CORE] to confirm your order. You will find the purchased CORE in your Spot Wallet.
You can find a detailed guide on how to buy CORE Token here.
Keep Yourself Updated With The Crypto Trend
Check out all of the listings in the Innovation and Assessment zones as well as the major tokens in the Main Zone – we have more amazing projects to come! What's more, MEXC lists moonshots and offers access to trade major cryptocurrencies. Visit the Hot Projects section as well to uncover more featured popular tokens. Lastly, feel free to visit MEXC Academy to learn more about cryptocurrency!
Start your travel on MEXC Global