3DPass is an open-source peer-to-peer platform that facilitates the conversion of tangible or virtual items. It converts objects into a reliable and sustainable digital identity known as HASH ID. Then, this digital identity can then be utilized as a digital asset. This will provide a secure and transparent framework for managing and leveraging the identity of real or virtual objects.
Essential information for their token is available on the MEXC Digital asset introduction page. Furthermore, we are listing (P3D/USDT – Trade it here) on the Innovation Zone! Check it out now!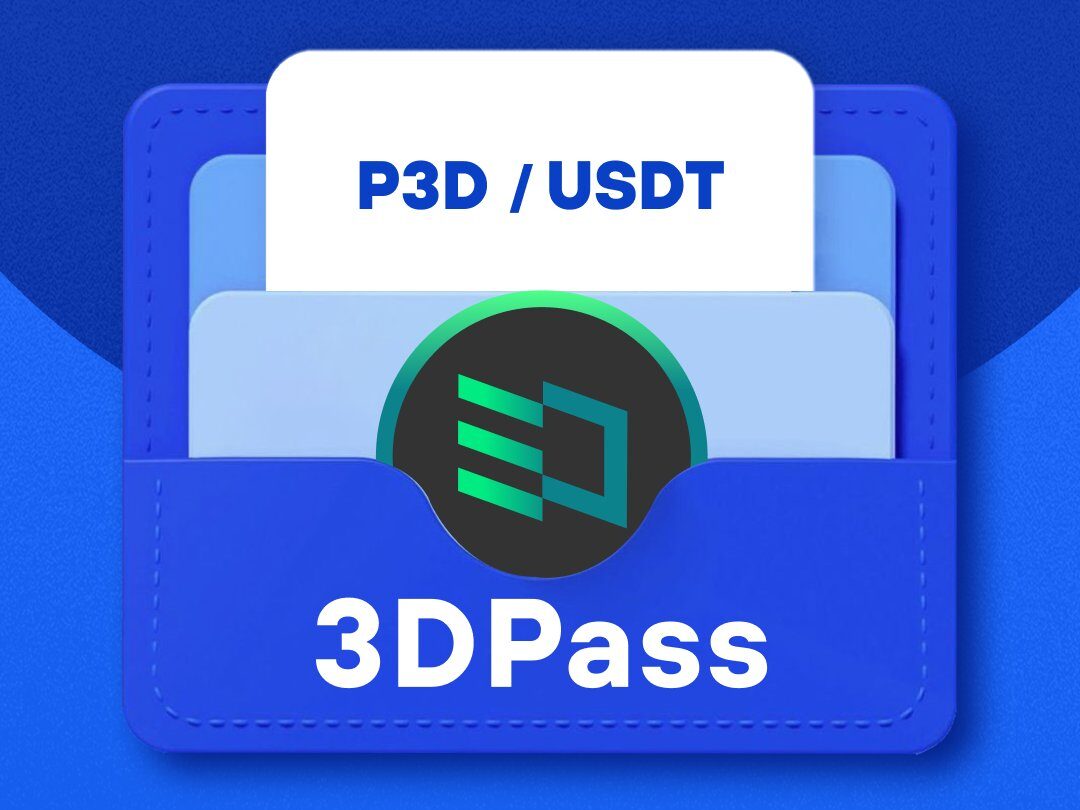 Introduction to the Background of 3DPass
3DPass runs on real-world object recognition technology. It features diverse research-based algorithms crafted by either the team or community members. These algorithms are specifically adapted to function within the blockchain environment, where there is no feedback mechanism for comparing objects during processing due to the absence of a trusted backend. This absence is a consequence of the blockchain architecture, which entails equal nodes owned by users who inherently lack mutual trust. Consequently, any object, event, or transaction necessitates verification through offline mathematical calculations.
The inaugural algorithm, Grid2d aims to identify the shapes of 3D objects. It also addresses the challenge of digitally transforming real-world objects. Meanwhile, the practical implementation of these algorithms is manifested in the pass3d recognition toolkit. It is a pivotal component of the Proof of Scan peer-to-peer network consensus integral to the decentralized 3DPass blockchain platform. This introduces a distinctive concept of a Layer 1 network where assets are tethered to smart contracts and decentralized applications (dApps) logic, creating a network of unique entities. This unique network structure, in turn, enables utilization within smart contracts and transactions, with network nodes actively preventing asset duplication.
What is 3DPass's Hash ID?
The Pass3d recognition toolkit captures the distinctive attributes of an object's shape and generates a persistent digital identity known as HASH ID. This identity remains consistent regardless of the number of different 3D scans processed for the same object. It also facilitates the establishment of a one-to-one correspondence between the object and its digital asset. This distinguishes it from conventional NFTs, which solely rely on a file signature. For example, altering a single dot in the file would completely change the signature, allowing for easy, uncontrolled asset duplication. By leveraging object recognition, Pass3d prevents such unauthorized copying.
The flexibility of the recognition algorithm Grid2d enables the adjustment of processing definition levels according to the 3D scanning resolution or accuracy of the 3D model. This capability allows the definition of property rights borders for assets and distinguishes whether a particular object is genuine or fake.
HASH ID ensures a high level of privacy by containing "zero knowledge". The object's seed data is safeguarded using the cryptographic standard SHA-2. A critical factor in distinguishing 3D objects lies in the uniqueness of their shape, coupled with the scanning quality and application settings.
Where to buy P3D Token
You can find P3D Tokens here at MEXC! We are listing P3D/USDT in our Innovation Zone!
What is the Price of P3D Tokens?
The P3D Token is currently trading at MEXC with a live price of $0.02804. You can check the live price of their token right here!
How to buy P3D Tokens on MEXC
You can buy P3D Tokens on MEXC by following the steps:
Log in to your MEXC account and click [Trade]. Click on [Spot].
Search "P3D" using the search bar to see the available trading pairs. Take P3D/USDT as an example.
Scroll down and go to the [Spot] box. Enter the amount of P3D you want to buy. You can choose from opening a Limit order, a Market order, or a Stop-limit order. Take Market order as an example. Click [Buy P3D] to confirm your order. You will find the purchased P3D in your Spot Wallet.
You can find a detailed guide on how to buy P3D Tokens here.
Get Free Airdrops with MEXC Launchpad!
Did you know MEXC gives out 20+ free airdrops weekly? Launchpad and Kickstarter events ensure that all our loyal MX token HODLers receive a ton of new tokens! Learn all about it at our MX Zone now!
Meanwhile, check out all of the listings in the Innovation and Assessment zones as well as the major tokens in the Main Zone – we have more amazing projects to come! Visit the Hot Projects section as well to uncover more featured popular tokens. Lastly, feel free to visit MEXC Academy to learn more about cryptocurrency!
Start your travel on MEXC