On December 12, 2022, the algorithmic decentralized stablecoin USDD lost its dollar peg after the fall of FTX. FTX's collapse is still creating a downtrend in investor confidence and market fear.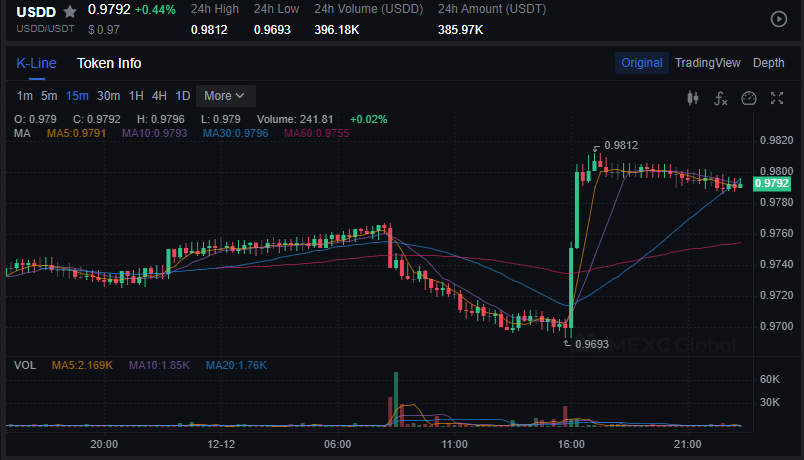 Tron creator Justin Sun's stablecoin USDD plummeted to $0.9693 earlier today, reaching the lowest since June 2022. The drop exceeded the DAO's 3% price fluctuation threshold. This fulfills the requirement for price changes to be deemed as a de-peg. USDD strayed from its 1:1 exchange rate with the US Dollar last month after the FTX crisis. Additionally, other stablecoins such as USDT and USDC drop a little as well before swiftly recovering their pegs.
USDD on the other hand was facing a prolonged fluctuation. This fluctuation stems from an increase in the dominance rate of the stablecoin in the USDD/2CRV liquidity pool. Unfortunately, USDD accounted for 86% of the pool's overall liquidity of $34.5 million compared to 80% on November 10, 2022. Because of this large imbalance, users are replacing USDD with other pool elements. In fact, it is significantly more than DAI, USDC, and USDT.
Justin Sun's Immediate Fix for USDD
Following the dip, Justin Sun made a quick decision to calm the markets and regain investor confidence. He took it to Twitter and inform everyone of his move to swap around $773,000 worth of USDD. Sun showed his transaction data indicating that he swapped over $570,000 in USDT and $203,000 in USDC. Furthermore, he tweeted "Deploying more capital – steady lads", echoing Terra CEO Do Kwon's statement immediately before Terra's demise in May.
Additionally, he stressed that USDD has a collateral ratio is more than 200%. Currently, the crypto community is concerned about the stablecoin's future. Its inability to reclaim its peg in addition to its UST-similar algorithmic model makes investors beg a question. Will the stablecoin be the next coin to fall? USDD is now trading a little shy of $0.98. It is also the eighth-largest stablecoin with a fully diluted market cap of $709,060,326 and a 24-hour trading volume of $77,620,641.
Closing Thoughts
Tron's website states that their network is presently worth $825 million. Community sentiment however views them as a potential red flag. The current crypto market is incapable of yet another huge collapse. Hopefully, nothing severely bad will happen and cripple the weakened market. In the meantime, check out our MEXC trading page and find out what we have to offer! You can learn more about crypto industry news and interesting articles to get you up to speed with the crypto world. Happy trading!