OpenDao and SOS Token
A new project called OpenDAO launched during Christmas, bursting onto the scene with a token airdrop for dedicated NFT collectors. The project allocated a 50% portion of its token 'SOS' supply to users of OpenSea, the largest NFT marketplace. The project itself is neither officially recognized nor affiliated with OpenSea, but all OpenSea users who have had an active trading history on the platform prior to December 23 are eligible for the airdrop.
The amount distributed to each user was calculated based on the amount spent on OpenSea and the number of transactions before a snapshot date. As a result, some of the most active NFT traders have received the largest payouts from the airdrop. Christmas token airdrops like this have become something of a crypto phenomenon in recent years.
OpenDao claims that a 20% allocation of the supply will go toward supporting the community through compensating OpenSea scam victims, supporting emerging artists, NFT communities, and art preservation, and organizing a developer grant for the SOS ecosystem.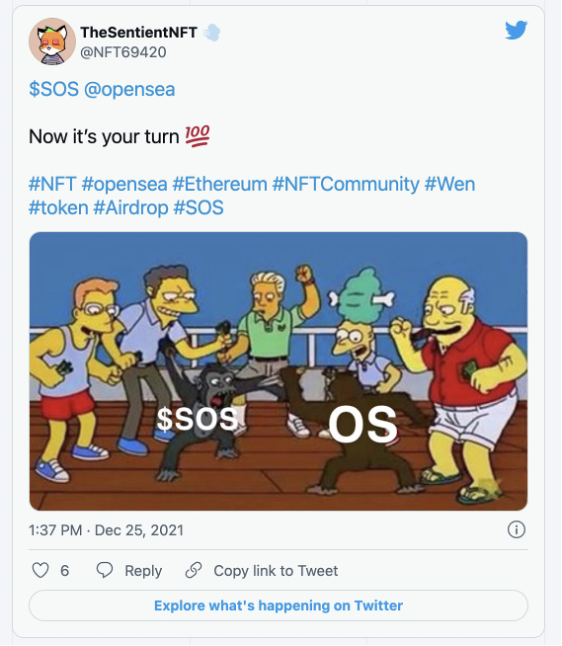 Amazing return of SOS Token
Since being listed on December 24 in MEXC Assessment Zone (SOS/USDT), SOS has reached the highest price of 0.00001177 USDT, and the return for the early investor is about 58 times, and the market cap of SOS has reached over $330million, according to recent data from CoinMarketCap.
Similar to many memecoin projects that emerged this year, the token has a large supply of 100 trillion, which means each token is worth only fractions of a cent.
Limited Using Scenarios
As the core team looks to put basic security measures in place, the community is now working to decide what the SOS token will actually be used for. The core contributors are evaluating use case suggestions from the community. "There have been many wonderful and brilliant ideas, but we are giving a cooling period before the elections of our multisignature wallet signers," said one contributor in an interview.
The DAO has held two votes for token holders, including one to initiate a staking program that will generate rewards over a one-year period and one for a liquidity mining program that will reward liquidity providers over a two-year period.
Despite the token's limited utility, core contributors have been successful on the business development front. In the project's Discord channel, contributors have announced a steady stream of partnerships with a number of wallets and marketplaces.
Innovation of community under Web3
The launch of OpenDAO can be seen as an internal struggle within the NFT community to 'revolutionize' OpenSea itself as a platform. "SOS is a good example of how tokens can be a great way to coordinate a community, even if there isn't a product," said prolific NFT collector and Ex Populus co-founder Soban "Soby" Saqib. "Bootstrapping communities is difficult in the traditional world, but tokens and NFTs allow us to accelerate this in Web 3."
As on-chain governance – a process at times notably slow and inefficient – grinds on and security risks remain a threat, it's unclear how long SOS can hold the interest of the notably fickle crypto community, and prices may soon reflect that.
Looking for other newly listed coins on MEXC
Interested in altcoins or memecoins, other than SOS token? You can check articles tagged with alts. New to blockchain and trading? If you want to know more about MEXC products and crypto trading, visit our Academy to learn how to start trading on MEXC Global.
Start your travel on MEXC Global