How can MEXC determine his earnings or terminate a grid in Spot Grid Trading on MEXC Quantitive Trading Platform?
How do I determine my earnings?
How do I terminate a running spot grid?
Click on [My Strategies] -> [the red button]
Click on [Confirm]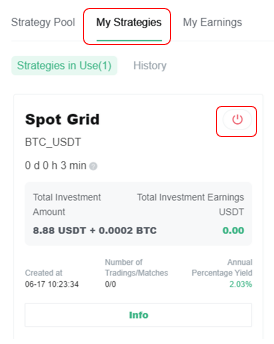 The following considerations are required for the spot grid.
When the grid trading is terminated, orders will be placed at the market price. The grid's final return may vary depending on the market price, depth, and other factors.
The grid trading is risky and is best suited for oscillating markets rather than one-sided/trending markets. When a market is oscillating, spot grid trading will profit from market volatility by automatically buying low and selling high within a given price range.
The return may not be higher at the same time as the number of grids increases. A grid is only profitable if the market price stays within the price range you've set. Increasing the number of trades and the profitability of a single grid is the key to increase returns. Too many grids reduce the spread and number of buys on a single grid, lowering the profitability of a single trade. As a result, a suitable number of grids is required to maximise returns.
The return might not be higher if the range of price is larger. A price range that is too large could reduce the number of trades, so you might want to try different settings for the number of grids and price ranges.
You can create and run up to 20 bots.
Currently, only stop-loss and take-profit settings are available for running bots; there is no function for changing parameters or adding additional investment capital.
Start your travel on MEXC