Yesterday, Ray Youssef, the former CEO of Paxful, declared that withdrawals have been unfrozen for most of its users. However, Paxful users are disagreeing with the statement. Many are still not able to withdraw their funds.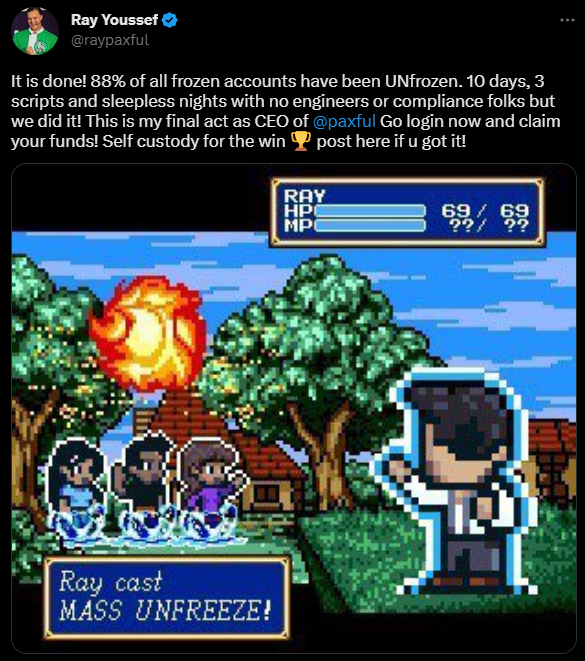 The former CEO of Paxful, Ray Youssef, made a tweet announcing that withdrawals are available for the majority of users. Furthermore, it accounts for 88% of frozen accounts. However, despite Youssef's invitation for confirmation from followers who have successfully withdrawn their funds, there are no such success stories on Twitter. In contrast, many users have expressed their dissatisfaction, claiming that they are still unable to access their funds.
Responding to a user's complaint about their frozen funds, he says that if an account is still frozen, it's likely due to compliance issues and that he has no power to unfreeze the funds. Youssef went on to explain that such frozen funds are now in the hands of the US regulators. He then urges users to self-custody their coins going forward. Furthermore, Youssef apologized to users whose accounts remain frozen, acknowledging his inability to help.
What Happened to Paxful?
Paxful suspended its operations recently due to executive departures, regulatory battles, and an internal dispute with a Paxful co-founder. While a spokesperson for Paxful assured that users could safely withdraw their funds, numerous users complained of issues withdrawing funds. The former CEO of Paxful, Ray Youssef, announced that 88% of the frozen accounts are now eligible for withdrawals, but many users still report issues. Youssef stated that he could not unfreeze the funds that remained locked, and they are in the hands of U.S. regulators.
In response to angry customers who accused him of being a "scammer," Youssef denied these claims in a video statement and clarified that $4.4 million of the $120 million total funds were still frozen. Paxful had significant markets in areas such as Argentina, where the national currency faced hyperinflation. Though its trading volume was not comparable to mainstream centralized exchanges, it was noteworthy in some areas. Youssef is now officially resigning from Paxful.
Closing Thoughts
Unfortunately, Youssef's efforts to calm angry users were useless. Instead, people were getting angry with his statements on Twitter. It is important to beware of the credibility of exchanges or any crypto projects before any investments.
In the meantime, check out our MEXC trading page and find out what we have to offer! Do not miss out on the golden window. You can learn more about crypto industry news and interesting articles to get you up to speed with the crypto world. Happy trading!
Start your travel on MEXC