In this blog interview, you'll find insights about the Monsterra project. In an event hosted by MEXC Global, you will meet Monsterra team.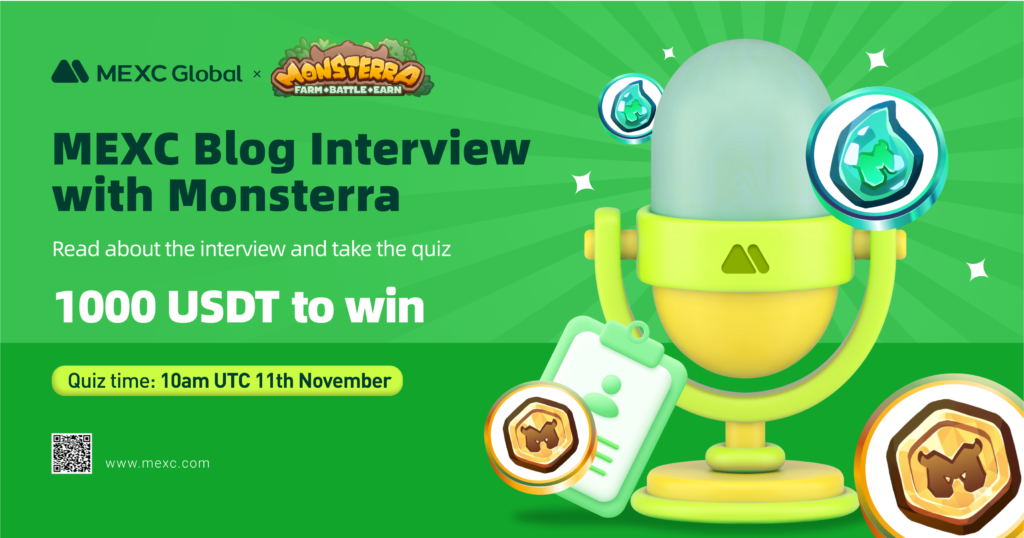 MEXC:First, can you introduce Monsterra and are there any highlights you can share with us?
Monsterra: The Revolutionary Free-to-play-and-earn Multi-chain Game on #BNB, #Avalanche & #OKX (https://monsterra.io/). Reaching nearly 300,000 gamers after 2 months of launching, Monsterra rockets to be on Top GameFi project on BNB Chain By DappRadar.
The game sets foot in a fictional world and revolves around farming, property building, and battling with other lands with the magical creatures named Mongen. The revolutionized design of Monsterra is a combination of free-to-play, play-for-fun and play-to-earn models which allows millions of gaming enthusiasts to enjoy fun and have a high-profit stream with no prior investment.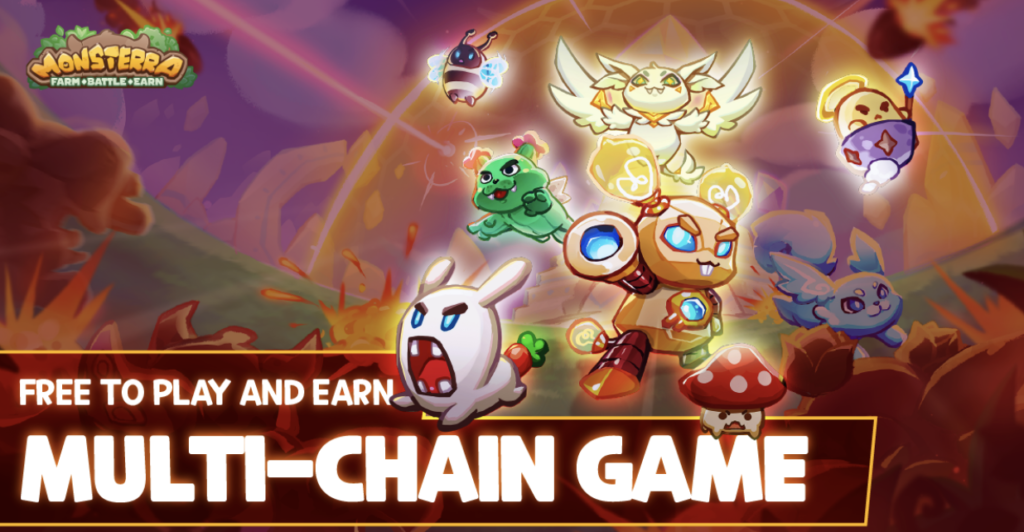 Monsterra rich & diversed ecosystem of 8 components includes:
1/ Gameplay: https://play.monsterra.io/?src=pns
2/ DAO: https://dao.monsterra.io/#/?code=MS4LDQPMI
3/ Marketplace: https://marketplace.monsterra.io/
4/ MonsEvent: https://event.monsterra.io/
5/ Portal Game: coming soon
6/ Bridges (for multi chain): coming soon
7/ Guild Portal- a powerful management tool with no fee: coming soon
8/ MonsTV: coming soon
Please access and join our all channels to keep updated with all announcement & information:
Website | Twitter | Telegram chat | Announcement |Facebook | Medium | Tiktok
MEXC:What is the core gameplay of Monsterra? How players can get involved?
Monsterra: With Monsterra, our team strives to deliver a revolutionary P2E game that transforms existing Play-to-earn games into the fun zone. Monsterra lets gamers play the game for free before actually spending on it. Players can experience a full-fledged core game (Collect → Develop → Battle → Collect) without any prior investment. It is for this reason, Monsterra is expected to bring the most exciting moments for playing and potential earning for a large number of gamers currently. Players can choose to use FREE assets or buy items on the Marketplace depending on their personal financial situation. When playing with free items, players can still experience all the features of the game. Yet, it will be even more fascinating for gamers with financial investment in NFTs assets. It is for this reason, we can with confidence that Monsterra offers an equal opportunity to make a profit to all users.
Gamers using free assets or having a small amount of capital will need to spend more time and effort to farm, build an empire with wealthy properties, and Mongens while gamers spending a bigger financial investment in NFTs items can shorten the time to build a defense empire and generate profits faster when there are battles and events.
However, whether it is a small or big investment, gamers must set up their own wise strategy to maximize the profit generated. Monsterra offers plenty of interesting daily quests for free and low-capital players to be able to engage in. Everyone can entertain and earn as much as they can with 4 diffeent play modes (Adventure, Battle Front, Boss Challenge & Area) in the rich & diversed ecosystem of totally 8 components.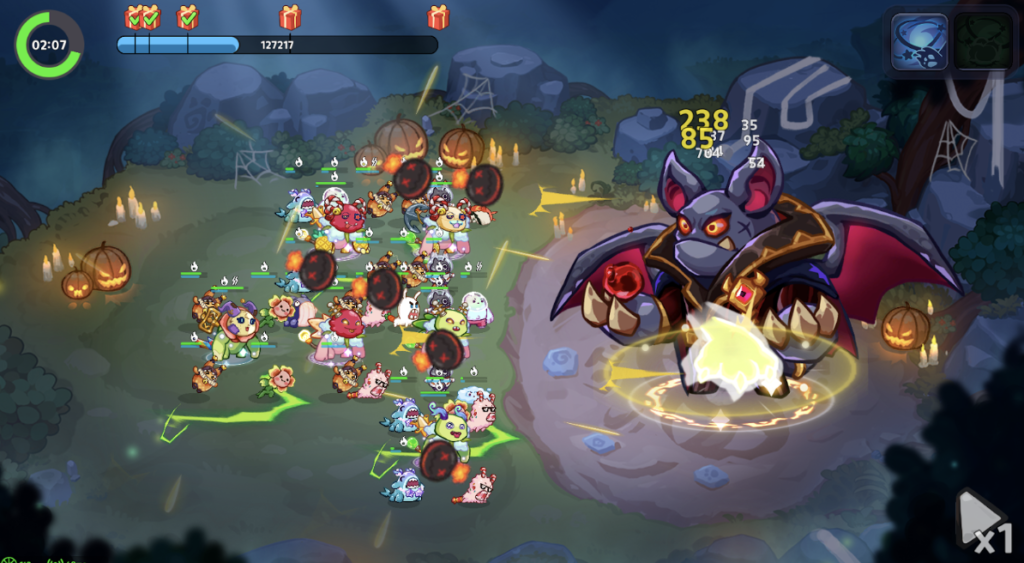 To start playing Monsterra, just visit here: https://play.monsterra.io/?src=pns and find suggested guideline for newbies: https://docs.monsterra.io/
Besides the hard-working CS and admin team who are always enthusiastic to support through the community Telegram chat or Ticket submission in the system, members or gamers are also very active in feedback and sharing strategies so that new users can get started. head immediately. Join now!
The mainnet of the game has been launched since August 25, 2022 with 4 of total 8 components available, our users can join and experience with the support of Monsterra Team 24/7. The project side is also constantly updating with full information and instructions at:
👉 Trailer Video: https://www.youtube.com/watch?v=p0IP4Oajxxc
👉 Gameplay Teaser: https://www.youtube.com/watch?v=GnYHd-RHI_g
👉 Whitepaper: https://whitepaper.monsterra.io/
MEXC: What tokenomics does Monsterra use? What role does its token play?
Monsterra: Attached with the sustainable development of Monsterra, we also built the governance of the in-game economy through a dual token model, MSTR as the primary token with a limited supply of 100 million tokens and MAG as the in-game reward token with the unlimited supply. We do have a Smart Token Burning Mechanism to maintain the token supply and burning amount with a design of various tokens utilities and NFTs fusion sets (for both Mongens and lands). They will play the key role as anti-inflation mechanisms that help guarantee sustainable growth in the long run. The vast and rich ecosystem in Monsterra will develop a lot of token utilities to discover, spend and earn. More details about MSTR & MAG spending, earning and burning mechanism https://whitepaper.monsterra.io/token-and-tokenomic/mstr-and-mag-tokens/mstr-token
One more important update with the burning & minting mechanisms of MAG and MSTR as below:
MAG: burn/mint is done by the following mechanism:
At the end of each month: If the amount of $MAG being staked on the DAO is less than that figure in the Staking contract ==> The total amount of surplus tokens will be burned
At the end of each week or in this case: If the amount of $MAG being staked on the DAO is higher than that figure in the Staking contract==> $MAG will be minted to maintain the user's token withdrawal process.
MSTR minting & burning mechanism:
The burning mechanism will be deployed on a monthly basis
The total game revenue will be divided into 3 main streams and allocated to: Development Fund, Shared revenue incentive to the community in DAO Treasury, and Token Burning. The burnt tokens will be announced on the 16th-18th of every month along with the transaction hash.
MEXC: Can you introduce us Monstera's core team? What experience do you have in GameFi?
Monsterra: Monsterra team comprises many seasoned members with experience in both gaming and crypto industries. Our game development team has worked in the traditional game industry for over 15 years, so we know what factors make a game appealing to players.
The Founder of Monsterra, Mr. Tuan Le
He is a serial entrepreneur with demonstrated performance to deliver large-scale projects. After few years in FPT Software, the largest IT company in Vietnam, he founded and was the CEO then Chairman of SotaTek – an IT consulting and development company with 600 employees, providing services to customers worldwide. He is in the founding team in some tech giants in VietNam as Ekoios, IceTea Labs (PolkaFoundry/Red Kite/GameFi.org) and also in the founding team and CEO of SotaNext Corporation, an IT company that specializes in blockchain consulting and development services.
With almost 15 years of experience in all kinds of software development projects, and a very strong knowledge in blockchain technology he knows how to manage a world-class business based on blockchain successfully to bring true value to customers.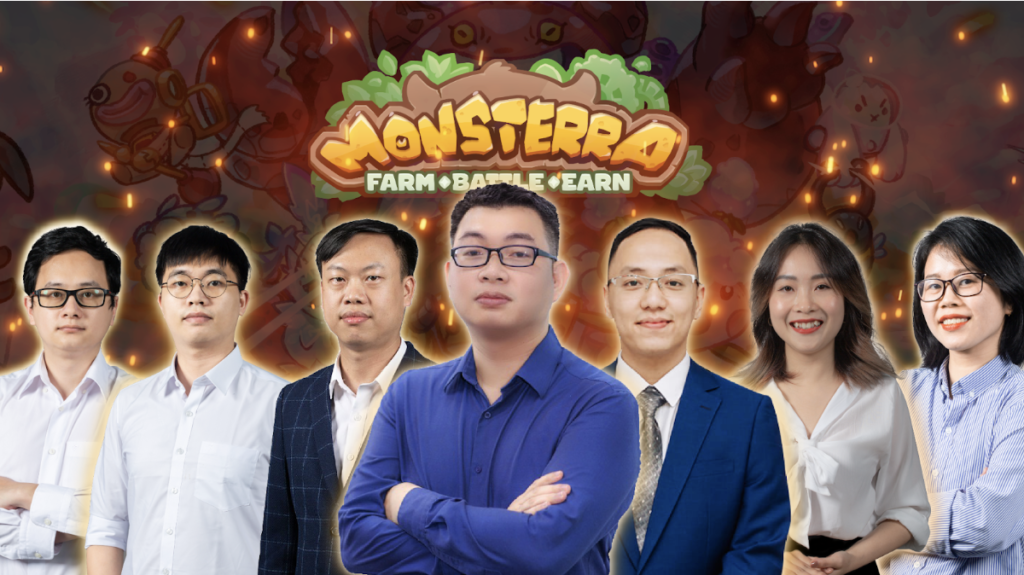 The Project Owner Victor Thang
He has had nearly 15 years of experience in working and developing gaming products. Previously, he won the 3rd prize in the Mobilabs 2008 competition held by FPT for the mobile application and has taken various important roles in all companies he has worked for, from Team Code Leader to Project Manager and Product Manager. As PO of Monsterra NFT Game, he has built an amazing game development team from artwork to engineering and smart contracts with the desire to build Monsterra game to become the game revolution for GameFi 2022.
Head of Game Operation Brian Trinh (https://www.linkedin.com/in/trinhquangtu/)
As a strategic role player, he managed the entire operation and testing of Casual, SLG, and MMORPG games, on both PC and mobile platforms, at the biggest game companies and studios in Vietnam, such as VTC Intecom, ABI Game Studio, VALOFE, etc.
Also, he has over 3 years experience in community operations and organizing online and offline events, ranging from private VIPs to large gaming communities.
CMO of Monsterra NFT Game, IRIS LE
(https://www.linkedin.com/in/irismarketing2110/)
She is definitely a growth hacking expert with a 5+ year solid track record as Marketing Manager & Consutant in e-Commerce, Blockchain, NFTs and Gaming.
Her depth of expertise includes project management, community building, social media boosting, partnership expansion, and growth-hack strategies. Working in an international environment (Europe, Singapore, and Vietnam) opens various opportunities for her to be exposed to other languages and cultures, nurturing her communication and marketing skills on a global scale. With the mission to bring valuable community benefits, during her years of hard work, Iris has supported many startups to achieve 300% growth on social media, expanded cooperation with many trusted partners, and successfully raised capital in seed and private rounds.
Her broad experience and brilliant mind in Marketing Strategy and Business Development will help build and develop a valuable Monsterra community while maximizing potential reach with new users, traffic, and product market matching.
Thanks to the great leadership of the core team, Monsterra's team of 50 people can work together and dedicate ourselves to achieving success. Above all, we build a long-term vision and share a deep passion about P2E games together. The whole have spent months conducting research, investigating the market and analyzing existing games to be able to design the best product with attractive gameplay, balanced in-game economy and magnificent graphics.
MEXC:How do you define a good GameFi?
Monsterra:We believe & develop the project with a long-term vision, mission and a firm belief that the product is the key factor & the user experience is the focus. A quality product is formed by itself and the team behind it.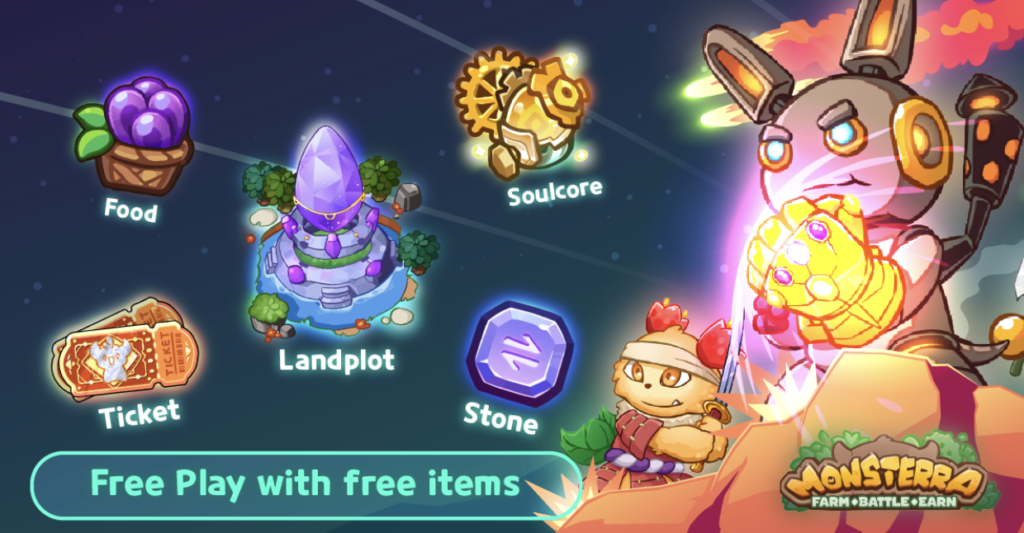 Before starting the project, we had a process of 3 months of market, other NFT Games research at that time, combined with the experience of the game development team. In the "GameFi" industry, there are a lot of scam projects or games that focus too much on "earning" resulting in "short longevity" due to inflation. Furthermore, gamers don't have enough fun so they leave so soon. As far as we are concerned, a long-distance game is a game with at least three elements: addictive gameplay, attractive and competitive earnings, and excellent teamwork. That's why we generate & develop Monsterra and its ecosystem to solve all existing problems in the P2E market till now. Monsterra makes itself a revolutionary P2E Game potentially attracting a thousand new players via:
Special Breeding mechanism between 5 races with outstanding features
Unique land shaping and highly customizable mechanics.
Addictive gameplay for fun with strategies created by players own creativity.
Various battle game mode including 2 PvE modes, PvP modes, Clan modes and mini-games.
Large ecosystem with easy scalability: 8 components with Multi-chain, Multi-device platform and Multi-language.
Various utilities for both NFT and tokens and also various earning mechanism including play-to-earn, bid-to-earn, watch-to-earn and idle-to-earn.
Innovative token & NFT staking allows players use their tokens while staking them to maximize benefits.
Balanced economy with many anti-inflation mechanisms.
You can check full more details about Monsterra at our Website: https://monsterra.io/ & our channels. Hopefully, we will soon develop Monsterra as expected, becoming a world class project in the near future.
MEXC:How to produce a good GameFi?
Monsterra:
Going into project development & in our 10-month journey till now, we have solved various conundrums & experienced many challenges during tough market periods:
The big challenge in balancing in-game tokens & economy: The mindset that focuses on the earning aspect of most players when participating in the gamefi too heavily leads to the thought of wanting to "play easy" but earn a lot creates the imbalance of economy, creates inflation.
High security risk: with crypto applications in general and gamefi in particular, there is always a high risk of security. The risk can exist everywhere such as smart contracts, backends, in the human factor, etc
Marketing and market risks: Acquiring and convincing players to invest in the game and stay long in the game is even more difficult in the time of the downtrend market. When the market goes down in a duration, it will negatively affect the psychology of players.
Launched on BNBChain for more than 2 months with stable traction and preparing for acceleration in November, December 2022.
Mainnet till now: nearly 300K users + CCU 5,000 users at anytime +DAU 25K
99% good feedbacks about the gameplay
Top most searched NFT Game (in 24 hours)
Fundraising of $2.5M led by Hashed, Huobi Ventures, Shima Capital, Salad Ventures and more than 50 partners globally;
Mystery Box Sale on Binance NFT Marketplace on Feb 7 with 20,000 boxes were sold out in 10s. Followed by another hit of quick sellout for 900 boxes on GameFi, Metverse Starter within 1 hour. Then Special NFT Trading Promotion Campaign & Rank Top 3 of Trading Volume on Binance NFT.
BNBChain Spotlight in September, 2022
This bear market, we take as an opportunity and a motivation for the team to perfect the product and prove the quality of the product as well as attract the attention of players of the product, the game itself is really impressive and well-structured with the outstanding proven-track record performance . When the product is really good, each player himself will be the best communication point to other players in the "hungry" market condition for a really quality and long-term product. On top of that, we always observe users & players and the market to ensure Monsterra is always up to date, fresh, trendy, fun & profitable.
MEXC:When can blockchain games enter the "playability stage"? Is it suitable now?
Monsterra:
The mindset that focuses on the earning aspect of most players when participating in the gamefi too heavily leads to the thought of wanting to "play easy" but earn a lot creates the imbalance of economy, creates inflation and affects token prices. In addition, user psychology is even more reticent in paying or investing in crypto projects, especially gamefi projects in the situation of the downtrend market, leading to big barriers for new players. We expect to mitigate via:
Focus on the "fun" aspect of the game, balance earn and entertainment: make sure Monsterra is a true game, make the "play" element of the game a key and important factor to retain users.
The fun factor comes from the player's own creativity in tactical calculations, from the interaction with other players, from the coordination with clan teammates, the earn factor will also come from the players themselves.
Such a fun element naturally, not simply pay and earn like other gamefis, especially click to earn games. So in addition to players earning money, they also earn a lot of spiritual value from playing games. As players get more value from the game they will have more reasons to stick with the game.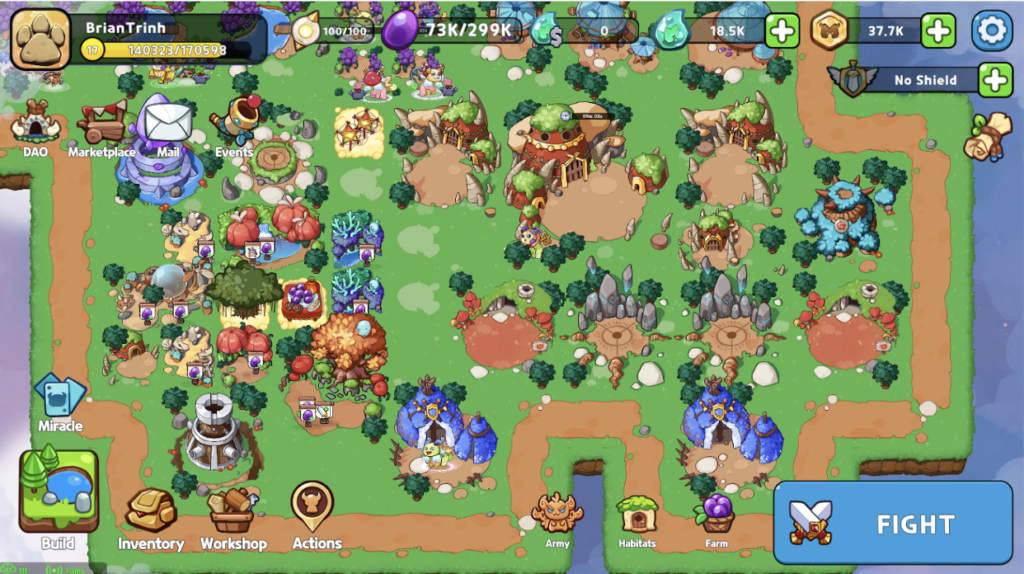 Show players the vision and long-term ecosystem of the real product: for players to trust and accompany the long-term project, the huge ecosystem will create many playgrounds as well as many opportunities to earn valuable benefits mentioned above. At the same time, always analyze the players' behaviors, opinions & feedback so that the project development or amendments are close to the needs of the players. All of these helps players accompany the project through the violated up-and-down-and-up market and maintain a stable price for tokens.
Combining Free To Play and Earn and Pay for Advance models: to remove barriers and doubts from new players, the free-to-play-and-earn model allows players to approach and experience the game full deeply, evaluates the quality of the game and thereby makes a decision to stick with the game, invest more in the game and minimizes the risk of advance investment for playing and earning. Players can also invest depending on the current financial level or play for free for a long time, but at the expense of time, they can still earn. This helps create a safe and long-distance mentality for players to stick with the game with peace of mind.
And now, the playground has been launched with 50M matches played with 3/4 play modes available. Besides 2 PvE modes, players can also Battle and fight more intensely to become champions on Monsterra's leaderboard. Personally, I am always surprised and amused when I log in to the game every day, and see that the mailbox has been robbed by another opponent & a lot of other things.
Let's explore with us https://play.monsterra.io/?src=pns !
MEXC:What are the development barriers of blockchain games& How to solve this problem from the perspective of industry?
Monsterra:
The rise of NFT games, a combination of Gaming and Finance, is widely attributed to the explosion of the Play-to-Earn market. This type of strategy allows players to 'truly' earn and own digital assets that they can then sell outside of the game at their discretion. However, most of the time, games are created for clicking-to-earn purposes in the previous easy period. This means that several players are entering the NFT gaming world with only a desire to make a short-term profit. Additionally, since players have to pay for the entry fee, the game has been accidentally disfigured into the "Pay-to-Earn" model.
In this competitive landscape, Monsterra appears as the pioneer game in the Monsterra Universe. In the long run, we will build other games sharing the same characters, NFT set and 2 tokens (MSTR & MAG) to let our gamers have more fun experience and more earning opportunities. Our detail research here.
Monsterra is The Revolutionary Free-to-play-and-earn Multi-chain Game on #BNB, #Avalanche & #OKX and makes itself a revolutionary P2E Game in the huge ecosystem of 8 components:
Gameplay
Marketplace
DAO treasury
Minigame Series
Guild Portal
Bridges
MonsTV
MonsEvent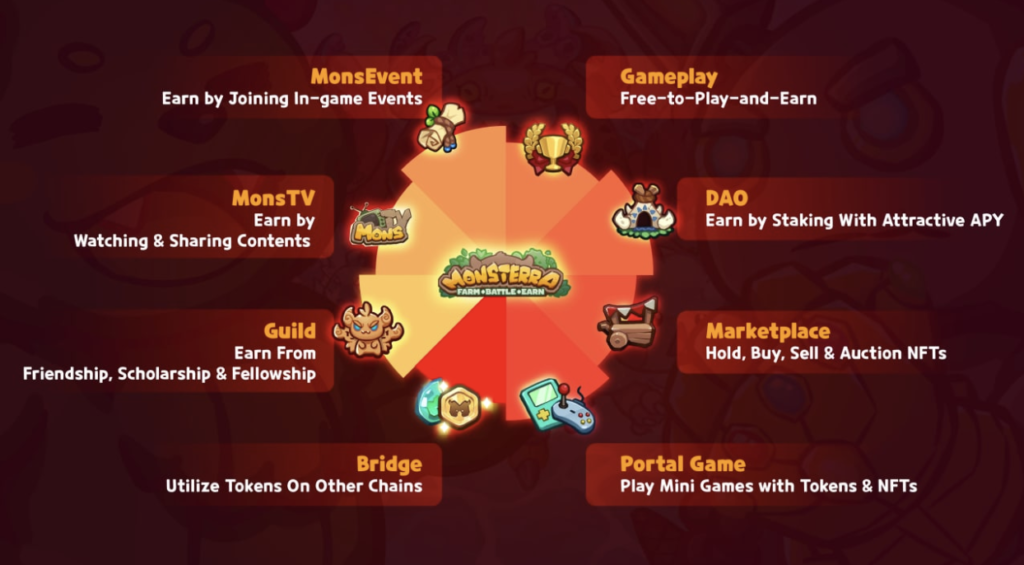 2023 – 2024 will be the year when the Monsterra Universe expands with the entry into the Multiverse with the center Mongens characters. After conquering the original mysterious lands, Mongens will travel to a new universe, where there are completely new lands, new challenges and they must learn how to build their base empires (Lands) to experience a new endless journey of adventure. To do that, we are working closely with reputable partners in blockchain space and deploying to promote user acquisition in the next 3 months through main activities including:
✔️$219,000 Referral Campaign – The biggest Monsterra Progame
✔️World Cup Glory Pass & Football Fiesta Championship
✔️Mobile Launching on Android & IOS
✔️OKX & Avalanche launching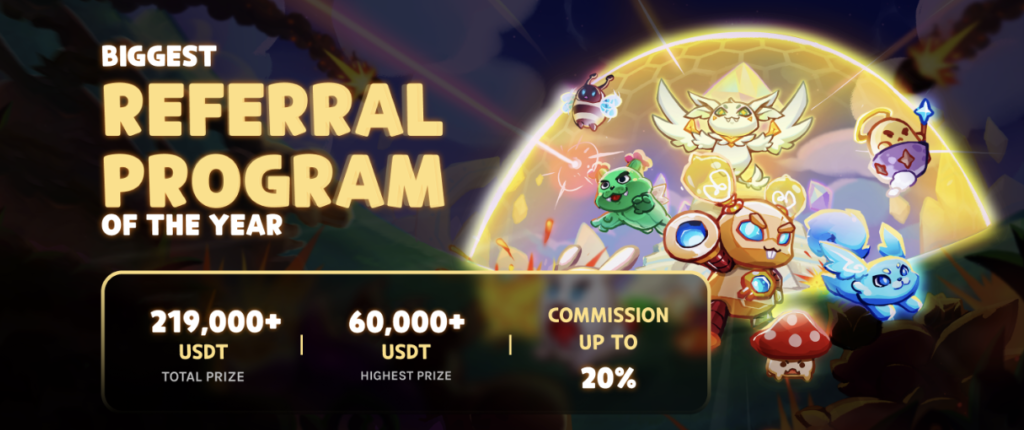 Join us in Monsterra Community https://t.me/+xqx0fYptamFjNmE1 and keep updated for fun & profit!
Trying to find MEXC blog interviews?
It's easy! Explore them in a special section of our MEXC Global blog. Find insights for other recently listed projects at MEXC.
Start your travel on MEXC Global