According to CoinMarketCap, the market capitalization of the cryptocurrency market soared from $755.740 billion at the beginning of 2021 to $2,248.68 billion at the end of the year, an overall increase of 196.27%, equivalent to a nearly threefold increase. In terms of ROI, SHIB, GALA, AXS, SAND, MATIC, LUNA, FTM, SOL, ONE and MANA were the Top 10 assets in the market. SHIB has the highest ROI of 106,363,536%, followed by GALA and AXS with ROI of 47,854% and 29,650% respectively. SAND, MATIC, LUNA, FTM and SOL also reached 16,000% or more.
A notable fact is that 6 out of these 10 tokens launched their IEO on MEXC Global: SHIB went live on 2021/4/16, GALA live on 2021/6/7, LUNA live on 2020/8/12, FTM live on 2019/6/10, SOL live on 2020/7/8, and MANA live on 2020/2/5. MEXC has truly become" the first stop for quality projects".
Different exchanges have developed different listing strategies —wise investors could take advantage of this and make profits. We all know that new assets probably generate significant returns for early-stage investors, while regular assets listing on different exchanges also bring great investment opportunities. For example, assets that initially list on MEXC are likely to surge when listing on Binance and Coinbase Pro, and this could be remarkably profitable for wise investors.
How could investors benefit from the different listing strategies between exchanges? This series of articles will analyze new assets listing on MEXC Global from July to December in 2021, and try to figure out returns of the assets circulated in different platforms including MEXC, Binance, and Coinbase.
Key takeaways from two parts of MEXC Global Listing analysis:
How many trendy tokens were listed on MEXC Global?
How many assets launched IEO on MEXC Global?
What was the maximum ROI of MEXC IEO?
850+ tokens listed on MEXC that covers 24 trendy concepts
MEXC currently has two boards, Assessment Zone and Innovation Zone, and also has special events such as Launchpad and Kickstarter for new assets for users to participate in.
Launchpad is known as a low cost campaign for MX holders to participate in new projects. The first four projects are CBX, GENE, TRVL, CLY, and saw a remarkable ROI of 1,150%- 4,630%. Kickstarter is designed for MX holders to vote on listing and receive token rewards. According to statistics, In December 2021, Kickstarter launched over 80 assets, and 10 tokens' ROI reached over 1000%, namely CWEB (4,174.50%), RU (2,900.00%), MELD (2,757.00%), GER (1,800.00%), CHICKS (1,500.00%), HSF (1,299.80%), LSP (1,284.38%), and XYO (1,140.00%), PARAS (1,066.67%), and QUACK (1,025.00%).
The statistics showed that over 850 new assets listed on MEXC; 297 new assets were launched in the Assessment Zone and Innovation Zone, which means an average of 2 new assets launched in each day. It is notable that the number of new assets listed in a single month exceeded 50 in August, October, November and December, which shows the speed of new assets.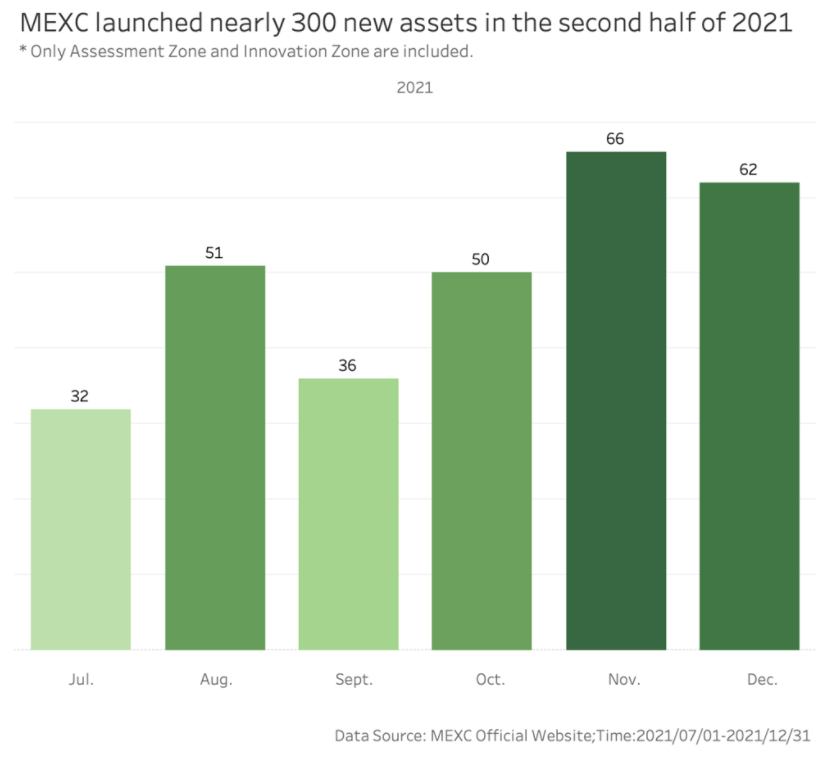 These 297 new assets are deployed on 32 different blockchains. Among them, 118 are deployed on Ethereum, accounting for about 40%, followed by 86 on BSC, accounting for about 29%. Besides, the new assets are mainly deployed on Solana, Polygon and Avalanche, reaching 17, 7 and 6 respectively. Other new public chains that are on the new asset layout include, for example, Fantom, Harmony, Cardano, etc.
Another finding is that the 297 new assets can be categorized into 24 sub-sectors. 104 assets are primarily related to DeFi concepts, accounting for about 35%. These assets include both lending and AMM DEX, as well as derivatives and DeFi 2.0, which was a hotspot in 2021, including SPELL, FARM, CVX, BETA, CHESS, RBN and other popular assets. There are also 61 NFT-related assets. The share of this major category reached 38%, if GameFi, Metaverse and DeFi protocols serving NFT are involved. These assets cover popular assets such as GODS, RARE, YGG, SLP, JEWEL, etc.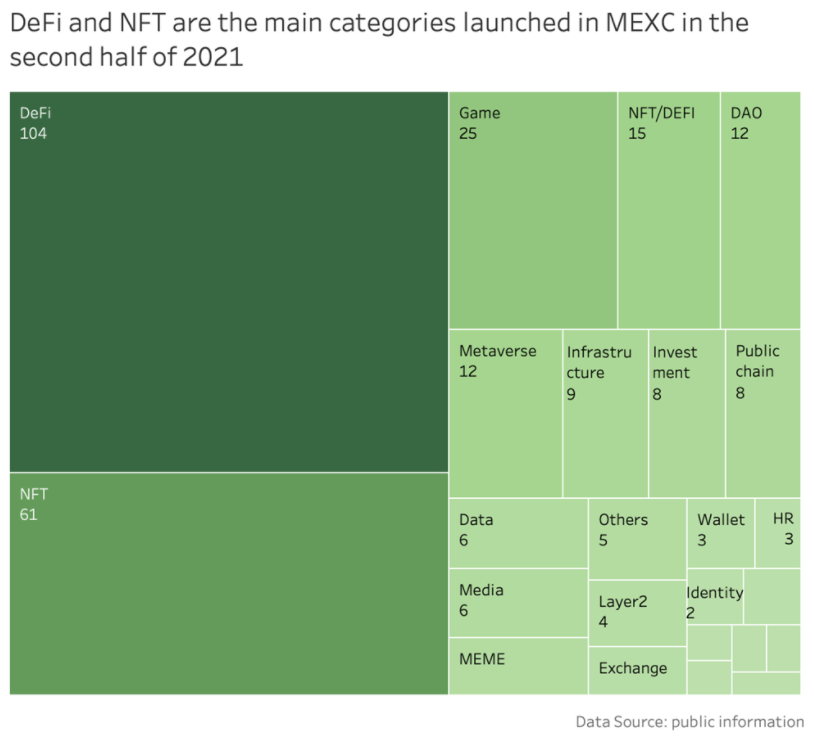 In addition, DAO, Infrastructure, Public blockchain, Data, Media were also trendy for investors to watch. There are also a few of assets focused on Human Resources (HR), Identity, Payment, Social, and Security tracks. Overall, assets newly listed on MEXC are very diversified.
79% of new assets launched IEO on MEXC Global
Of the 297 new assets that launched in 2021 H2, 29 were also listed on Binance and Coinbase Pro, with 23 of them IEO on MEXC and then listed on Binance and Coinbase Pro. It is known that the more exchanges an asset listed on, the higher market recognition of that asset as a quality asset. In this sense, assets initially listed on MEXC include many high-quality assets, and it has outperformed Binance and Coinbase in terms of asset choices and IEO speed, which makes MEXC unique and competitive among CEXes.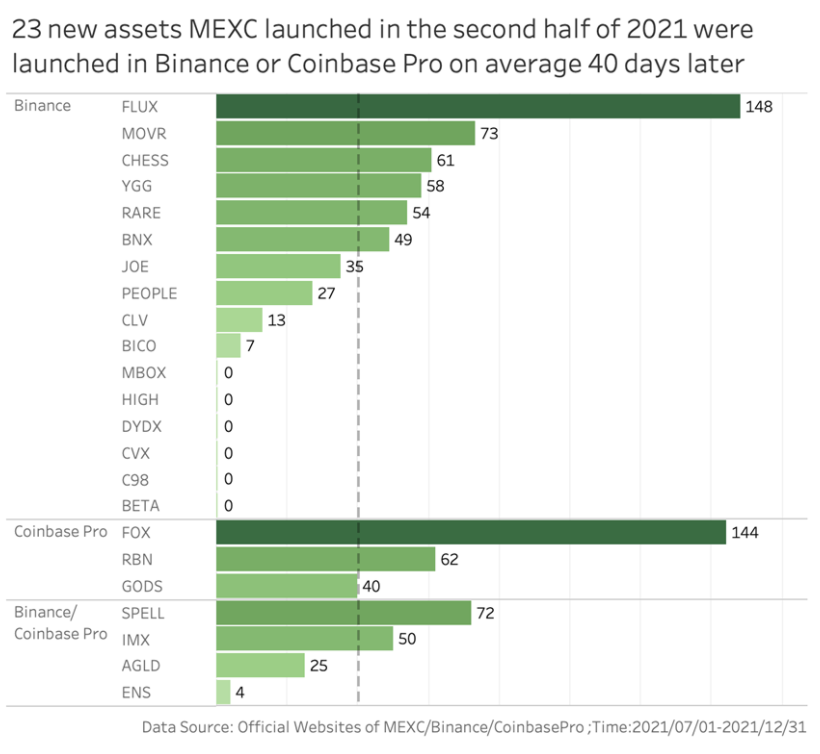 The 23 assets launched on Binance or Coinbase Pro 40 days later after MEXC listing on average, with MBOX, HIGH, DYDX, CVX, C98, and BETA listed on MEXC and Binance on the same day. In addition, PEOPLE, CLV, BICO, and ENS are also listed on Binance or Coinbase Pro within one month of MEXC's launch, and most of the other assets launched on different exchanges in less than two months.
MEXC Global Listing Research. Part Two.
Ready to more deeply explore the MEXC Listing performance of 2021? The second part is waiting for you here.
Start your travel on MEXC Global