In this Telegram AMA recap, you'll find insights about the Musk Gold project. In an event hosted by Mia from MEXC Global, you will meet Musktoshi and Starman, Founders of $MUSK Gold.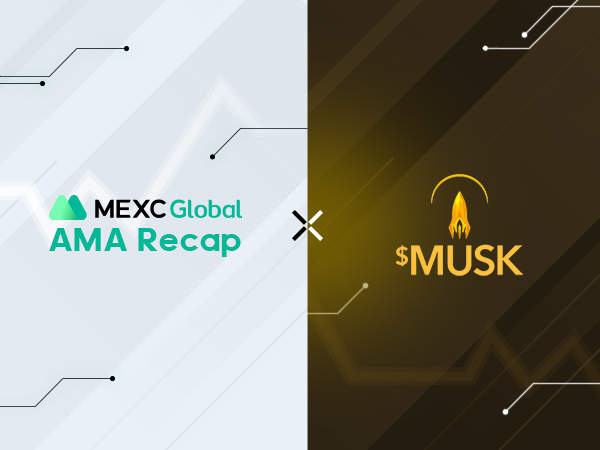 Introduction to MUSK team:
Hello from beautiful Southern California. It's a pleasure to be here with you. At $MUSK we believe 'we are made of stars' and all of us are 'Creators' with a purpose on this planet. Our Mission is to do good for the planet using blockchain and other technologies and building an ecosystem and community.
Questions from the community:
Question 1:
Mia: What is $MUSK Gold? Can you share with us more in detail?
Musktoshi : $MUSK is a meme/utility digital asset in the energy sector where the consumer is rewarded for using energy differently leading to conservation habits. $MUSK also has projects in the Metaverse and NFT space and a continual vision of progress represented in the White Paper of the five pillars of society: Communication, Energy, Transportation, Architecture, and Financial. $MUSK is the 'gold of the galaxy', a project inspired by Elon Musk and Nikola Tesla.
Question 2:
Mia: What triggers you to launch MUSK Gold? What are some of the real-world problems/ pain points that MUSK Gold aims to solve?
Musktoshi : $MUSK Gold is a new breed of digital asset. A meme/utility hybrid with the marketing of meme token, but with the utility to give longevity to the vision and project based on the ambitious White Paper. $MUSK wants to help educate on how the community of the world can be more responsible with choices when it comes to energy consumption, thereby receiving awards in the form of a digital asset.
Question 3:
Mia: What is the role of the $MUSK token in $MUSK Gold? Would you tell us more about its tokenomics?
Musktoshi : $MUSK has a total of 690,420,000 tokens ever in existence. The tokenomics are similar to other digital assets. $MUSK has a strong belief in community and creating an ecosystem whereby there's more equity. $MUSK has announced nine advisors/astronauts who will help the team. They come from successful careers in tech, film, finance, and blockchain.
Question 4:
Mia: Are there any exciting news or updates with regards to $MUSK Gold that you would like to share with the users?
Musktoshi : $MUSK Gold will be announcing a pilot program with one of the largest solar panel companies in Southern California. It is a program to be used for solar customers and sales team to incentivize them to choose to use less energy and receive rewards in $MUSK. Ultimately, $MUSK wants to create a Marketplace where someone who has conserved energy can trade, sell, or buy solar credits from another person in the ecosystem.
Question 5:
Mia: If you were to summarize your project in ONE word, what would it be? Why?
Musktoshi: Revolutionary
Follow us:
Medium: https://medium.com/mexcglobal
Telegram: https://t.me/MEXCEnglish
MEXC trading: https://t.me/MEXCTradeofficial
Twitter: https://twitter.com/MEXC_Global, https://twitter.com/MEXC_Updates, https://twitter.com/MexcResearch
Facebook: https://www.facebook.com/mexcglobal
Discord: https://discord.gg/nc6Jfwn3ap
Instagram: https://www.instagram.com/mexc.global
Trying to find MEXC AMAs recaps?
It's easy! Explore them in a special section of our MEXC Global blog. Find insights for other recently listed projects at MEXC like Musk Gold.
Start your travel on MEXC Global