In this Telegram AMA recap, you'll find insights about the YodeSwap project. In an event hosted by SenHo from MEXC Global, you will meet Vader *@YodeSwap ( CMO for Yodeswap )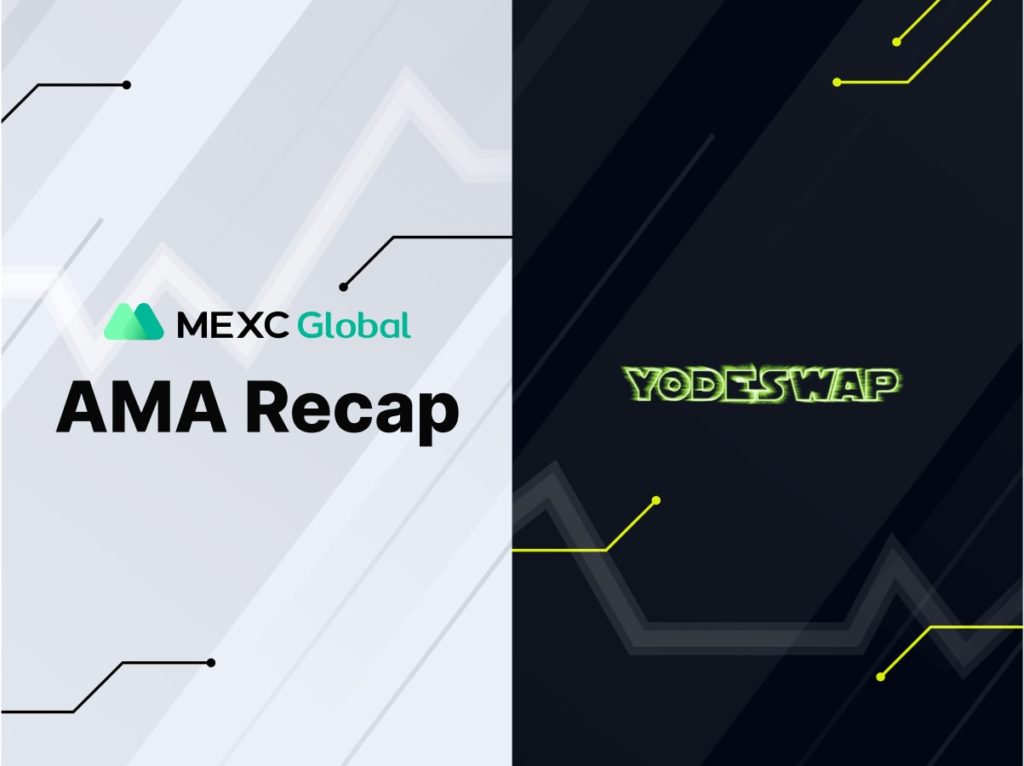 Vader *@YodeSwap :
Hey, my name is Vader I am the CMO for Yodeswap. It's a pleasure to be here today. I bring my experience of 17 years in the marketing industry to the YodeSwap team!
Our website: https://yodeswap.dog/
TG-EN: https://t.me/YodeSwap
Twitter: https://twitter.com/Yodeswap
Questions from the community:
Sen Ho Q1. What is YodeSwap? Can you share with us more in detail?
Vader *@YodeSwap : Yes, absolutely. YodeSwap is one of the first automated market-making (AMM), decentralized exchanges (DEX) for the Dogechain Network.  YodeSwap offers an all-in-one Defi solution that provides an array of services and features supporting the DeFi and Web3 spaces for both users and projects to build & grow.  This includes: your standard features like crypto swaps, staking, and yield farming. While also offering an array of features allowing projects to offer staking services and launch pools directly from our platform to allow your project to grow and add more token utility making YodeSwap one of the most robust DEXs on DogeChain.  Stake $Yode for $XYode and auto compound $Yode rewards and stake $xYode in launchpools for other project tokens! Stake Yode in our Earn Feature and earn high APY in $DC token.
Sen Ho Q2. What triggers you to launch YodeSwap? What are some of the real-world problems/ pain points that YodeSwap aims to solve?
Vader *@YodeSwap: Well, every chain needs a proper dex. We saw that there is no real exchange with a lot of products that people could use. As we are an experienced team and have previously deployed on other blockchains we had the DEX ready. Our products are also one of a kind on Dogechain Network. We wanted to give people an option to trade and swap tokens on Dogechain.

Sen Ho Q3. What is the role of the $YODE token in YodeSwap? Would you tell us more about its tokenomics?
Vader *@YodeSwap: $YODE is at the center of it all. You are able to stake $YODE for $xYODE to earn part of the exchange fees (paid in YODE), you are then able to stake $xYODE to earn other project tokens all while also earning $YODE, so double earnings.. You are also able to stake $YODE to earn $DC. In the future, you will also be able to vote with $YODE in governance.
We did a fair launch so our total supply is 15 million tokens. with 98.5% as liquidity incentives and only 1.5% to the team.

Sen Ho Q4. Are there any exciting news or updates with regards to YODE that you would like to share with the users?
Vader *@YodeSwap: Obviously the MEXC exchange listing 😄 We've just completed our audit (https://audit.cryptoizresearch.com/yodeswap/). We are also continuing to build new and exciting features, such as our new masterchef which will support multiple reward tokens, a lottery system with a burning feature, an automatic burn system and so on. Let's just say the action here at YodeSwap is just getting started!
Sen Ho Q5. If you were to summarize your project in ONE word, what would it be? Why?
Vader *@YodeSwap: The word I would pick is Versatile.
You might ask why pick that word but the answer to me is simple. Crypto is not only a fast-moving and changing environment, it is a place for teams that have the ability to adapt and change for anything that happens and the versatility to execute and build a project and community that brings value to its users, partners and the overall development of the whole ecosystem.

Free-asking Session
Q1. Many projects have problems with UI / UX and this one turns off new users. How do you plan to improve the interaction with new users and with users outside the crypto space?
Vader *@YodeSwap:
This is an issue many projects struggle with however, our team is very skilled and talented. Our focus is both making a feature rich DEX that is also very clean and user-friendly to use!
We do this by constantly making improvements and listening to the requests that come from our community to allow for a platform that has ease of use for new and existing users in the space. @EthanSmith32
Q2. an IMPORTANT role in enhancing the stability of any PROJECT. Do you have AUDIT CERTIFICATES? Or are you working to AUDIT your project to make it more secure and reliable?
Vader *@YodeSwap:
This is a great question and we are very pleased to say we have just completed our Audit that will be released to our community shortly after this AMA. As you will see it came back positive as expected. :). @Montoya772
Q3. What is the main utility of this YodeSwap? What types of opportunities do you provide for the investors?
Vader *@YodeSwap:
Yes so $Yode has multiple use cases which include:
The ability to stake $Yode single-sided to earn $DC token!
We also have single-sided staking which allows you to stake $Yode for $xYode with this you will earn great apr currently at 140% while also having the ability to stake in partner token launch pools with no added risk. To do this you stake $xYode in a live project pool to also earn their project token with great apr with current pools as high as 312%
You Can also provide LP and Yield Farm with $Yode as we currently offer two farms for our token:
YODE – WDOGE 256% APR & YODE – USDC   561% APR. And more to come! @Mehsanulmonib
Q4. Can you share to us your tokenomics? How much is the total and circulation supply of your tokens? Will there be buy back system or token burning in the future?
Vader *@YodeSwap:
Yes, I would be happy to share our tokenomics. We did a fair launch with a circulating supply of 15 million with only 1.5 % of the supply going to the team which is vested. Details are posted below!
As for a burning feature, this is something in our roadmap that will be implemented.
https://docs.yodeswap.dog/usdyode-token @Matteo7788
Q5. Did you consider community feedback/requests during the creation of your product in order to expand on fresh ideas for your project? Many projects fail because the target audience and clients are not understood. So I'd like to know who your ideal consumer is for your product?
Vader *@YodeSwap:
Hey, great question. We are a community-focused DEX that prides itself in listening to our community. We know how to develop products for the end user and it shows in our constantly changing UI. Our ideal customer is anyone looking to transact or perform or use and swap farming or staking features along with the tools we add in for simplicity of use really any crypto user. @mdsaiful3154


Trying to find MEXC AMAs recaps?
It's easy! Explore them in a special section of our MEXC Global blog. Find insights for other recently listed projects at MEXC

Start your travel on MEXC Global