In this Telegram AMA recap, you'll find insights about the Value Finance project. In an event hosted by Miranda from MEXC Global, you will meet Luka Anthony, the Founder and CEO of Value Finance Project.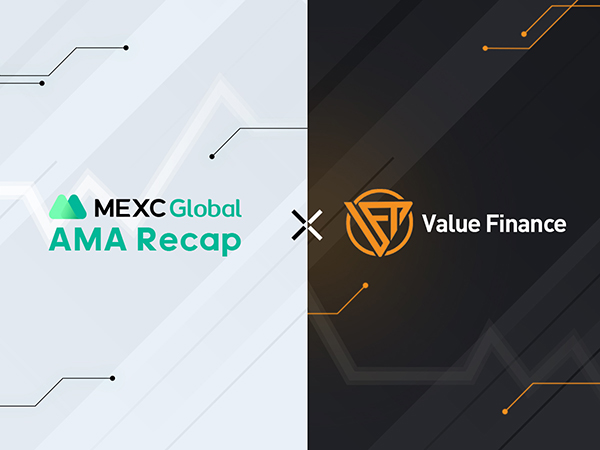 Introduction of Value Finance AMA Member:
I'm Luka Anthony a specialist in project development (project management and Advisor), with 3 years of working experience in blockchain and cryptocurrency terrain. Innovation is my motto which helps me to continue to strive to connect and create specialized solutions for projects with blockchain and non-blockchain sectors.
Questions from community to Value Finance:
Question 1:
Miranda: First can you tell us what's VFT in detail?
Luka: VFT in full words means "Value Finance Token"
Value Finance was formed with the sole purpose of creating solutions to upcoming/existing projects in terms of building utilities. Such as developing technical platforms for project use cases, rendering and supporting the project in all aspects that the project is lacking through our consultancy services and providing access to readily available tools, products and services useful for the growth and success of the projects.
Question 2:
Miranda: Thanks Luka, next can you tell us what triggers you to VFT? What are some of the real-world problems/ pain points that VFT aims to solve?
Luka: in the world of blockchain today it's no longer news in terms of the high cost of production, getting good advisory or consultancy that can work passionately in helping a project develop or render service in an effective and efficient manner. These days most platforms can't build the use cases of their choice, with Value Finance we plan to cohort with product developers, manage them and build as many products we can deliver due to demands or trending products. The purpose of value finance is to help a project get started in achieving their purpose of creating a blockchain project in the simplest form with our strategy and technical support
– A unique selling point are our ValueFi Merch Store where project owners or an affiliate can utilize our platform to make purchases of listed products and services within the Merch store. Such as leasing, one-time purchase of dapps, and any centralized products.
– Value finance Multichain Explorer; this is to solve the issue of users using different EVM chain Explorer just to check their transactions or balances, with our Explorer everything can be done on one dapp, you don't need to switch to different sites to check any particular wallet transaction records. Also it has a portfolio management feature.
– ValueFiPad; with our pad, we also intend to assist the project with awareness and fund raise to kickstart their project after undergoing some evaluation process for the safety of our investors.
Question 3:
Miranda: What is the role of $VFT in VFT? Would you tell us more about its tokenomics?
Luka: In terms of the $VFT role in the Value Finance ecosystem I'd say the use cases are infinite but below are some of the ways it can be.
VFT in DeFi role of our ecosystem are;
VFT to be utilized on our ValueFi pad as means of reserving allocation within the platform through stake or holding.
ValueFi Pool: VFT to be utilized, whereby our users can choose to stake $VFT to earn other project token rewards that have been added to the pool. These rewards could be manually added by us or through partnerships. Example stake $VFT earn $AA token , Stake BNB to earn VFT, anything can be added to the pool.
ValueFi Stake: we have our stake platform where users can stake only VFT to earn VFT with 100% APY
Cross-Chain: VFT to serve as gateway or fees required in order to utilize the cross chain bridge we are developing as project owner.
FT-Lp Mining Dapp: This allows our users to share from pool, that is for those who intend to add liquidity to pancakeswap can go to VFT pancakeswap and add pool, then stake their Lp token on our platform. Also, a project can apply to make use of Lp-mining dapp for their project stake if they want their users to stake from their own Lp token aside VFT, rather external pool incurs fee. E.g Projects who are interested can apply for ValueFi pool & VFT-mining pool for their project purpose. 
ValueFi game /NFT launch: we hope to diversify into making games that will have a real world use case in the NFT sector of ours. More mature metaverse game project will be developed by Value Finance.
In a centralized way; 
VFT can also be use to access our Merch store which includes as means of payment to purchases or make use of any of the products,tools and services available on the store.
Centralized platform that might likely launch in the nearest future. More details would be emphasized prior to the launch.
Question 4:
Miranda: Are there any exciting news or updates with regards to VFT that you would like to share with the users? @Luka_Anthony
Luka: Sure! We have a few products that are ready to be deployed.
ValueFi Pool is almost in it's finished stage
VFT-Lp mining 
Partnerships along with cross promotion 
Media press releases 
More centralized exchanges listing 
Google SEO for social media ads banners
Sneak peeks showing progress on some of our upcoming products e.g VFTPAD, multi chain dapp, game development 
Ads on crypto sites as well
Question 5:
Miranda: All right, last question: if you were to summarize your project in ONE word, what would it be? Why?
Luka: Blockchain solution 👌
Free-asking Session to Value Finance
Q1. Is your project a community only for English speaking an countries or for users not of other languages?
Luka: In our community we have an ambassador program with the aim of reaching out to many regional communities as we plan to expand globally and wants VFT to be recognized. We will work intensively in getting the right set of people for the job. Thanks
Q2. Since NFT is popular nowadays, is there a plan for NFT integration?
Luka: Sure! In our upcoming game we plan to make it work with an NFT case, this way you can have much demand if you are holding any of our game collections. We don't intend to make a random nft that won't have a use case for it. It is important to always create "Value" in all we do for the benefit of our investors and long term holders
Q3. PARTNERS are the most important that strengthen the ecosystems of all projects. Could you tell us about your project partners and the partnership strategy it has adopted?
Luka: Surely! This is one of the main reason we will be rolling out with VFT-pool where users can stake VFT to earn partners token, or stake a partner token to earn VFT. do cross promotion with partners for more engagement. Aside that find more ways to create impact within the blockchain ecosystem.
Start your travel on MEXC Global