In this Telegram AMA recap, you'll find insights about the PearDAO project. In an event hosted by Mia from MEXC Global, you will meet Lori W, Business Development Manager of PearDao.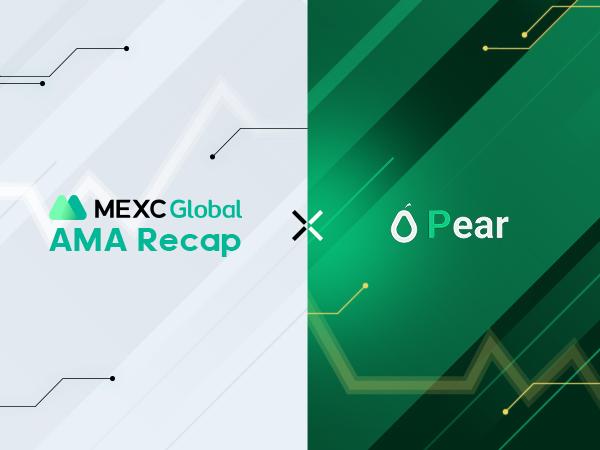 Introduction:
I'm Lori, Director of strategic development of PearDAO.
PearDAO has recently received an investment from the BNB Chain Fund, we are also a participating project in the MVB Labs incubation program.
And of course, we got listing on MEXC a month ago, giving more users an opportunity to purchase PEX token.
I hope to share more about our project today, and I'm happy to meet the MEXC community here today.
Follow us! We will share all the exciting news to you!
➡️PearDao officail website: https://peardao.io/
➡️EN Telegram: https://t.me/peardaoEN
➡️Twitters:https://twitter.com/officialpeardao
Questions from community:
Question 1:
Mia: What is PearDAO? Can you share with us more in detail?
Lori : PearDAO is a DAO managed, decentralized marketplace that welcomes all users to trade on the platform.
Peardao (PEX) aims to complement the CEX and DEX-driven cryptocurrency ecosystem by enabling the exchange of value between on-chain, off-chain and cross-chain ecosystems
much like what we are seeing in centralized ecommerce marketplace like eBay and amazon.
Transactions on the Pear marketplace are executed through smart contract(s), facilitated by encrypted chat tools.
Credit history is public and transparent to all, and arbitration is done through a decentralized dispute management system.
There will be different types of marketplace on Pear, supporting the trade of NFT, physical products, and offering for professional services.
Right now, we support the trade between fiat and crypto, which is a way to allow users to enter the crypto world easily.
Question 2:
Mia: So what triggers you to launch PearDAO? Are there any real-world problems or pain points that PearDAO aims to solve?
Lori : We've witnessed a lot of marketplaces with the concept of being decentralized.
But most, if not all, of them are partially decentralized.
This means users still have to register with the platform, and the marketplace is regulated by one centralized operator which stores data on one centralized data server.
With a fully decentralized marketplace, no data is being kept by the platform.
All trading records are being recorded on-chain.
Using just a wallet, users are free to trade whatever they want, and trade for the things that they think are valuable.
Just last year, we saw Amazon restricting users from listing new products which have a higher price than their competitors.
a great move to make the marketplace more competitive in the e-commerce space.
To a certain extent, this is a reasonable move because they want to stay more competitive.
But this sets as an impediment to the freedom of trade.
Freedom is the reason people are adopting cryptos.
In our view, people should decide on what they want and should trade in an online marketplace.
With regards to crypto exchanges, I think one of the main advantages we have is that we are fairly new.
We are building with a clear goal in mind.
We chose to work on one of the toughest jobs first so we do not leave any technical debt behind.
We could take the easy way out. Or we can skip all those centralized processes and work on the things no one wants to work with, which is a fully decentralized marketplace that prioritizes users' privacy and assets' safety.
Mia: We are really happy to hear that PearDAO is creating a fully decentralized marketplace for the users. That's awesome!
Question 3:
Mia: What is the role of the $PEX token in PearDAO? Would you tell us more about its tokenomics?
Lori : PEX Token is the core of the Pear ecosystem.
Users can farm, earn, pay and use it for governing purposes.
We have released our Pex-BNB LP Token pool, Pex Token pool for all users to farm more PEX, these pools do not have any lock-up period.
Users will be rewarded with PEX tokens whenever they are trading on the pear marketplace.
We have a lot of users who are staking their earned PEX tokens in our PEX token pools as most of them believe in the long term development of Pear.
The staked PEX tokens will generate a relatively good reward in more tokens as well.
We have recently added $cake rewards in our pools.
And there will be more types of token rewards will be added in the future.
We welcome all users who are interested in this concept to join us by becoming a PearDAO member.
Question 4:
Mia: Are there any exciting news or updates with regard to PearDAO that you would like to share with our community?
Lori : BIG YES!
We have 4 pieces of news which we would like to share.
These updates are shared "exclusive here" before any other channels
1. We are actively planning for our SEED NFTs which will be released pretty soon.
This is a unique NFT which will boost the amount of incentives of all PEX holders.
At the same time, SEED holders will be able to play different games that are created by Pear and the community.
2. In order to increase the stability of our liquidity pool, Pear will be introducing a unique feature which will generate LP that belongs to the Pear protocol.
This will generate a stable source of liquidity for PearDAO and PEX holders in the long term.
Platform fees collected on Pear will be used to create WBNB-PEX LP token that will be locked forever in the protocol.
Even when the market is not performing well, PEX holders would not have to worry about paper hands extracting and selling their LP tokens, which will bring the price of PEX tokens down.
More details will be shared on our official social media channels. STAY TUNED MEXCers!!
3.The Pear Node Arbitration system will be online very soon.
This will create more transparency and safety for the users.
Users who may experience a potential trading dispute on the platform will be able to submit an appeal which will be sent to at least 21 different dispute handling nodes for a resolution.
If users are not satisfied with the outcome, they will have another chance to submit their cases to 3 arbitrators which will resolve the issue.
The double layer of safety can keep any potential scammers away from the platform, leading to a safe and healthy ecosystem.
4. Within a week's time, all users who are trading within 100 USDT in total trading amount will not have any restrictions.
This is done to encourage users to try out our decentralized p2p marketplace.
At the same time, we will be launching our global merchant's program.
Right now we have a lot of users trading privately, but as we launch our merchant program, users who need to buy or sell crypto can immediately find a trader on our platform.
Question 5:
Mia: For the last question, if you were to summarize your project in ONE word, what would it be? and Why?
Lori : Community!!!
We are a community-first project.
We are not only looking at the short term growth of the marketplace because we have a vision to dominate the blockchain ecosystem in the near future.
Our marketplace will eventually be compatible with any type of transaction and payment.
Governed by DAO, DAO members will make decisions to set rules for their ideal marketplace.
Unlike Exchange 1.0 which is register-based and controlled by a centralized server,
or Exchange 2.0 where anonymous users trade on the chain with an automated market makers mechanism,
PearDAO focuses on the era of Web 3.0 governed by DAO with off-chain assets and on-chain escrow, allowing anything and everything to be traded all at once.
All the stated functions will allow PEX to set the foundations for Web3
and it will be the one and only marketplace that will become part of the future, superseding both CEX and DEX.
Free-asking Session
Q1. [1354] What are plans in for global expansion? Are you focusing on market at this time or focus on building and developing or getting customers and users, or partnerships?
Lori :
we are looking to start our global merchant program. By recruiting merchants from all parts of the world to become our liquidity providers, it will attract more global users who needs fiat on and off ramp services to enter the pear ecosystem. We are focusing to get users first, then partnership
Q2. [1354] Have you being audited ? Have not heard you talk about that security of funds is what every investor craves for and plans to escape incase of insecurity if funds,scams and rug pulls ? How strongly built are your security put in place?
Lori :
We are almost done with our Certik audit, and it is right now in the finalising stage. Our PearDAO arbitration program which is set to go online within 2 weeks will also help to safeguard user's assets.
We are invested by the BNB Chain and have done our DD with the team, so investors doesnt have to worry about rug pulls. Larger organizations are more careful when picking projects to invest in.
Q3. [1354] According to the roadmap, what are your most important next priorities? Does your team have enough funds and strong community to achieve those milestones?
Lori :
The next most important priority is our PearDAO arbitration system and PearDAO governance features. When we have implemented all of these, we will be adding new types of marketplaces on the platform that serves both fiat and digital assets transactions.
Q4. [1354] How many team members do you have? Do they have enough experience in the blockchain field? Do they have any experience on working in crypto and non-crypto project?
Lori :
our cofounders have experience working in the top CEX and DEX. We are in a whole unique category which is a decentralized marketplace. It is different from cefi or dex – defi 1.0 or defi 2.0. We are preparing for the web3 revolution so the team is very confident with this director. This is a path which the team thinks will beat both cex and dex in the future.
Q5. [1354] Do you guys feel satisfied by seeing your progresses and achievements till now, when you look back to the day when you have started this project?
Lori :
no, we are never satisfied and we are always hungry for more. In order to become a marketplace built for the future, we need way more than what we have achieved right now. Being a top 1000 crypto project and being ranked as one of the top DAO & marketplace project is not enough for us. What want to be one of the top project in the industry, and we want to be the BEST DAO & marketplace in the very near future. But we are happy to be receiving support from our strong community. Love all our Pears and also support from exchanges like MEXC.
Follow us:
Medium: https://medium.com/mexcglobal
Telegram: https://t.me/MEXCEnglish
MEXC trading: https://t.me/MEXCTradeofficial
Twitter: https://twitter.com/MEXC_Global, https://twitter.com/MEXC_Updates, https://twitter.com/MexcResearch
Facebook: https://www.facebook.com/mexcglobal
Discord: https://discord.gg/nc6Jfwn3ap
Instagram: https://www.instagram.com/mexc.global
Trying to find MEXC AMAs recaps?
It's easy! Explore them in a special section of our MEXC Global blog. Find insights for other recently listed projects at MEXC like PearDAO.
Start your travel on MEXC Global