In this Telegram AMA recap, you'll find insights about the Okaleido project. In an event hosted by Lucky from MEXC Global, you will meet Alain Garner COO SeekTiger & Okaleido.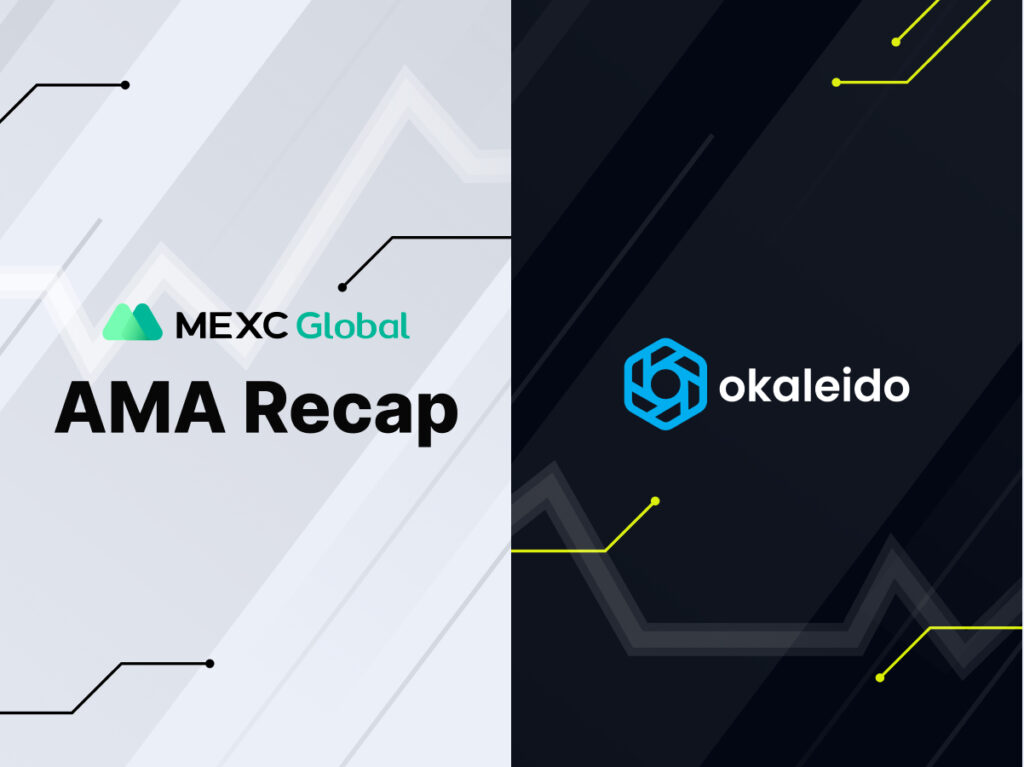 Questions from the community:
Lucky Q1. What is okaleido (OKA)? Can you share with us more in detail?
Alain Garne : So we are an aggregation platform with a focus on transactions, including NFT and mining.
Users no longer need to rummage across various DEX platforms to find the best trading solution. OKALEIDO offers members the best transaction price based on the market and mining rewards.
Deployed on the BNB Chain, we have built the premier NFT trading aggregator platform with support for transaction mining.
We collect and organize all NFT trading information from different markets and provide an optimized trading experience to enhance the efficiency and visibility of transactions.
Our platform is primarily used by institutional B2C traders and individual boutique traders, with C2C, collectors to conduct, emerging as a growth sector.
Lucky Q2. What triggers you to launch okaleido (OKA)? What are some of the real-world problems/ pain points that okaleido (OKA) aims to solve?
Alain Garne : Since the NFT Summer craze in 2021, Opensea, the largest NFT platform in Ethereum, has reached a billion-dollar weekly transaction volume, and the number of unique wallet addresses remains over 300,000 (Dune Analytics @hildobby, 2022).
Leading to high fund thresholds and insufficient capital utilization. When NFT holders need funds, the illiquidity means they will take a substantial financial loss in value or be unable to participate in lucrative and blue-chip investments due to the lack of funds.
which tries to increase the liquidity, predictability, utilization and compatibility of NFTs in a financial way, in order to create a better experience for NFT holders.
How Does Okaleido Release NFT's Liquidity?
OKALEIDO is a high-quality ecosystem built on innovation with a mission to improve today's financial markets. We are creating a new paradigm for NFTs, asset classes, and the art market.
In the NFT market, NFTs are primarily traded for profit. Seldomly do individuals hold NFTs for artistic appreciation. A primary driver behind this is the nascency of NFTs and the time needed to form a deep cultural foundation. Therefore, in a profit-seeking market, aggregation may not fundamentally address the liquidity of NFTs in the long term.
As an NFT market aggregator, OKALEIDO introduces a transaction mining mechanism, which can encourage NFT holders or potential investors to trade through further incentives. Transaction mining itself is an incentive measure that has been proven by the industry, especially in the NFT trading market sector. For reference X2Y2 and LooksRareboth both have had notable success on OpenSea.
Lucky Q3. What is the role of the $OKA token in Okaleido? Would you tell us more about its tokenomics?
Alain Garne : OKALEIDO uses OKA tokens as the sole governance token of the trading aggregator. The total issuance is 50 million (fixed).
OKA Token Allocation:
LP mining: 55% (27.5M OKA)
Private sale: 20% (10M OKA)
Institutional investors: 5% (2.5M OKA)
Angel investors: 4% (2M OKA)
Team: 5% (2.5M OKA)
Public fund-raising: 1% (500K OKA)
Should I talk about our vesting schedule?
Vesting Schedule:
Angel investors: First vesting 3 months after project launch: 10% vesting per quarter
Institutional investors: First vesting 2 months after project launch; 10% per quarter
Private sale: First vesting 1 month after project launch; 0.25% vesting daily
Public fund-raising: 10% released before the project launch; 10% vesting monthly
Team: 1% released every month
Lucky Q4. Are there any exciting news or updates with regards to okaleido (OKA) that you would like to share with the users?
Alain Garne : Q3, 2022,
Support mainstream public chain infrastructures such as BNB Chain, ETH, Polygon, and Solona.
Lucky Q5. If you were to summarize your project in ONE word, what would it be? Why?
Alain Garne : Easy
NFTfi
Okaleido can address many issues faced by NFT currently
Increase Accessibility
Judging from its definition, NFT is unique. When a buyer makes a sensible buying and selling decision, it requires him/her to be equipped with professional knowledge for the targeted asset. Additionally, the scarcity of unique assets may rapidly push up prices beyond the affordability of buyers. The overlaying of these two factors increases the market entry threshold for new buyers, and sets obstacles for the value aggregation of NFT itself. In the view that partial values of NFT come from the bottom community, if the access rights of long tail buyers are restricted, it will be difficult for NFT to penetrate the entire Internet.
For NFT market participants, NFTfi can decrease the capital volume and demands on knowledge. The NFT works existing on Okaleido platform can be acquired via the forms of crowd-funding, which means people can own a common NFT, which opens a new door for a next wave of retailing users.
Improve liquidity
Okaleido is a liquidity market converged with buyers and sellers, it can increase the trading speed on the secondary market for NFT, and better discover the value of NFT assets. The more trades, the more revealing the fair market value of NFT. In this way, sellers can transform their working activities into the output in the form of currency in a more relaxed way, and lower the entrance bar for inexperienced buyers. As long as they have a will, they can quit at any time.
Enhance utility
Confirmation and traceability are important attributes of NFT. They are completely realized by encryption networks without authorization, but their value proposition has not yet fully resonated with retail investors. By relying on Okaleido's rich and robust utilities (such as accessibility to cash flow, content and experience), more mainstream audiences will be attracted to buy NFT assets.
In the current realm of NFT, the driving factor to trade NFT is to gain interests, no one wants to hold NFT out of sole "obsessive feelings' ', which is mainly due to the fact that NFT itself has not formed firm cultural foundations. Hence, for a profit chasing market, simply through aggregation perhaps cannot push the long lasting liquidity of NFT fundamentally. Therefore, the thought to construct an NFT market aggregator on the basis of the BNB Chain is worthy of reference.
Okaleido will continue to iterate, and support the mainstreamed public chain infrastructures such as BNB Chain, ETH, Polygon, Solona, to extend the superiority of NFT into various different ecologies, so that the entire crypto community can enjoy the benefits of NFTfi.
Apart from above points, Okaleido, as the NFT market aggregator, introduces the transaction mining mechanism once again for platform users, to stimulate the NFT holder or potential investor to proceed with the trading via further excitation. In the future, Okaleido platform will launch several functions in series, from NFT to Gamefi to Defi, even to entire Web3, it can build Okaleido to a meta universe ecological platform incorporating "NFT +DeFi +Web3 ".
Free-asking Session
Q1. How does project increase the token's value, liquidity and utility ? So that it can lead to an increase in token prices ? What is your plan to make your project stable and provide the highest return for investors in the long term ?
Alain Garne :
NFT liquidity incentives
OKALEIDO is the first project to implement the NFT liquidity reward mechanism. Under this mechanism, 10% of the transaction fees from NFT sales will be used for the following purposes:
80% injected to the incentive pool;
10% distributed to DAO dividend fundation;
10% for platform operation.
The liquidity incentive pool
1) The last trade of each hour is rewarded with all bonus from the liquidity incentive pool. This exclusive bonus is also the highest bonus.
2)When the incentive pool reaches 100,000 STI, 50% is automatically settled and the rest 50% remains in the pool for a new round of incentives. 50% of the settlement mechanism is, depending on the time, the last ten trades weighted bonus by the amount of transactions.
Q2. Mining is very profitable for now I started earning from this recently
Alain Garne :
1)Users pay 10, 000 STI + 1 OKTiger, the STI paid will be automatically burnt, OKTiger can be redeemed at any time, no more production after redemption.
2)The formal phase starts on September 1st, the total production of fusion mining is 10,000 OKA per day
3)Individual daily production : Total production x number of individual OKTigers ÷ number of OKTigers in the network
4)The mining cycle is permanent output
5)Node reward is 10% of individual daily production
Q3. What are the stages of product development, achievements and plans for the near future??
Alain Garne :
We are currently in the technology development stage and will be available widely around September/October
Q4. PARTNERSHIP & COLLABORATIONS are the backbone in making every project more widespread. Can you list some of ur partners with us?
Alain Garne :
Nycticebus, MiningverseNFT,HALO NFT,Alphashark, Homeless Friends, SeekTiger, TigerdaoVC, MenderClub, Neko Mura, 凌风啸 LING, Project Galaxy,Binance NFT
Q5. What strategy will you implement to bring non-crypto-natives into your ecosystem? How do you keep a balance between developing the technology and also improving the value of your token?
Alain Garne :
In addition to providing support for arts practitioners on OKALEIDO, we will also continue to promote the ecosystem expansion of OKALEIDO.
Music NFT is one of the directions OKALEIDO will pursue. OKALEIDO plans to use it as an entry point to advance its commitment to the multimedia NFT trading platform. After OKALEIDO features are developed, we will first introduce the OKALEIDO music ecosystem.
Based on the OKALEIDO platform, we will soon launch μEasy, a music creation application suitable for all users. By writing lyrics or composing melodies, etc., users can cooperate with others to write a complete song and convert it into music NFT. This will greatly lower the threshold of music creation. For example, the foolproof AI composition feature can recognize rhymes from users' random humming and turns them into music. This will create a new music business scenario. OKALEIDO is doing its best to promote the development of the NFT market.
These NFTs are copyrighted by OKALEIDO, receive royalties, and have access to liquidity. In other words, any creator can earn revenue and participate in threshold-less music production. In the long run, we will apply this model to video production as well.
We hope that, by doing these, NFTs will not be limited to images. Our goal is to promote the popularity of music and video NFTs, let everyone's creativity and imagination run wild, and make the NFT segment more diverse and multidimensional.


Trying to find MEXC AMAs recaps?
It's easy! Explore them in a special section of our MEXC Global blog. Find insights for other recently listed projects at MEXC

Start your travel on MEXC Global