In this Telegram AMA recap, you'll find insights about the Mogul project. In an event hosted by Iris from MEXC Global, you will meet Jake Fraser, Head of Business Development at Mogul.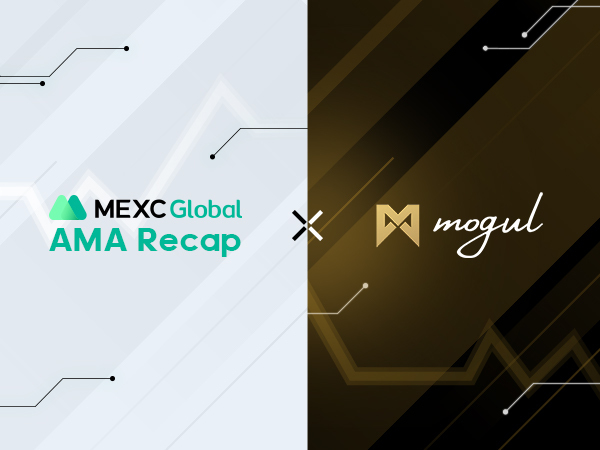 Introduction:
Jake: Hello MEXC community, it is great to be here with you today! I hope everyone is having a great day.
I'm part of the team at Mogul Productions – which is a DeFi and NFT platform based out of Canada.
Twitter: mogulofficial_
Website: mogulproductions.com
Telegram: https://t.me/mogulproductions
Discord: https://discord.gg/4xMqXQeshg
Questions about the Mogul project:
Question 1:
Iris: What is Mogul? Can you share with us more in detail?
Jake: Mogul is a Defi and NFT platform that was created for the film and entertainment industry. Inherently our two core pillars of business are decentralized film financing and also an NFT marketplace, all of which is governed by our native token, $STARS.
Our mission is to reimagine film production, distribution, and fan participation utilizing the power of the crowd through blockchain technology for its many benefits such as transparency, tracking, security, and more.
Iris: awesome! everyone loves films and NFTs – this is HUGE 👀
Jake: Thanks, we think so too!
Question 2:
Iris: What triggers you to launch Mogul? What are some of the real-world problems/ pain points that Mogul aims to solve?
Jake: One of the reasons that triggered our founder Lisa to start Mogul was centered around the following story:
Hollywood star Ryan Reynolds had been pitching the film Deadpool for about 11 years. Nobody wanted to film it the way Ryan Reynolds saw it, because it was the first R-rated superhero movie. No one saw the vision. Everyone shelved that project until a concept trailer was leaked onto YouTube. Millions of fans were like, 'We want to see this film.' That's what actually pushed a studio to create Deadpool, which became one of the most successful R-rated franchises in movie history. That's the power of the fans.
One of the real world pain-points we are trying to solve is to provide a platform for film and entertainment creators to leverage NFTs as an innovative new medium to drive revenue, amplify their marketing and forge incredible online communities by bringing fans and supporters closer to the action!
We also aim to provide independent filmmakers a platform where they can leverage the power of the crowd to get their IP turned into a film for the masses to see and not have to be as reliant on typical distribution models and financing to bring their films to life.
Iris: Superb! I'm sure we have many fans of Ryan Reynolds here
Jake: He's a popular guy!
Question 3:
Iris: What is the role of $STARS in Mogul? Would you tell us more about its tokenomics?
Jake: Absolutely
$STARS is our native token on the Mogul platform and is available across two different blockchains – Ethereum (ERC-20) and Binance Smart Chain (BEP-20).
$STARS are used to perform a variety of different use cases. Two of the main forms of utility $STARS provides is to firstly be used as a way for our community members to vote for which film project they would like to see be financed into production. The community are presented with several different stories/projects to vote with their $STARS, the most voted project then gets created, with up to 50% of the film's profits being distributed back into the community.
The second area where $STARS is primarily used is to partake in the buying and selling of NFTs on the platform. There is a 5% discount for all users who transact in $STARS when on the Ethereum network!
In regards to tokenomics, the maximum supply is 400 million $STARS, although we are a deflationary token and create "Supernovas" on the 3rd Friday of every month where we actually burn tokens. The circulating supply is currently just over 306 million.
Question 4:
Iris: Are there any exciting news or updates with regards to Mogul that you would like to share with the users?
Jake: Yes, absolutely! We are launching several exciting new NFT campaigns shortly. On Wednesday, we are releasing a project called SEYTANI CROON which is a Sci-Fi PFP collection. The utility includes a fully-fledged role-playing game being developed by the world-renowned gaming studio,iLogos. The art was created by artists that were involved in "The Lord Of The Rings" and "Star Wars".
We then have a NFT collection with American rap artist, Jim Jones – where he will be releasing the world's first song about Crypto called "Digital Money" minted as an NFT exclusively with Mogul. There will be some pretty cool utility such as Metaverse studio sessions!
Another exciting update I would love to share with you all is that we have partnered with a company called CHAVVO Studios – CHAVVO are an incredibly talented animation studio and are the animators behind shows such as "The Simpsons" and "Rick & Morty".
We have worked with them to develop an NFT collection called "Mogies", which is centered around the 100 year anniversary of the Hollywood sign being erected in 1923. There will be 1,923 NFTs that are all 3D and completely unique. They pay homage to some of the biggest characters in film over the past 100 years. Holders will own the IP and we are working to build out "Mogieland" which is a Hollywood Metaverse for all the Mogies to live in 🙂
Iris: wow, lots of exciting stuff coming! 👀
Question 5:
Iris: If you were to summarize your project in ONE word, what would it be? Why?
Jake: Sure thing
"Hollywood" – This would be due to our core demographic being people that love film and entertainment. We try to create all of our products and experiences tailored around the entertainment industry and then distribute this globally via our platform, so anyone in the world can take part and be involved!
We also have several of our team members that are highly respected film producers based out of Hollywood and help shape the strategic direction of Mogul.
Free-asking Session
Q1. I am interested to invest in your project. When and where can I buy your tokens? Is it already listed exchanges?
Jake:
Thank you for your interest! You can currently buy $STARS on MEXC, Bitmart for centralized exchanges. For decentralized exchanges, the most popular option is ApeSwap for BSC network and UniSwap for Ethereum network. Most of our activity takes place on the Biinance Smart Chain side of things via our BEP-20 token (Which MEXC has gratefully partnered with us on!)
Q2. Do you guys feel satisfied by seeing your progress and achievements till now, when you look back to the day when you have started this project?
Jake:
We are happy with our success to date, generating a community of over 150,000 people in 12 months has been amazing. As you guys all know, Crypto and NFT move very fast, and we are always innovating and planning for future success with our team. We will never stop trying to grow and get bigger! 2022 is shaping up to be huge for Mogul.
Q3. What's your main focus right now, are you focused on the community or market/Exchange or the products?
Jake:
Our main focus points right now are scaling our NFT marketplace for film and entertainment to showcase incredible drops every week of the year. We want to present our community with many options on how to get involved with Hollywood and NFTs. We are focused on building our community up even bigger and with that will naturally bring more products and experiences into our ecosystem. We currently have over 40+ strategic partners such as ChainLink, CEEK, Polygon etc
Q4. How many team members do you have? Do they have enough experience in the blockchain field? Do they have any experience working in crypto and non-crypto projects?
Jake:
We are fortunate to have a very strong core team. Our senior team has been involved in Crypto for over 8 years and has helped launch dozens of projects. Our advisory team is also very well credentialled in the film space, winning several impressive awards as producers and actors. We aim to be connected to core people in the industry so we can grow as fast and effective as possible!
Trying to find MEXC AMAs recaps?
It's easy! Explore them in a special section of our MEXC Global blog. Find insights for other recently listed projects at MEXC like Mogul.
Start your travel on MEXC Global