In this Telegram AMA recap, you'll find insights about the MetaVisa project. In an event hosted by Mia from MEXC Global, you will meet MetaVisa Community Ambassador.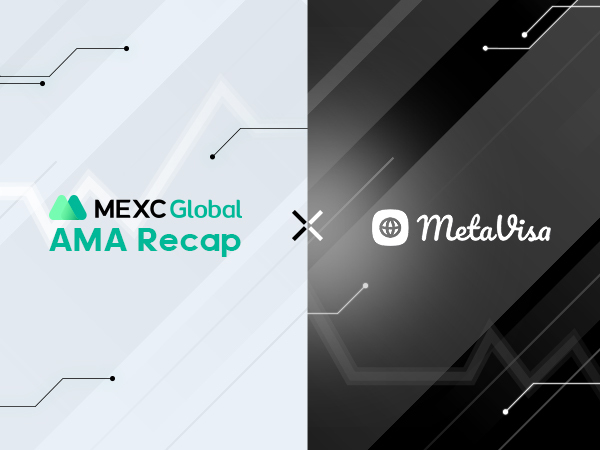 Introduction:
Hi everyone, I'm a MetaVisa Community Ambassador and it's a pleasure to be a guest for an AMA.
@mialiu0120 Thank you for your invitation, it makes me very excited!
Questions from community:
Question 1:
Mia: What is MetaVisa? Can you share with us more in detail?
MetaVisa: MetaVisa, a Web 3.0 middleware protocol built on Ethereum, dedicated to developing decentralized identity and building a credit system in the Metaverse.
By analyzing blockchain data, MetaVisa Protocol helps users establish and display reliable on-chain identity & credit records and makes it easier for DeFi, NFT, GameFi, DAO, and other DApps to better serve their users through our credit system; which we call the MetaVisa Protocol Credit Score (MCS).
Based on the blockchain data, using cloud computing, machine learning technologies, and model algorithms such as logic regression, decision trees, and random forests, MetaVisa Protocol conducts comprehensive processing and evaluation of data in various dimensions such as credit history, on-chain behavior preferences, address activity level, asset holdings & portfolio, and address correlation.
MetaVisa by analyzing blockchain data, the MetaVisa Protocol helps users establish and display reliable on-chain identity & credit records and makes it easier for Symbol, Credentials, GameFi, DeFi, DAO, CRM, and other DApps to serve their users better through our credit system.
Our Official SNS:
Website: http://www.metavisa.com
Telegram:https://t.me/MetaVisaOfficialCommunity
Twitter: https://twitter.com/MetaVisa
Medium: https://medium.com/@metavisaofficial
Discord: https://discord.gg/X3fWAgeqtv
Explorer: https://etherscan.io/token/0x5AFFF9876C1F98b7d2b53bCB69EB57e92408319F
Question 2:
Mia: With that being said, I believe we are all very curious about what kind of team is able to found such a project. Do you mind introducing the backgrounds of the MetaVisa team?
MetaVisa: yeah
Founder:Jassem Osseiran
Entrepreneur and advisor in the financial services, alternative investments sector with over 10 years of demonstrated history in leading commercial operations, strategic partnerships and capital deployment, having previously held positions at Rocket Internet, Omnicom Media Group and GIMA Group, Inc. Jassem is an experienced mentor and investor in early to mid-stage ventures with expertise in operational strategy, process and business model innovation; he has a degree in International Business and Economics from the University of San Francisco.
"With the relentless global shift towards decentralised economies and virtual systems there has not been a more necessary time for accredited authentication mechanisms across digital ecosystems. As users turn towards Metaverse and Web3 interactions, we at MetaVisa look to solidify user interactions and transactions across multiple environments, contributing to the overall security between decentralised relationships and structures within avatar networks."
Cofounder:Silent Unicorn
Silent Unicorn is a Venture Builder started in 2016 that focuses on building, financing and expanding technology businesses globally. Silent Unicorn harnesses the power of its expertise and sophisticated network of partners to make an impact across market verticals.
Mia: We are all very happy to know that the project is established by such an experienced team in the industry👍
Question 3:
Mia: What is the role of the $MESA token in MetaVisa? Would you tell us more about its tokenomics?
MetaVisa: The symbol of MetaVisa is $MESA, which will be issued on Ethererum and total circulation is 10 billion. Tokens for different purpose have various locking period, and the community award compoent is the longest, which is at 36 months.
The future usage scenarios of $MESA as below:
①Used to pay the service charge for invoking MetaVisa identity system and credit system services, which will burn the Token when invoked.
②Used to realize the governance of MetaVisa protocol. Governance includes voting or elections, changes to MetaVisa protocol identity and credit evaluation model, etc.
③Used to encourage users to actively provide personal address data, and improve the personal identity system of users in Metaverse.
④Used to upgrade MID visual presentation through consumption of $MESA.
⑤Staking $MESA is otherwise rewarded, and 30% of the net expense will be distributed as a staking award.
⑥MetaVisa protocol has 36% of the net fee is used purchase/burn tokens.
Question 4:
Mia: Do you have any plan for later progress or milestone that can be shared with MEXCers👀
MetaVisa: Here is a general milestone of 2022:
Q1 2022
Initial blockchain integration: Ethereum
Data mining and cleaning
Build credit scoring algorithm model
Credit scoring NFT design
Credit score Oracle Engine V1 testnet
Q2 2022
Credit scoring NFT claim platform
Credit score Oracle Engine V1 mainnet
Standard API for DeFi, GameFi
Q3 2022
Ethereum Layer 2 blockchain integration
Ecosystem growth: DeFi, GameFi protocols integration
Credit score Oracle Engine V2 testnet: integrate with off-chain data
Q4 2022
Multi-chain Support: Binance Smart Chain, Huobi Eco Chain, Solana, Polkadot
Credit score Oracle Engine V2 mainnet
We will prepare to list on more exchanges later as well as DEX platforms, to provide more service and convenient to users on more usage scenarios including NFT, DAO, GameFi, DID, etc. To empower more value on MESA.
For partnership perspective, we have announced partnership with Jasmy, Pastel Network, and GEMS, involving in Yield, GameFi, NFT, etc field, and we will explore more potential partnership into our ecosystem.
Question 5:
Mia: Next question is, compared with other similar projects, what are the characteristics of MetaVisa?
MetaVisa: 1. Value Community
MetaVisa intends to create a value community in the Web3.0 era.
Users are not only users of MetaVisa, but also creators of MetaVisa, and can ultimately obtain lasting benefits from various applications and ecological projects of MetaVisa.
Projects participating in the MetaVisa ecological construction can give priority to obtaining targeted user data that matches the project attributes. Whether it is launching airdrop activities to encourage users to participate, or obtaining benign project benefits, it will be more conducive to the growth of the project itself.
External agencies can obtain accurate user data for marketing activities through the high-value data service system provided by MetaVisa, and the paid MESA Token will also be mainly used for feedback from MetaVisa users.
2. Growth
MetaVisa's identity system has a high degree of growth. Once users access MetaVisa, they can not only parse past on-chain data into users' personalized identity tags through MetaVisa's in-depth algorithm through authorization, but also through continuous on-chain data accumulation, Make your own decentralized identity system grow continuously. The continuous improvement of the identity system makes the user's personalized identity tag more accurate, and at the same time, it can also obtain more benefits. This will also make MetaVisa's identity system more credible when the majority of users are committed to it.
MV will release a new version at the end of April, including the release of the new Logo, the release of the new visual VI, the launch of the new official website, and the most important core function "MetaVisa ID" (the core user interaction function, supporting enquiries on personal on-chain portrait). In the future, a series of functions such as NFT system and data reporting service system will be released. 
At this stage, the new version of the project will be launched in an all-round way on the market side, including a series of market actions such as global media promotion, global community cooperation, self-media promotion, cluster KOL joint promotion, and NFT airdrop activities.
Question 6:
Mia: I 've heard that your project has a giveaway event running now. Would you like to share more details with us?
MetaVisa: Currently running events: MetaVisa Community Event, come and share 12,000 $MESA tokens
🎉#MetaVisa Community Event, come and share 12,000 $MESA token
⏰2022/4/19 8AM UTC - 2022/4/22 8AM UTC

For more details, please check:https://t.co/88OrD1SUlr

— metavisa (@metavisa) April 19, 2022
https://medium.com/@metavisaofficial/b4c6735170d7
welcome to participate~
Free-asking Session
Q1. [2678] Your project name seems to be very interesting. Does it have any story behind it? Can you share us with the inspiron for approaching to this name?
MetaVisa:
Because we are dedicated to developing decentralized identity and building up credit system in Metaverse, and Visa in physical worlds standards for a pass within countries, so this combination basically summarizes the core of the project. And for future benefits, we collect and analyze on-chain data through credit history, address correlation, address activity level, on-chain behavior preference, and asset holdings&portfolio, this is also the standard that we measure for our credit system, so with higher credit level, will definitely have more privileges in the future, this benefits could not limit within our ecosystem, but could extend to the whole Metaverse. We will have more updates with project progress to announce those benefits, so keep updates with us.
Q2. Do you have a whitepaper? if yes please share it with us and secondly are you working to AUDIT your project, to make its security more secure and reliable?
MetaVisa:
Sure, https://www.metavisa.com/lightpaper.pdf.
Core algorithm is under developing that is not open source and we'll apply patent for it.
On the other hand, MetaVisa will provide service SDK for 3rd party developers, this part will be open source and AUDIT in coming future.
Q3. Almost 80% investors have just focused on price of token in short term instead of understanding the real value of the project. Can you tell us on motivations and benefits for investors to hold your token in long term?
MetaVisa:
As mentioned above, MetaVisa will build its own unique on-chain credit system and have rich application scenarios. These scenarios are frequently used by users and DApp developers on a daily basis, and there is a huge demand. In addition, MetaVisa has established cooperation with a number of ecosystem partners, and will also carry out deep development in the field of GameFi. Please stay tuned for updates.
Q4. Do you have tutorial videos so we can get to know your project more clearly or do you have a YouTube channel or something? can you share it with us?
MetaVisa:
Yes, we have, we have an introduction video on Youtube, and also some tutorial videos about minting our NFT, please follow here: https://medium.com/@metavisaofficial/metavisa-introduction-video-2ed437dff171
Mint: https://www.youtube.com/watch?v=t98TLDsTckY
And there are some else also, please check our Twitter for more links or join our telegram groups
Q5. My question important
Sir pls ansure me?????
1. Telegram Group✔️
2. YouTube channel ✔️
3. Medium✔️
4. Website✔️
5. Twitter✔️
6. Discord✔️
You can share with us the link for your project in all these projects???How can I buy this tokens? Is it available on any exchange?
MetaVisa:
Our Official Group:
📝 Official Community(English): https://t.me/MetaVisaOfficialCommunity
📝 MetaVisa channel: https://t.me/MetaVisachannel
📝 Korean Community: https://t.me/MetaVisa_KR
📝 Philippines Community :https://t.me/MetaVisaPhilippines
📝 Viet Nam Community: https://t.me/metavisavietnam
📝 Turkey Community: https://t.me/MetaVisaTurkeyCommunity
📝 India Community: https://t.me/MetaVisaIndiaCommunity
📝 Indonesia Community: https://t.me/MetaVisaIndonesiaCommunity
Our Official SNS:
📝Website: http://www.metavisa.com/
📝Twitter: https://twitter.com/MetaVisa
📝 Medium: https://medium.com/@metavisaofficial
📝 Discord: https://discord.gg/X3fWAgeqtv
Follow us:
Medium: https://medium.com/mexcglobal
Telegram: https://t.me/MEXCEnglish
MEXC trading: https://t.me/MEXCTradeofficial
Twitter: https://twitter.com/MEXC_Global, https://twitter.com/MEXC_Updates, https://twitter.com/MexcResearch
Facebook: https://www.facebook.com/mexcglobal
Discord: https://discord.gg/nc6Jfwn3ap
Instagram: https://www.instagram.com/mexc.global
Trying to find MEXC AMAs recaps?
It's easy! Explore them in a special section of our MEXC Global blog. Find insights for other recently listed projects at MEXC like MetaVisa Protocol.
Start your travel on MEXC Global