In this Telegram AMA recap, you'll find insights about the Melos Studio project. In an event hosted by Iris from MEXC Global, you will meet Yalu Lin, Co-founder of Melos Studio.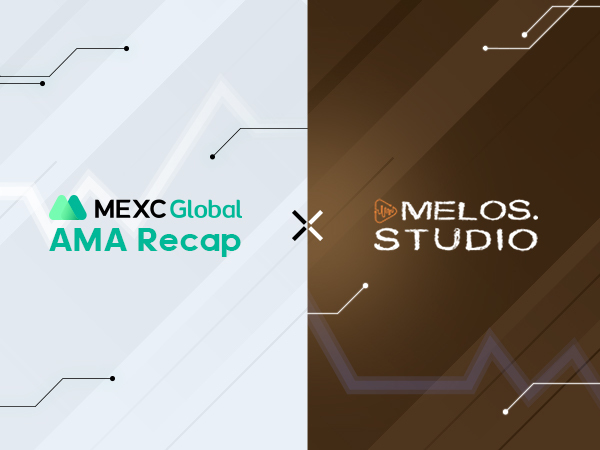 Introduction:
Yalu: Back in 2017, it was my first investment in crypto I got so curious about blockchain technology and just can't stop thinking about how it was going to change the world.
But thinking alone got me nowhere I joined Machi X in Machi X at the very beginning, back in 2019. Machi X started off as a music copyright marketplace
We listed 59 songs from Golden Melody Award-winning artists. One of the songs was listed on Binance DEX. Machi X is also a project listed in ethereum.org/en/community/
That is where I learned a lot about blockchain applications and music industry.
Questions from the community:
Question 1:
Iris: What is Melos Studio? Can you share with us more in detail?
Yalu: Melos is a new and unique create-to-earn music ecosystem on blockchain
The core vision of Melos is to create an ecosystem in which all fans of music can participate in the creation process and be rewarded for their efforts
From the casual music fan to the professional musician/producer, the Melos platform offers tools and features to take not only music enjoyment but NFTs to the next level
We are all passionate about music and we would like to create a destination for creating, discovering & collecting original music on web3
We have got Trey Songz, David Bowie, Queen Rock Band, Steve Aoki – the top 10 DJ in the world and more to be announced, also we have got the IP of David Bowie and the rock band, Queen.
Question 2:
Iris: What are Melos's unique selling points as compared to other similar projects in the industry?
Yalu: There are many other projects around music, but I rarely see music creations. I think that's pretty unique
We use NFTs very differently
most NFT projects are using NFTs as a storage medium, to store graphics or music
At Melos, we are using NFTs as proof of creation or co-creation. This gives our NFTs a dynamic collaborative function as MusicBlocks within our DNA Tree system.
This is an example of how the NFT creation process works and how stage of the NFT chain is rewarded for their efforts and contribution:
1. Pianist Aditi mints a piano tune as G0 NFT
2. Bob sees the NFT and likes the tune, and adds his guitar riff to it and mints piano+guitar G1 NFT
3. Camilia comes across the G1 piano/guitar NFT and adds his vocal chorus to it to mint piano/guitar/vocal G2 NFT…
In this way, all co-creators are profit sharing. and you can see there is a new interaction between fans and creators, as the fan can also be the creator
People also see this as the GitHub style for the music creation process, this results, eventually, in a democratic and transparent ecosystem between music artists and their fans.
Question 3:
Iris: What is the role of the $MELOS token in Melos Studio? Would you tell us more about its tokenomics?
Yalu: $MELOS token is going to be both DAO and utility token
For utility, advanced functions on our are going to require consuming of our Melos Token, including new versions on Melos workshop, Sonus NFTs, Virtual Band for the future release
And for DAO community voting, there are 5 different membership levels and 3 different topics that we set for max and min voting weight and voting numbers.
Question 4:
Iris: Are there any exciting news or updates with regards to Melos that you would like to share with the users?
Yalu: certainly
for 1, which we are really excited about:
We have Sound of The Week events and hosting indie artists EVERY week to come to our discord and talk to their fans every week!
for 2, we are very excited
to have Wu-Tang Clan, the rap OG onboarding!
for 3… We have a party tomorrow with MEXC in our Melos harbor Cryptovoxel ❤️
Iris: can't wait to see the exciting events and more singers/rappers/bands getting onboard 🔥
Question 5:
Iris: If you were to summarize your project in ONE word, what would it be? Why?
Yalu: aiyaya
One word is way too difficult, but "Melos is the destination for creating, discovering and collecting original music on Web3″.
Free-asking Session
Q1. Where I can get the latest updates or more information about the project?
Yalu:
our socials
Website: https://www.melos.studio
Twitter: https://twitter.com/melos_studio
Telegram: http://t.me/melosstudiodao
Discord: https://discord.gg/melos
Q2. Since NFT is popular nowadays, is there a plan for NFT integration?
Yalu:
there is, kinda
in our new product, Sonus NFT, we can create unique music for each individual graphic NFT, so each graphic NFT will interact with Melos
Q3. Is your project a community only for English-speaking countries or for users not of other languages?
Yalu:
there are many languages in our community and they all support each other
Q4. Currently from where I can buy $MELOS token? Is it possible that I can get it only by holding it?
Yalu:
Melos token is on MEXC already!
Q5. Does your platform have AUDIT certification to make users feel more reliable, secure, and reliable?
Yalu:
very much so, all are certified by fairy proof and Certik.
Trying to find MEXC AMAs recaps?
It's easy! Explore them in a special section of our MEXC Global blog. Find insights for other recently listed projects at MEXC like Melos Studio.
Start your travel on MEXC Global