BBF token of the Bubble Fong Friends project became No.1 of MEXC Global daily top 5 gainers in the past 7 days, with 3535% increase in current relatively weak market.
Baby Shark Bubble Fong Friends gameplay is a combination of the popular casual bubble-shooter and battle royale genres that have been matched with the globally renowned The Pinkfong Company's 'Pinkfong Wonderstar' and 'Pinkfong Baby Shark' characters and story.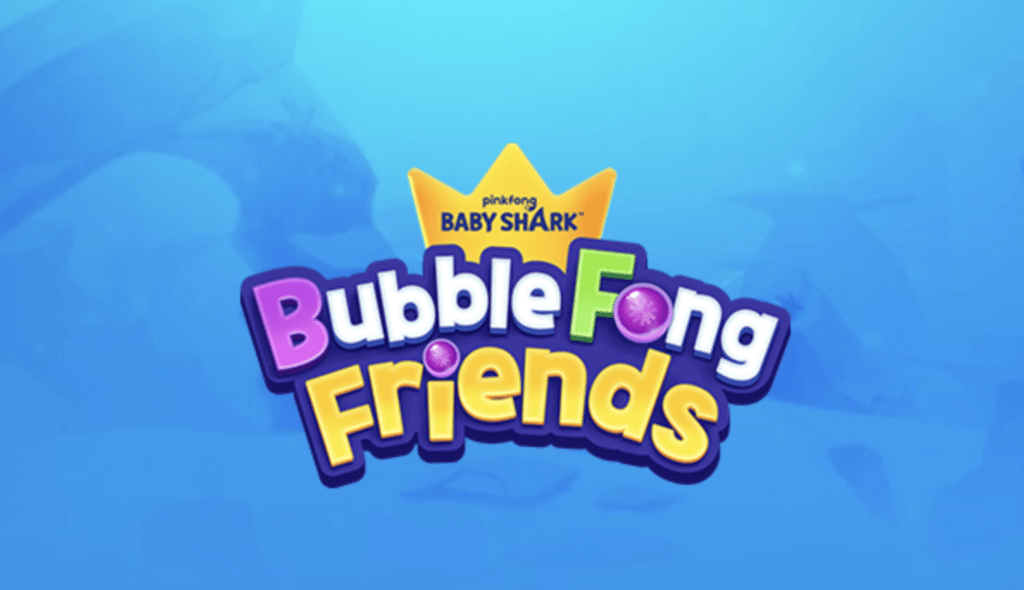 Bubble Fong Friends Review
Bubble Shooter is a casual shooting genre game where the objective is for players to match three or more bubbles of the same color to burst them and clear their board. This style of game has the advantages of both being easy to play and understand as well as fun and addicting to play. Players can engage in more dynamic gameplay by utilizing combos, skills, and items that will cause bubbles to burst consecutively.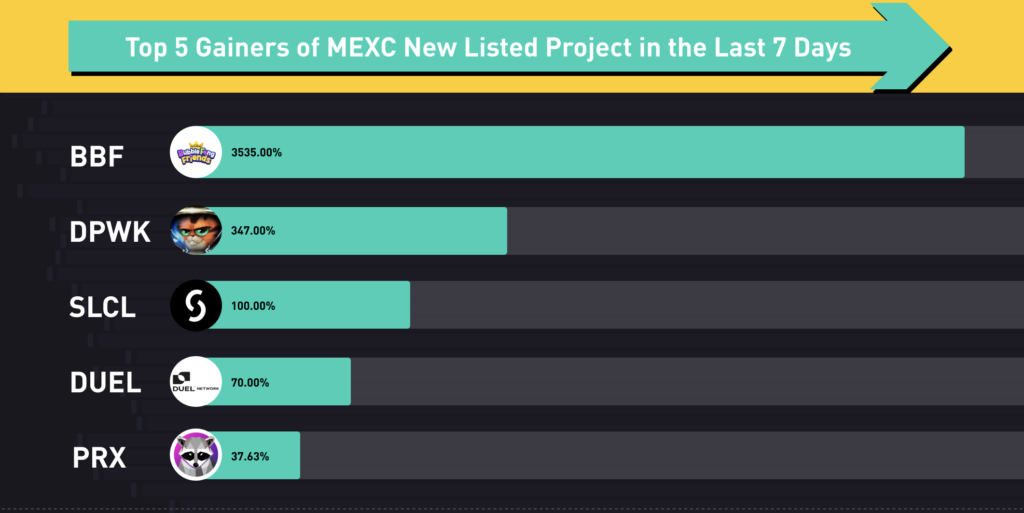 Over time, players are able to earn and play with all of the 'Pinkfong Wonderstar' main characters and 'Baby Shark' partner characters. Additionally, there are multiple competitive game modes, such as team battles, individual battles, and the 101 Battle Royale mode. 101 Battle Royale is a 101-player simultaneous battle royale mode that will give our players the same competitive feeling as if they were competing on a live e-Sports stage.
BFF Token
Bubble Fong Friends aim to combine decentralized governance and incentive systems through staking. Baby Shark Bubble Fong players who staked BBF tokens can participate in ecosystem decentralized governance voting and receive staking rewards.
Baby Shark Bubble Fong Friends will build a [Community Treasury] that will be operated by decentralized governance. Until it is fully decentralized, the Foundation will be in charge of the operation. The assets of the [Community Treasury] will be used according to the governance decisions.
Staking rewards are paid every week after the 18th month and are escrowed until the end of the deposit period, and ownership is confirmed when the expiry of the escrow period ends. After decentralized governance is established, the staking rewards will be automatically distributed by the smart contract. Detailed reward policies for stakers will be determined later after ecosystem decentralized governance is established.
Bubble Fong Friends Project Highlights
Lower barrier -to-entry P2E game
With both Casual and Competitive Content for all types of players, Baby Shark BFF was officially selected for the third phase of the 2021 Google Window Program and received high praise after being ranked 14th out of the 80 participating companies.
Baby Shark Bubble Fong Friends aims to lead the movement for well-made, non-violent family blockchain P2E games.
Active E-Sports Experience
At G-Star 2021, Korea's largest gaming exhibition, Bubble Fong Friends successfully held an e-Sports competition where famous Kpop stars and live streamers all got together and competed, and we plan to use this experience to establish a family-friendly e-Sports league in the future. Baby Shark Bubble Fong Friends will hold competitions that all viewers can participate in, allowing them to break away from traditional passive viewing and actually engage in a fun competitive scene.
World's First Multi-Platform P2E
Baby Shark Bubble Fong Friends is the world's very first P2E blockchain game that can be played on mobile, PC, TV, and various gaming consoles.
Technology
The blockchain server houses the basic economic activities of the ecosystem. Baby Shark Bubble Fong Friends use a middleware server as a bridge when transferring NFT and in-game data to and from the blockchain and game servers.
The Middleware Server matches, verifies, and encrypts the data and player's ID, and then sends them over to the game server. The data safely sent to the game server can be used by players in activities such as character enhancements, and gameplay, which will eventually lead to more rewards and NFTs.
Conversely, if a player wants to conduct economic activities by sending data from the game server to the blockchain server, the data can be transferred, matched, verified, and secured again through the same middleware server.
Start your travel on MEXC Global