In this Telegram AMA recap, you'll find insights about the Integritee project. In an event hosted by Miranda from MEXC Global, you will meet Waldemar Scherer, the founder and CEO at Integritee.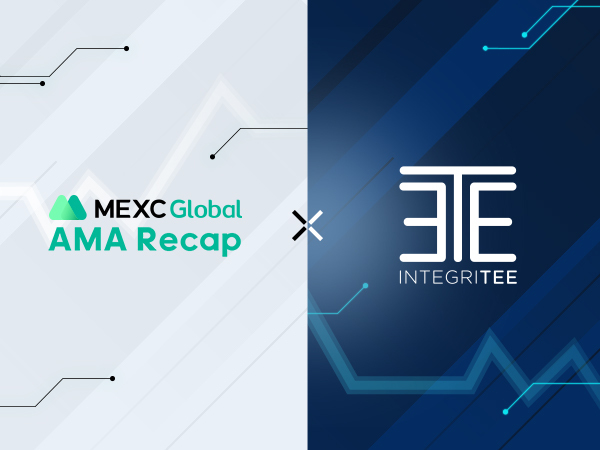 Introduction to AMA Member from Integritee:
Hello everyone, i am super excited to join the MEXC community to share more details about our project today! Just to spend a couple of words about myself:
I am the CEO and Co-Founder of Integritee. I am a seasoned executive and entrepreneur, with a background in business informatics, I have managed global programs and digital transformation projects in the financial services sector. I was also an integral part of the team to establish EY's Blockchain footprint in Switzerland. As a co-founder and former Head of Enterprise Blockchain at Swisscom, I built blockchain solutions and services for internationally renowned companies in the finance, insurance, and pharma industries.
For a quick intro without reading much, have a look at our video:
And check out our social community channels!
Questions from community to Integritee Network (TEER):
Question 1:
Miranda: So the first question is what is Integritee? Can you share with us more in detail?
Waldemar: Almost every day brings another report of a major data breach or vulnerability. Data has become digital gold and all kinds of companies are harvesting, storing and processing it, but without nearly enough consideration of how to protect the very sensitive information they've collected. There's an urgent need for privacy by design, not as an afterthought. Anyone in the business of handling data needs to have a rock solid architecture for keeping that data safe. Our solution offers insight without access, opening a wide range of possibilities. The Integritee platform enables firms and dApps to process their users' data in a privacy-preserving manner that aids compliance with GDPR and other privacy regulations. Moreover, Integritee enables firms and dApps using its service to prove that all privacy-related requirements have been respected.
Integritee is a system that enables developers and firms to unlock the value of sensitive data. By combining the trust of Polkadot, the scalability of second-layer sidechains, and the confidentiality of Trusted Execution Environment (TEE) hardware.
Integritee solves the 3 main issues of Blockchain as of today. It's Scalability, Interoperability, and Confidentiality at the same time without downsides. Additional to that, Integritee aims to power a new generation of data-driven dApps and services.
Question 2:
Miranda: next can you tell us what triggers you to found Integritee? What are some of the real-world problems/ pain points that Integritee aims to solve?
Waldemar: There is no bigger use case than Data in the present market and world we live in. Data has outstripped the value of all other assets and as a result it has become more and more attractive for cyber criminals to abuse.
Data drives innovation and value ($274bn* in 2022) – however, the increasing pressure and awareness from regulators and users pose significant challenges. Through blockchain, Integritee has the potential to provide the perfect answer to trust.
Integritee is one of the most advanced scalable privacy chains, which allows the creation of GDPR-compliant dApps, private smart contracts, and launch oracles.
The most important thing to understand is that Integritee can host any blockchain in public or private mode. Remember: you can launch any Substrate-based blockchain on it as a sidechain. It's a platform for blockchains. Among its features:
Smart contracts: Can be written in Rust or Ink!
Privacy: It's possible to turn any blockchain into a private one by launching it on Integritee. It's possible to share any sensitive information with any 3rd party and control it.
GDPR compliance: Due to its privacy features, Integritee is tailored for enterprise use, as it allows to store safely any data in a decentralized way.
Scalability: The architecture with side chains allows the network to scale to 1,000,000 tps.
Question 3:
Miranda: What of the native token of Integritee, the role of $TEER and its tokenomics?
Waldemar: The TEER Token has a hard cap of 10M and is directed at utility and governance.
A portion is allocated for our early contributor, for the slot auctions to secure parachain slots, the further development of the network and ecosystem and long term the treasury, which will be governed one chain and decentralized by token holders in the future.
This means that every token holder will have the power to drive the future development of the platform and the future of privacy-preserving apps and ecosystems. Thus, governance — which relies on coin voting — should also be unified. Therefore, a single council will be elected and all acts involving coin voting will be aggregated across all parachains/parathreads.
The value of the TEER token is driven by demand for our technology. As demand continues to grow the value of the token will increase in the long term. By definition, the TEER token has an intrinsic value: users need it to pay for operating in the Integritee network. To ensure that costs are stable and predictable for Integritee users, the usage will be denominated in fiat.
A burning function burns a fraction of each fee paid to the treasury. This implies that the overall TEER token supply is deflationary. In a nutshell: Each time a user pays for Integritee's service with TEER tokens, a fraction of the TEER token transaction is burned.
Question 4:
Miranda: Are there any exciting news or updates with regards to Integritee that you would like to share with the users?
Waldemar: Sure thing! We definitely plan to execute and deliver on our roadmap for this year. 
If you see our roadmap for 2021 – we delivered on everything we said we would in a very short period of time. We will be focusing on a Polkadot parachain slot soon and become the leading privacy solution in the Polkadot/Kusama space! 
So far in 2022 we have already achieved so much! We have won a Kusama Parachain slot, we launched the first practical deployment (the TEER exchange rate oracle), we completed a significant milestone last week — feature-complete sidechains, and this week we were named as one of Switzerland's 10 most promising startups by EU-Startups!
People can stay tuned about our developments by joining one of our social media channels like Twitter, Medium, Telegram or Discord where they can connect with like-minded folks and get the latest news and updates about our project. So watch out!
Miranda: 10 most promising startups by EU-Startups,,that's wonderful news, congrats
Question 5:
Miranda: If you were to summarize your project in ONE word, what would it be? Why?
Waldemar: Crucial! Our solution has a solid technical foundation and will have a lasting impact in a blockchain – unlike so many projects which come and go with trends. Because our solution is widely applicable across industries and uses cases and fundamental to the security and success of many projects operating under the strict auspices of Data Protection regulations. As people become more and more aware of how vulnerable their personal information is and how it can be abused – the already high demand for our solution will continue to grow.
Free-asking Session to Integritee Network (TEER):
Q1. Security and anonymity are always prioritized by BlockChain projects in the development of project platforms and technologies. So, does you have any technological solutions or plans to enhance user trust in these issues?
Waldemar: Very good question! Yes, many projects claim that this is a priority, but most of the time hot air if you check the news with the recent hacks and data exploits in the crypto ecosystem, but also in the traditional industries. 
We are using special hardware technology called "Trusted Execution Environments" that are offering the best and fastes possibility to date, to securily process sensitive date from users and companies.
Q2. How do you plan to spread awareness about your project in different countries where English is not good? Do you have local communities like Vietnam, Indonesia, Thailand, Korea,.. so they can better understand your project?
Waldemar: Yes for sure! We are building up local communities around the globe to spread the word about our technology and bring it to every country, as we believe this should be the standard for every application in the future. 
Therefore we have already multiple local communities like in Vietnam, South Korea, China, Indonesia, France, Turkey, Russia, just to name a few. Join our main channel: https://t.me/Integritee_Official to find out more about the local channels.
Q3. What are the benefits of holding your token as long term investment? Can you tell us about the motivation and benefits for investors to keep the your token in the long run?
Waldemar:
Well, our tokenomics are based on a deflationary model. With a hard cap of 10M TEER and this model, the value will increase mid and long-term with more projects coming in and using our network. A small portion of the fees paid to use our platform will be burned and decrease the total supply.
Trying to find MEXC AMAs recaps?
It's easy! Explore them in a special section of our MEXC Global blog. Find insights for other recently listed projects at MEXC like Integritee.
Start your travel on MEXC Global