In this Telegram AMA recap, you'll find insights about the GMT Token project. In an event hosted by Iris from MEXC, you will meet Mark Zalan, CEO of GMT Token.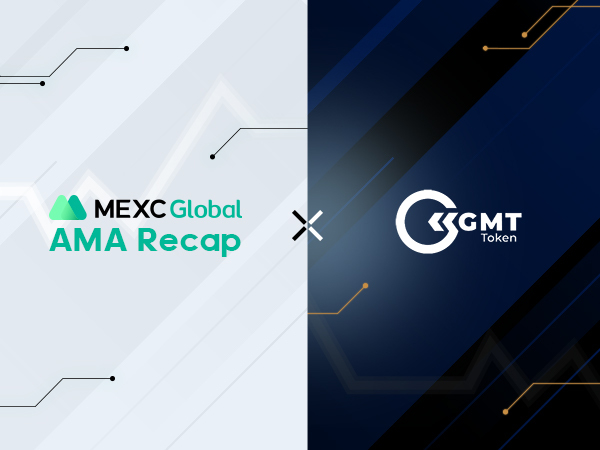 Introduction:
Sure, I've been at the intersection of technology and financial services (Fintech!) for about 20 years. Grew up in Silicon Valley during the dot com boom:). Spent the next 20 years in various IT leadership roles for various financial services companies in various countries, including as CIO of a full-service consumer bank. I've been with GMT since Oct. 2021, working on transitioning the GMT token from a proofs-of-concept/MVP to a full-featured product offering.
Questions from the community:
Question 1:
Iris: What is GMT Token? Can you share with us more in detail?
Mark: GMT token is a very easy way to mine Bitcoin without incurring all of the overhead in terms of buying miners, shipping, configuring/running, etc. We do all of that for you leveraging our economies of scale, and charge an 8% management fee to cover our costs.
When you buy a GMT token, you buy the right to equivalent hash power that mines BTC every day, and every morning you get that BTC deposited into your BTC wallet
Very simple and straightforward:)
Question 2:
Iris: What triggers you to launch GMT Token? What are GTM Token's unique selling points as compared to other similar projects in the industry?
Mark: Great question, we were thinking about how complicated mining is, and how that complexity was prohibitive for many people that would like to mine Bitcoin.
And we thought that if we could find a way to leverage our expertise in Bitcoin mining, something that we've done on a very large scale for 5+ years, that this might be something people would be interested in.
and so the GMT token was born:). On our Web site and in the whitepaper we go into a fair bit of detail in terms of the complexities that are involved in BTC mining, so we take care of all of those things, and simply make a token available that represents BTC hash power in its end form.
Question 3:
Iris: What is the role of the $GMT token in your ecosystem? Would you tell us more about its tokenomics?
Mark: Its actually pretty straightforward, each token represents and ever-increasing amout of BTC hash power, that participates in mining activity 24×7. The BTC rewards proportionate to that mining activity are then sent to the token holder every 24 hours (in the morning, to make the start of your day a little bit better:)
Our website links directly to stats for the Binance pool, in which we participate, and which calculates and sends mining rewards daily, so all of the math is transparent to anyone that is interested:).
Iris: 👀GMT is now available to trade on MEXC btw: https://www.mexc.com/exchange/GMT_USDT
Question 4:
Iris: Are there any exciting news or updates with regards to the GMT token that you would like to share with the users?
Mark: We are hard at work to drive scale and operational efficiency in the underlying infrastructure that directly improves the yield per token. That might sound dull, but it directly affects the bitcoin rewards per token, so I thought I'd get it out there:).
We are also working on refreshing our go-to-market strategy. We've been a bit internally-focused over the past 4-5 months, working on incorporating community feedback into our product. We will have a much more vocal and outward focused communications strategy going forward, so please stay tuned.
Question 5:
Iris: If you were to summarize your project in ONE word, what would it be? Why?
Mark: easy-BTC-mining:)
Iris: would you explain why?
Mark: that's what we are about, and the value that we bring – we make the complicated task of bitcoin mining very easy and accessible to everyone
Free-asking Session
Q1. I am interested to invest in your project. When and where can I buy your tokens? Is it already listed exchanges?
Mark:
It is listed on a number of exchanges including MEXC!
Q2. Are you planning to promote your project in countries/regions where English is not good? Do you have a local community for them to better understand your project???
Mark:
absolutely, we have communities in Turkish, Arabic, Spanish, and Portuguese currently, (in addition to English). We are working on expanding our community all of the time. If you have ideas or would like to work with us, please reach out!
Q3. For a project development first of all main priority is having enough funds. Does your team financially capable to run this project? Do you have enough funds for its development Can you tell us how your project generates the profit?
Mark:
Yes, we are fully funded, as we have been mining Bitcoin for many years, and this is a very profitable activity when done correctly. This is why we created the GMT token, to make profitable mining available to regular people who haven't spent years building up a highly technical skillset!
Q4. Is your project only for elite investors, what about others with small funds, is it open to everyone?
Mark:
It is open to anyone, there is no minimum to buy, one GMT token is $0.24 today on MEXC
Q5. What is your strongest advantage that you think will make your team lead the market?
Mark:
We are experts in Bitcoin mining with a team that has been doing this successfully and profitably for years. We have the expertise and we have the reputation/trust in the community to do this successfully. We've been paying out daily rewards since launching over a year ago and look forward to expanding our product for many years to come.
Q6. How many team members do you have? Do they have enough experience in the blockchain field? Do they have any experience working in crypto and non-crypto projects?
Mark:
We have 300 people in our organization all together that have extensive expertise in everything to do with bitcoin mining, from building and operating data centers and associated electrical infrastructure, to blockchain development, to information security, to community engagement!
Q7. IF THE BEAR MARKET COMES will your token PROBABLY DUMP? Do you have any plan to prepare for this bear market? How will you handle the panic sell?
Mark:
Great question, our operational efficiencies, and cost of electricity are extremely competitive, we will still earn a profit if the price were to drop by 50% tomorrow
We also place 2% of rewards earned into an "insurance fund" designed to help us offset sudden swings to keep the project operating. That wallet is kept on the blockchain and visible to the community.
Trying to find MEXC AMAs recaps?
It's easy! Explore them in a special section of our MEXC blog. Find insights for other recently listed projects at MEXC like GMT token.
Start your travel on MEXC