In this Telegram AMA recap, you'll find insights about the FastSwap project. In an event hosted by Iris from MEXC Global, you will meet Rehan, Strategic Advisor of FastSwap.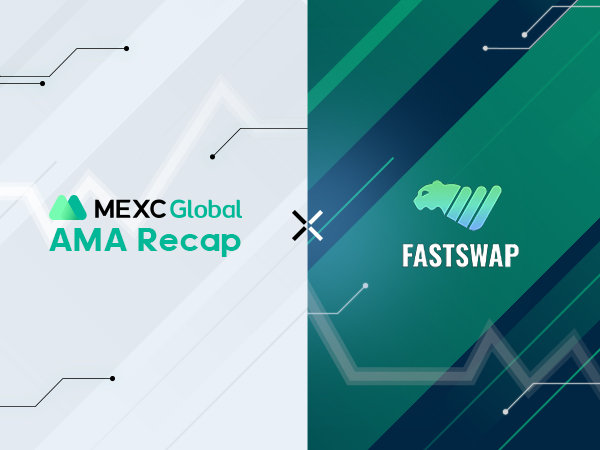 Introduction:
Hi Iris and hello everyone! Hope everyone is have a good day. I am Rehan, Strategic Advisor of FastSwap. I am here to talk about FastSwap and the ecosystem we are building. We launched three products recently and are on track for another two exciting upcoming products!
Questions from the community:
Question 1:
Iris: What is FastSwap? Can you share with us more in detail?
Rehan: FastSwap is a suite of DeFi & GameFi platforms including DEX, NFT marketplace, IDO Incubator, Metaverse, Yield Farming, Staking, and Games. It is a comprehensive ecosystem catered to all users
Question 2:
Iris: What triggers you to launch FastSwap? What are FastSwap's unique selling points as compared to other similar projects in the industry?
Rehan: We wanted to give a fair chance to everyone to get in at the early stages of a project. Moreover, our aim is to make it easy for noncrypto users to start their journey in crypto with us. Make the products so user-friendly that even your parents can use them!
Question 3:
Iris: What is the role of the $FAST token in FastSwap? Would you tell us more about its tokenomics?
Rehan: FastSwap whole ecosystem revolves around $Fast. From yield farming to IDO participation, every aspect of our product utilizes Fast.
Moreover, we have incorporated a lot of benefits for Fast holders in all of our products; Hold Fast and get pro features and unlock contents on Cointools.io. Pay with Fast or Duke in our upcoming NFT marketplace and enjoy a 50% discount on Fees. Fast will also be used to mint part of our upcoming NFT collection (We are building an Immersive Metaverse). Stake Fast to get guaranteed allocation on LaunchSpot.org, our IDO Incubator platform.
Fast Tokenomics:
Initial liquidity: 10% 50 millions
Swap: 10% – 50 millions
Liquidity Incentives: 40% – 200 millions
Development: 30% – 150 millions
Team: 10% – 50 millions
Total: 100% – 500 millions
Question 4:
Iris: Are there any exciting news or updates with regards to FastSwap that you would like to share with the users?
Rehan: The first recent product we launched was a liquidity aggregator for BSC & Ethereum Network. We also launched a beta version of limit orders. Two weeks ago we launched LaunchSpot.org, our IDO Incubator. The audit should be cleared any day soon. We have multiple projects that have applied with us and plan to launch an amazing IDO very soon. We also launched Cointools.io, a premier charting tool platform.
The development of the Social NFT Marketplace is in an advanced stage. We aim to be one of the biggest NFT marketplaces on BSC. We will be collaborating with celebrities and top influencers to bring awareness, traffic, and usage to the platform.
Iris: lots of exciting stuff happening 👀
Rehan: We are also launching a completely new crypto economy; USE 2 EARN. We believe we are the first project to do so. The platform is being built right now and we will share full details once it is live. Since it is a completely new concept we are cautious to release a lot of information regarding this. We will start with Cointools.io and later incorporated it into other products. Yes, you will be paid to use the product. No hidden clauses.
Question 5:
Iris: If you were to summarize your project in ONE word, what would it be? Why?
Rehan: Exciting! The ecosystem that we have built and are building is going to be one of the most used ecosystems of any project. We are a development focus project and our views and visions are aligned long-term. Irrespective of market conditions, one thing you can count on FastSwap is that we will continue to buidl.
Free-asking Session
Q1. Since NFT is popular nowadays, is there a plan for NFT integration?
Rehan:
We are launching a Social NFT Marketplace. We believe it will be one of the biggest on BSC. Moreover, we are building an immersive Metaverse
Q2. Staking, NFT is very hottest, do you think you will apply NFT technology to your products in the achieved future?
Rehan:
We will be having gas-less staking. That means the NFT never leaves your wallet, neither any gas fees nor transactions involved for staking & unstaking. The only time you will need to process a transaction will be to claim the rewards
Q3. Where I can get the latest updates or more information about the project?
Rehan:
you can join our community group to keep track of the latest @fastswapdex. We also have a Chinese community group @FastSwapChinese2. Alternatively, you can follow us on Twitter @ https://twitter.com/fastswapdex
Q4. What is the most ambitious goal of your project? Could share with us any Upcoming Updates?
Rehan:
We intend to be the go-to platform when it comes to Crypto. Eventually, FastSwap will become a Super DApp. This is our vision and the development of our products is aligned and built to achieve that
Q5. When will your tokens be listed on the exchange and which exchanges do you plan to list in the future?
Rehan:
We are listed on multiple exchanges including MEXC, Gate.io, Latoken, Bilaxy, Hoo, Hotbit, etc. We have already started the process to list on top-tier exchanges in the near future.
Trying to find MEXC AMAs recaps?
It's easy! Explore them in a special section of our MEXC Global blog. Find insights for other recently listed projects at MEXC like FastSwap.
Start your travel on MEXC Global