In this Telegram AMA recap, you'll find insights about the Creo Engine project. In an event hosted by Sebastian from MEXC Global, you will meet Darrel (CTO/Co-founder) and Javier (CEO/Co-founder) of Creo Engine.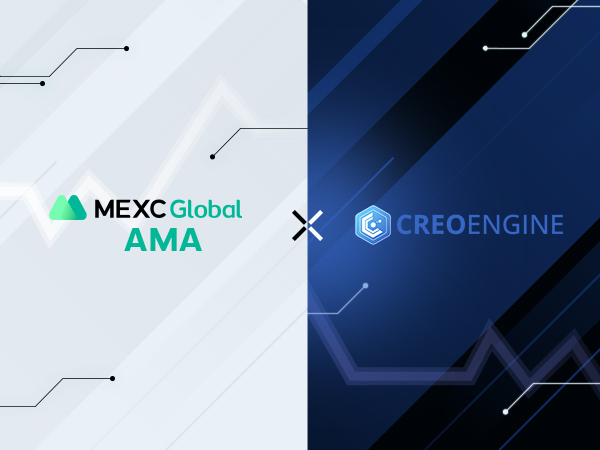 Introduction:
Darrel : Im Darrel the developer and co founder and cto of the creo engine ecosystem
I oversee development and spearhead our gaming department
Im also an avid indie game lover and developer myself
Hope this helps!
Javier : Yes, of course. I'm Javier. CEO and co-founder of Creo Engine. I came from a simple family in Medan; I have ten plus years of experience as a financial consultant and advisor. I have loved to play games since I was about seven years old. I play mostly RPG and strategic games. I was exposed to the crypto space in 2017 and did a little bit of this and that in crypto investment before planning to co-found Creo Engine.
Website : https://www.creoengine.com/
Instagram : https://www.instagram.com/creoengine.official/
Medium : https://creoengineofficial.medium.com/
Facebook : https://www.facebook.com/CreoEngineGlobal/
Twitter : https://twitter.com/creo_engine
Discord : https://discord.gg/X4zBzD92P9
You are free to join Creotizen discussion on Telegram Group & Channel below 🔽 (please choose your region)
🔗 Channel : https://t.me/CreoEngineChannel
🌏 Global : https://t.me/CreoEngineEN
Questions from community:
Question 1:
Sebastian: What is Creo Engine? Can you share with us more in detail?
Darrel : I would describe our project as the steam of web3 gaming of course with added benefits
We are eagerly planning to amass a library of web3 games from all over asia
And we are also keen in connecting these games with one another through our own infrastructure
Imagine a selection of games that are all intertwined with one another
A world where nfts can move inbetween games
And a world where nfts and assets can add value to the games individual players will play
Hope this helps!
Javier : Nicely said!
Sebastian: Wow! sounds like a revolutionary idea! I'm sure gamers have wondered whether something like this would one day be possible 🤔
Question 2:
Sebastian: Now then, what triggers you to launch Creo Engine? What are some of the real-world problems/ pain points that Creo Engine aims to solve?
Darrel : Its quite simple
To put it simply
The transcendence of value
A player is bound to the games they play
The game dies their hard work dies with it
We want a platform where assets from various games can have their uses elsewhere
Whether it be indirectly or directly
Hope this helps!
Javier : And also, we have also collaborated with Ultra Voucher, a very big gaming and utility voucher company based in Indonesia. We aim to have people trading their in-game assets earned from our games with vouchers that can be redeemed as real life items such as fruits, meat, daily necessities and many more. So, imagine that gamers can beat a tree monster, obtain a drop item from it (let's say bananas) and the very item can be traded for real bananas to consume.
With every game coming to our ecosystem, more use case can be created or found.
Sebastian: Wow! Game bananas to real life? Sounds really cool! 🍌
I'm glad the efforts of gamers can be renumerated to them in real life too
Darrel : People all across insonesia
Javier : Yep..Imagine children playing games and give the vouchers for their mom to trade
Question 3:
Sebastian: What is the role of the $CREO token in Creo Engine? Would you kindly tell us more about its tokenomics?
Javier : Sure, This will be quite long
Sebastian: Heard that? Time to take notes folks!! 📝 This is valuable information
Javier : There are many utilities of the $CREO token, check them out!
1. Governance token in our Ecosystem
All games that run under the Creo Engine platform will only use one game token; the CREO token.
2. Token Staking program to earn rewards
Users/gamers that stake their Creo tokens will receive Creo tokens as rewards.
3. Gas fees for marketplace transaction
All transactions in the marketplace will be charged with a small amount of CREO token as transaction fees.
4. In-game and marketplace transactions
All transactions occurred in the marketplace use the CREO token.
5. Liquidity
Creo Tokens will also be used as liquidity in exchanges.
6. Staking for Developers
Game developers are required to stake a certain amount of CREO tokens before joining the ecosystem.
7. Incubation Program
Creo Engine will use the Creo token in the project incubation program.
8. Rewards
Creo Engine will occasionally give away Creo tokens in promotional events as a reward.
Sebastian: Would you like to kindly elaborate what the incubation program is about?
Javier : Well..we're from Indonesia
And we realize there's alot of good but unknown devs from our own country..so we have a dream to one day be a financial welfare system for them
One of the way is to incubate their project, when are already capable to do that
Darrel : Yess We want to be the go to guy for developers big and small
And we want developers to actually focus on their creations rather than spending their energy creating infrastructures they may not necessarily know about
Hope this helps!
Sebastian: Captivating. Wow, that is really heartwarming to hear ❤️ I'm sure the small developers will appreciate you guys greatly!
Very meaningful work.
Question 4:
Sebastian: Are there any exciting news or updates with regards to Creo Engine that you would like to share with the users?
Javier : Sure do!
The Public Testnet for our first game, Evermore Knights is already out, you can download it on www.evermoreknights.com and we have several events with awesome prizes for people to participate, please head to our
Discord Channel https://discord.gg/evermoreknights
Telegram https://t.me/creoenginechannel
As for the Mainnet, it is set for June and the INO event is also coming very soon Our second game, Slime Haven is going to be deployed on Polygon chain and the pre-Alpha test is coming out in June. Please join our socials to receive more information and don't forget to check out our websites: https://creoengine.com and https://evermoreknights.com
Sebastian: ooh, do check out the link everyone! Looks like an exciting and fun game!
Javier : Rest assured that the mainnet game will be more perfect than the testnet
Sebastian: Is Slime Haven another one of your games?
Darrel : Yeas We are currently making that game on the polygon chain
While as our first is on bsc
We want our platform to interoperate games from different chains
Though indirect for now itll serve a solid foundation
Hope this helps
Question 5:
Sebastian: Darrel and Javier, thank you for teaching us so much about your project. Now, if you were to summarize your project in ONE word, what would it be? Why?
Darrel : Hahaha i would say…Vast
I say vast because i believe the implications
Are quite interesting
A go to platform for everyone to utilise to gain something
Javier : As for me
Revolutionary, because we have succeeded where people are still trying, which is the Assets Interoperabilty.
Sebastian: Yes, Darrel, most definitely. Thank you guys so much. I believe the community has a much clearer idea of what CREO is and what you do.
Free-asking Session
Q1. Are you a global project or local project? At present, which market are you focus on, or is it focused on building and growing to gain customers, users and partners?
Darrel :
We are tackling indonesia for now with aims to expand globally
Especially we are keen in tackling south east asia
Q2. Are you afraid some day there will be another project with more innovative technology can replace your project ?
Darrel :
There will always be, and we welcome collaboration
Q3. [2205] I see Creo Engine's NFT interchangeability between games is the most prominent and distinctive aspect of the platform. What is the most outstanding value of these NFTs? What are the benefits of NFT exchanges? What other utilities do you want to add to your NFTs to increase their value?
Javier :
I'd say that the more games coming into our ecosystem, the more value and utility our Assets have..so if you ask me, the value itself is immeasurable
Q4. [2205] What is your top 3 things for priorities in 2022? Could you share some plans for the upcoming year?
Darrel :
2 beautiful games and a platform that is my goal above all else
Hope this helps
Q5. According to the project's roadmap- what are your most important next priorities?
Javier :
For now, we're focusing on the game and platform development. We're doing our INO soon so stay tune..we have many surprises for you guys
I think that's all of them
Trying to find MEXC AMAs recaps?
It's easy! Explore them in a special section of our MEXC Global blog. Find insights for other recently listed projects at MEXC like Creo Engine.
Start your travel on MEXC Global