In this Telegram AMA recap, you'll find insights about the CPUcoin (CPU) project. In an event hosted by Sebastian from MEXC Global, you will meet Sean Barger (Managing Director).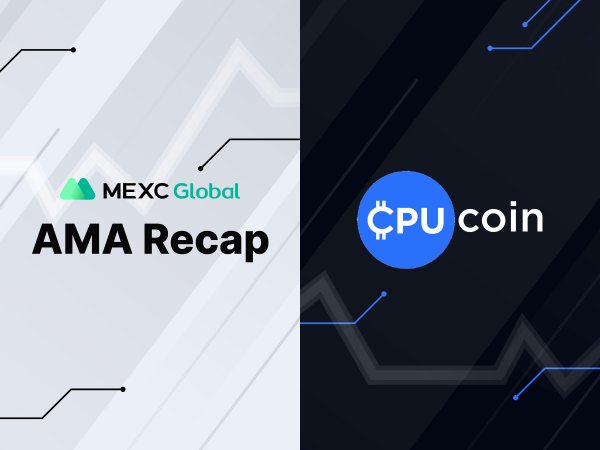 Introduction:
Hello all – I am the managing Director of CPUcoin, the Sharing economy for computing power and CEO of Equilibrium a SaaS company building solutions to power web 2.0 solution migration to web 3.0 decentralization. We are currently working on our next milestone to use the CPUcoin Miner Network to create HD NFT capability for the industry so that NFT content can be much larger and higher quality for all.

Our website: https://cpucoin.io/
TG-EN: https://t.me/mediarichio
Twitter: https://twitter.com/CPUcoin
Questions from the community:
Question 1:
Sebastian: What is CPUcoin? Can you share with us more in detail?
Sean Barger: Sure! CPUcoin is the decentralized Computing Global Network that runs on all major OS's powering just-in- time dServices for Web 2.0 / 3.0. Miners are available for Windows and Linux and Mac version is coming soon!
We have the first running dApp, Tweekit.io has been released by equilibrium.com powered by the CPUcoin miner network. This simple dApp and api solves the problem of importing and converting any file type into any domain specific required format. This can be applied to all kinds of needs on the web and in crypto today such as NFT sites, profile importers, signature apps, kyc/aml submissions, and any existing web services that require a universal file import capability. It's currently connected to Rapid API and NPM, will soon be connected to WordPress, Shopify, Zapier and Salesforce.
This will be the basis for an expanded tool to manage the ingestion of virtually any filetype of ANY size for high definition NFT storage and view-anywhere experiences well beyond the current standards limitations,but with persistence of both the viewing layer and the original content storage layer, to include up to 1 TB or greater files such as 8k videos, or wall-sized images.
Question 2:
Sebastian: What triggers you to launch CPUcoin? What are some of the real-world problems/ pain points that CPUcoin aims to solve?
Sean Barger: When we looked at the industry holistically, we saw a big gap in the cost of utilizing hosted services such as AWS or Azure to power any blockchain project. Fundamentally, the costs are untenable, and the systems are not decentralized. Even though they are highly scalable, there is no way to guarantee their availability without centralized control, and all the costs that are required on top (such as api calls, expensive storage, etc.).
The costs to keep 200 miners up with persistent api calls 24/7 would be in the neighborhood of around 2.8mil USD per year for the volume of hits we are getting TODAY on AWS or Azure. The costs with our sharing economy model is somewhere around $10,000 USDT paid in CPUcoin. The economics nor the persistence exists for high definition, long form content which is where we are starting with, but the importance of an auto-scaling network and a platform that provides that as part of it's services is critical for the long term viability of virtually all blockchain projects that aren't a simple protocol. And even there, oracles, nodes, still need a way to be auto-scaled. This is where we come in. Please see all the different use-cases in the slide presentation on cpucoin.io
ohhh, one other thing: As far as advantages:
We recommend viewing the detailed competitive analysis on cpucoin.io. In a nutshell, we are creating functionality that enables just-in-time delivery of real-world capabilities, not slow batch processing only. Our solution delivers content generation with a full-round trip in less than 230 ms for most current requests. This is currently unavailable in any other compute project.
Question 3:
Sebastian: What is the role of the $CPU token in CPUcoin? Would you tell us more about its tokenomics?
Sean Barger: Miners, partners, developers are paid with CPUcoin. Remember, anyone can mine CPUcoin enterprise workloads today for Windows and Linux (Macintosh coming soon) and earn CPUcoin as part of the Testnet CGN (Computing Global Network). We have other deals in the works to pay out in CPUcoin for other systems that will incorporate our mining software. Multiple currencies is the goal for both payment and operation. There are a number of technologies in development that we can incorporate to make this seamless. This will be announced when ready.
CPUcoin has multiple token pools. Fundraising/mining payouts pool (the largest), Team pool for employees, Advisory pool and Partnership pool. Most tokens are still in their pools with a circulating supply of less than 400mil and a total minted supply of 5bil.
We also have open-sourced our Vesting Token, this allows us to achieve pre-sales, employee and advisor token deliveries with Cliff, vesting schedules that automatically vest in-wallet etherless.
Question 4:
Sebastian: Are there any exciting news or updates with regards to CPUcoin that you would like to share with the users?
Sean Barger: Most exciting is: We have just listed on MEXC recently which is very exciting. We have a new advisor that has recently come on board from Hong Kong, Tony Tong, one of the co-founders of HKBA, and many other companies. We are about to announce another Advisor that is heavily connected to the Korean ecosystem.
CPUcoin took top prize at the CoinAgenda company presentations showing our real tech, real go-to-market, and roadmap strategy.
We are announcing a new aidrop capability for anyone who signs up for a miner account, or claims their prior Qoinpro aidrop at cpucoin.io. By doing this and providing valid MEXC UID information, weekly airdrops to our 180,000 CPUcoin holders will begin as part of our MEXC partnership shortly.
YES, CPUcoin has over 180,000 cpucoin holders, but they aren't on-chain yet…MEXC partnership will work to bring them into the exchange!
Question 5:
Sebastian: If you were to summarize your project in ONE word, what would it be? Why?
Sean Barger: Innovative.
Why?
Because currently, the ability to deliver high volumes of content on the edge to power high definition content is not possible for decentralized web 3.0 applications such as NFT sites where you want pictures the size of a wall to be displayed on any screen and viewable from anywhere around the globe FAST and without substantial delay with persistence that will last for a thousand years.
We are building the missing middleware layer that enables all web 3.0 to become decentralized, and work fast anywhere. Someone has to do it!
Free-asking Session
Q1. [1111] How old is Your project? What are the major plans ahead? Could you show to us image of your roadmap?
Sean Barger:
We have been working on this since 2018, but UNLIKE other crypto projects, ours is built on core technology that's built and patent since BEFORE crypto existed!
Q2. Can you list the features that your project have and other similar projects don't and Can you convince me to invest in your project as compared to others which are similar to yours? [1111]
Sean Barger:
https://cpucoin.io/the-unique-advantages-of-the-mediarich-io-decentralized-cpu-project/
We highly recommend that you look at our website! It's in 10 languages, and has an excellent whitepaper and explainer video. You can also get 1-2 cpucoins per day free for signing up and running our miner…there are also faster ways of earning cpucoins and getting bonus tokens on the site!

Q3. IS this project only for elite investors? [1111]
Sean Barger:
NO, anyone can go to MEXC and get in now, we are newly listed and, because of recent market conditions, the price is still well under .05 usdt per token. We are about to make many major announcements…and do a worldwide speaking tour, and will be in the table top book called Innovate, and have multiple raises and Dex offerings coming!

Q4. [1111] Are you a global project or local project? At present, which market are you focus on, or is it focused on building and growing to gain customers, users and partners? @sbarger
Sean Barger:

As you can see, we are global and have a lot of activity accross Seoul, Singapore, Hong Kong, China, USA, Europe…even our testnet is global!


Q5. [1111] Revenue is an important aspect for all projects to survive and maintain the project/company. How have you been able to build a complete project and what is the way to generate profit/revenue of the token? What is the income model? @sbarger
Sean Barger:

We call this the REAL REAL REAL plan: Real technology, Real Products, with Real Revenue! Good question. Currently, the Tweekit.io service is powered by Equilibrium and there's a revenue share between Equilibrium (the publisher of the tool) and CPUcoin (the back-end and identity server powering the services). It all ties together, and is working with a company that has lots of large customers….
We are happy to answer any of your questions on CPUcoin's telegram channel (what out for fakers!) HEre's the real CPUcoin english official: https://t.me/mediarichio
We also have 10 or so other languages!

https://t.me/CPUcoinJapanese
https://t.me/CPUcoinPortuguese
Trying to find MEXC AMAs recaps?
It's easy! Explore them in a special section of our MEXC Global blog. Find insights for other recently listed projects at MEXC like CPUcoin.
Start your travel on MEXC Global