In this Telegram AMA recap, you'll find insights about the Astar Network project. In an event hosted by Iris from MEXC Global, you will meet Sota, Founder of Astar Network.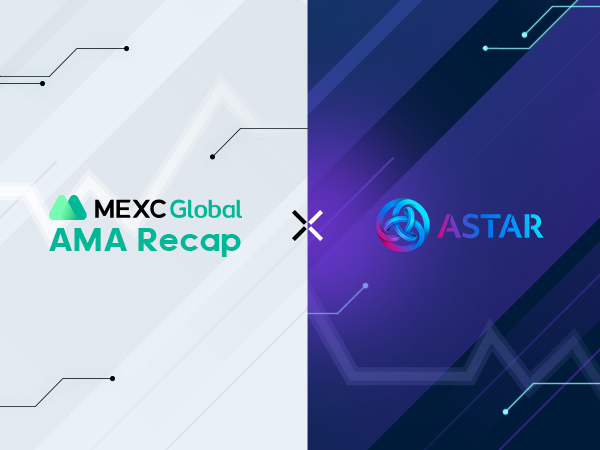 Introduction:
Hello everyone. This is Sota Watanabe, founder of Astar Network. I started Astar back in 2020 and we have been developing the core protocol to realize Web3. Apart from Astar, I am a director at Japan Blockchain Association. Excited to be here!
Questions from the community:
Question 1:
Iris: What is Astar? Can you share with us more in detail?
Sota: Astar Network is the #1 TVL Smart Contract Hub for WASM + EVM on Polkadot. Since winning its Parachain auction in January 2022, Astar Network has become the top Parachain in the Polkadot ecosystem in Total Value Locked and most Ethereum assets transferred over. Astar Network is the leading smart contract hub that connects the Polkadot ecosystem to Ethereum, Cosmos, and all major layer 1 blockchains. Astar Network supports dApps using multiple virtual machines — namely WASM and EVM — and offers the best technology solutions and financial incentives via its Build2Earn and Astar Incubation Program for Web3 developers to build on top of a secure, scalable, and interoperable blockchain.
Question 1:
Iris: What triggers you to launch Astar Network? What are some of the real-world problems/ pain points that Astar Network aims to solve?
Sota: Good question. I met Gavin Wood in 2020 when I started a company. At that time, the ecosystem is super small and there are a lot of opportunities for me to start with. Polkadot itself doesn't support smart contracts by design. Hence, it is important to have a smart contract platform like Astar. We support both WASM and EVM for next-generation dApps.
Question 3:
Iris: What is the role of the $ASTR token in Astar? Would you tell us more about its tokenomics?
Sota: Astar Token is the utility token for Astar Network that has the following 5 roles.
1. DApp Staking
DApps Staking is an original scheme that the Astar Network core team invented and only the Astar ecosystem supports this feature in the Polkadot ecosystem. Astar Network aims to be the leading dApps hub on Polkadot Network. Hence, we prepared incentives for dApps developers to make smart contracts on Astar Network.
2. PoS
Astar token holders also have an option to stake Astar's on the network (Astar Network validators or collators). By doing so, the staker receives the nomination reward and the network becomes more decentralized.
3. on-chain governance
We plan to make on-chain governance and the Astar token is used for facilitating the governance activities such as voting and referenda.
4. Layer2
Astar Network is a layer1 platform that supports layer2 implementations. Layer2 application developers make a deposit on their layer1 smart contract and create layer2 applications.
5. Transactions
Every on-chain transaction takes fees.
you can check the token economics from https://docs.astar.network/learn/token-economics/token-allocation
Iris: awesome! thanks for the explanation 🥳
and in case you didn't know, you can buy ASTR on MEXC now: https://www.mexc.com/exchange/ASTR_USDT
Question 5:
Iris: Are there any exciting news or updates with regards to Astar that you would like to share with the users?
Sota: Sure
Astar DeFi season is coming! We are going to have more than 15 new DeFi protocols in coming 2 weeks and we will fill out the missing pieces of DeFi lego. In addition to that, some of great NFT IPs will be deployed on Astar as well. One of great things of being Japanese i am very excited to have some of them on Astar!
Iris: If you were to summarize your project in ONE word, what would it be? Why?
Sota: It will be "Hope". Astar is a coined term. a + star. We want to be a star in the multichain era. Currently, blockchains are isolated just like the internet 30 years ago. To bring Web3 to billions of people, blockchains need to be connected and this is what we would like to achieve.
In the coming months, we will do our best to make the best smart contract hub on Polkadot and in 2023, we try to make a key piece of Web3 infrastructure
Free-asking Session
Q1. What is the current development status for your project and what are your main goals in 2022?
Sota:
in 2022, we would like to make the best smart contract platform on Polkadot. And currently, we have the highest TVL, the most addresses and transactions. We are on the right track. However, we need more marketing, especially in the US, and collaboration with sophisticated projects. This is what I am working on right now.
Q2. How will the demand for your token increase in the future? Or what step would you take to increase the demand.?
Sota:
We have a network effect. The more dApps are built, the more basic income can be distributed
Q3. How strong is your team? Many projects start with a good impression and are later abandoned the project. What makes your project different than others?
Sota:
we have 30 members across the world. 12 devs in Europe. 10 people in Asia and 8 people in the US. We are expanding the team, especially in the US to make a stronger presence over there
Q4. What is the meaning of the name of the project and why did you name it that way?
Sota:
A star. A + Star 😄
Q5. Can you share some Details about Recent Achievements done by your project? Also, what are the Future Roadmap & Targets of your project?
Sota:
good one. We launched our mainnet 3 months ago but our TVL exceeded $1,500,000,000. Currently, we have the highest TVL, the most addresses, and the most transactions in the ecosystem.
Trying to find MEXC AMAs recaps?
It's easy! Explore them in a special section of our MEXC Global blog. Find insights for other recently listed projects at MEXC like Astar Network.
Start your travel on MEXC Global