In this Telegram AMA recap, you'll find insights about the @Pay (AtPay) project. In an event hosted by SenHo from MEXC Global, you will meet Ken Keyse (CEO ), Adam Mazzaferro (Co-Founder), Omar Diab (Co-Founder)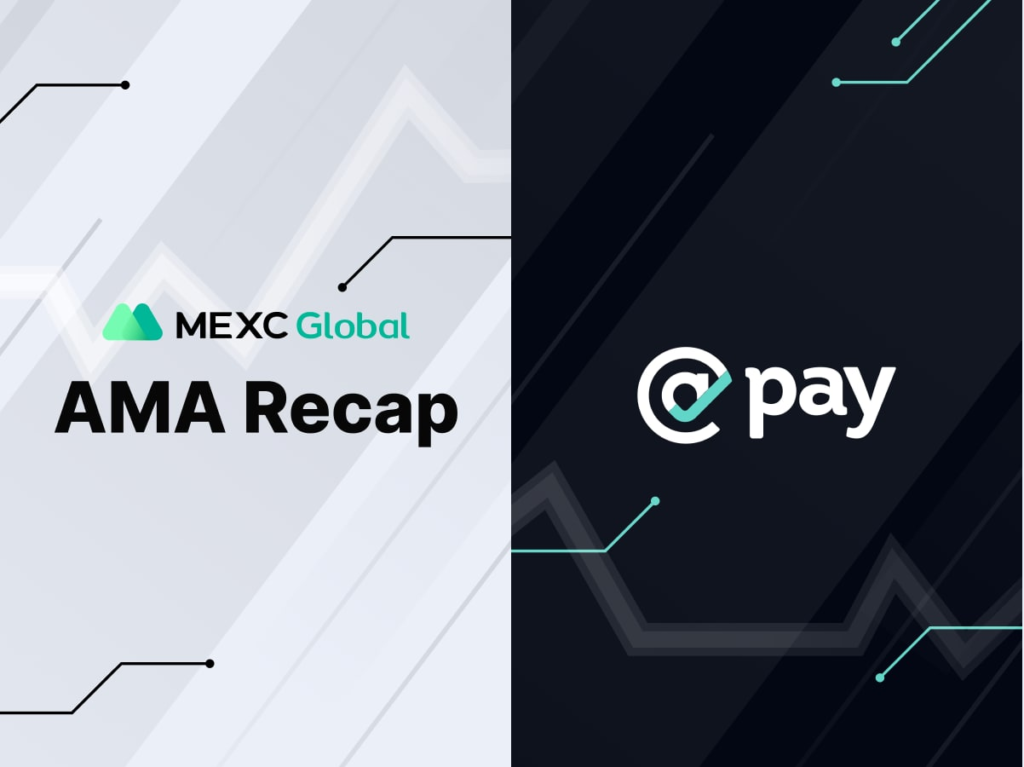 Introduction: Today, we're honored to have Ken Keyser, Adam Mazzaferro, and Omar Diab, CEO, Co-Founder, Co-Founder in our community to give us a more intuitive introduction to their unique project.
Omar Diab: Hello everyone, my name is Omar Diab, I am one of the founders of @Pay and very happy to be here with you. I have a background in financial markets with 27 years experience in trading, especially derivatives.
Adam Mazzaferro: Hi everyone, I am Adam Mazzaferro – Co-Founder, CEO and General Counsel of @Pay. I have over 20 years experience as a corporate lawyer specialising in the areas of M&A, private equity, financial services and corporate governance. I have been involved in the Crypto space since 2018 initially as an investor. Omar and I have known each other both professionally and socially for over 20 years.
Ken Keyse: Hi Guys, My name is Ken Keyser and I am the CEO of @Pay . A little bit about myself. I have over 20 years' experience across board membership, CEO, sales, marketing, commercial management and M&A in small, medium & large scale FMCG.
I have experience with extremely successful exits from a number of private and private equity owned companies over the past number of years. I am a serial investor in traditional markets, as well as early adopter and active investor in Crypto-assets. I have combined my experience from traditional markets and brought it into the Decentralised Finance Web3 industry.
Questions from community:
Sen Ho: 1. What is the @Pay (AtPay)? Can you share with us more in detail?
Adam Mazzaferro: We are very excited about @Pay as it is the first of its kind platform for BNPL solutions, combining three emerging markets; Buy Now Pay Later (BNPL), Crypto and Traditional Currency, and Blockchain and Smart Contracts.
@Pay aims to be a key participant in offering decentralised finance (DeFi) eCommerce and in-store solutions to shoppers & merchants. @Pay will also allow users to pay for their shopping with any traditional currency (fiat) or approved cryptocurrency they hold in their wallets. Shoppers and merchants will be rewarded with tokens for all transactions and repayments. This places @Pay in the unique position to become the premier BNPL solution for gaming platforms, esports, NFT marketplaces, Web 3 businesses whilst also targeting traditional BNPL merchants.

Sen Ho: 2. What are @Pay (AtPay)'s unique selling points as compared to other similar projects in the industry?
Ken Keyse: Here's a summary of what users can expect of this unique ecosystem that stands out from its competitors:
Pay with cash or crypto⁠
Buy now – Repay in 4 instalments ⁠
No interest or late fees ⁠
Earn rewards for completing repayments on time⁠
Earn rewards in crypto⁠
Stake⁠
"IT IS THE ONLY PROJECT OF IT'S KIND"

Sen Ho: 3. What is the role of the $ATPAY token? Would you tell us more about its Business Model?
Omar Diab: The @Pay token plays two major roles. Firstly it's a governance token and secondly it acts as a mechanism by which rewards are delivered to all the participants in our ecosystem, shoppers, merchants and the stable coin stakers. It also has utility on the platform as a currency in the marketplace and a bonus pathway through the staking option.
Adam Mazzaferro: Further, regarding the @Pay business model,
Omar Diab: The @Pay protocol and app will earn revenue in 4 key ways:
Merchant fees for BNPL – a merchant pays @Pay 4-8% of every transaction when a shopper chooses to purchase a good or service using the BNPL feature.
Affiliate merchants payments. @Pay receives 5-10% of the transaction amount for driving shopper traffic..
Monthly account keeping fee of $8 payable by anyone that has repayments outstanding from using the BNPL feature..
Crypto Pay transaction fees – 1% fee of the transaction amount.

Sen Ho: 4. Are there any exciting news or updates with regards to ATPAY that you would like to share with the users?
Ken Keyse: We have just launched our demo app to our community! Our community has been patiently waiting for our app release, and we're really close. For now, we just need a little help from our fantastic community to test some of our cool features (many more to come!) to make sure our final release is up to the highest standards.
-> Anyone interested in testing our app can request access via atpay.io/demo
Also, we are aiming (subject to regulatory approval) for the first operational version of the app, @Pay Business, to begin roll out to merchants and customers by the end of Q4 2022, unlocking the ability for businesses across Australia to accept cash payments and have these converted into crypto, instantly. @Pay business will be great for professionals (doctors, lawyers, accountants , beauty therapists, tradespersons etc.. @Pay business is the first stage of @Pay's app roll out.

Sen Ho: 5. If you were to summarize your project in ONE word, what would it be? Why?
Omar Diab: "Disruptor"
Why? Because @Pay takes microfinancing for ecommerce and decentralizes the key functions. We have our Stable Coin staking mechanism which removes the traditional bank credit line funding models that typical BNPL platforms use. We have a democratic reward sharing program that allows all the participants in our ecosystem to benefit from the value that they collectively create. We also are a bridge between traditional fiat and digital currency payment options. Merchants have the ability with @Pay to engage their customers in a web3 functionality thereby enhancing customer engagement and loyalty. These are features which are unique to @Pay and facilitated by our smart contract and blockchain integrations.
Free-asking Session
Q1. How can users stay updated with this project? Are there channels, including local communities where users can get the latest updates?
Ken Keyse: We have a number of social platforms ie Telegram, Twitter, TikTok, Facebook, Instagram, Linkedin.
Here is a link to our social handles.

Q2. Please tell us the Main Role of tokens in the Ecosystem? How can the Community earn passive income with tokens?
Omar Diab: @Pay is essentially a Buy Now Pay Later DEFI protocol built on two blockchains. It will connect shoppers with the provision of short-term credit where they can make repayments in structured instalments over three months and get rewarded with the @Pav governance token when they complete repayments. @Pay takes the developing interest in BNPL and creates an ecosystem of lenders, merchants, and shoppers who all participate in the benefits and value that is accrued as the protocol grows. Building on blockchains enables efficiencies provided through a comprehensive smart contract framework that otherwise would not be available to the existing players in this space.

Q3. How many team members are there in your project?
Adam Mazzaferro: @Pay has approximately 20 people working on the project. This comprises a corporate team focussed on governance, legal, business development, strategy, and partnerships. Then we have our internal marketing team who look after and drive our design, marketing, PR and influencer strategies. Finally and importantly we have our tech development team building both the front end and back end aspects of the APP and they are working closely with the tech and engineering teams of Solana and Algorand.
As @Pay has global appeal and not just in the crypto/blockchain space, we are taking a 360 degree approach with our marketing and PR activities.

Q4. How did you come up with the name for your project? What is the driving force behind your project? Have you got a story to tell?
Adam Mazzaferro: In Australia over the last five years BNPL has really taken off and has been driven by a couple of major local players, Zip Pay and Afterpay which was acquired last year by Square for USD$29 Billion. Our investment backgrounds meant we had been following this space closely for a while and our involvement in the Blockchain and Crypto area is where the connection and inspiration to explore the opportunity was born. This was followed up with extensive research into the BNPL market, the main players, the underlying mechanisms driving its growth and potential future developments. All of these factors when considered in light of developments in the DEFI world supported a case for creating @Pay utilising a comprehensive smart contract framework and integrating on a minimum of two blockchains. There was definitely a great deal of drawings on the back of napkins in cafes around Sydney as we delved deeper into the concept and the methodology evolved.
In designing the @Pay protocol we wanted to cater to all the participants in the ecosystem and to introduce functionality that is derived from our vision of how the underlying general digital realm is evolving. This takes into account the ongoing adoption of digital currencies and the growth of this space globally. It has also taken into account the increased interest and involvement of corporate and institutional bodies and what that may mean for the future of e-commerce. As a result, our development of the @Pay protocol itself caters to all of these in some way through its features.

Q5. What are plans in for global expansion? Are you focusing on market at this time or focus on building and developing or getting customers and users, or partnerships?
Ken Keyse: Since we have gone public with our whitepaper and featured in articles delving into our innovative protocol we have experienced significant interest from a variety of parties that span across, financial institutions, investment funds, NFT platforms, other crypto platforms as well as existing BNPL platforms. The interest has come from different regions globally and much of it is driven by the underlying growth and forecast growth of BNPL as a payment option. This is also driven by data which indicates that younger demographics in particular are aggressively using these payment options instead of credit cards. Our strategy understands the importance of making strategic partnerships that compliment the underlying growth and support of the @Pay protocol and are in keeping with our philosophy of innovation and decentralisation. We have already commenced discussions with different parties around the World and hope to formalise and announce some of these partnerships in the not too distant future.
Trying to find MEXC AMAs recaps?
It's easy! Explore them in a special section of our MEXC Global blog. Find insights for other recently listed projects at MEXC
Start your travel on MEXC Global