In this Telegram AMA recap, you'll find insights about the artèQ project. In an event hosted by Lucky from MEXC Global, you will meet Farbod Sadeghian ( Founder of artèQ ) an international tech&art start-up – arteq.io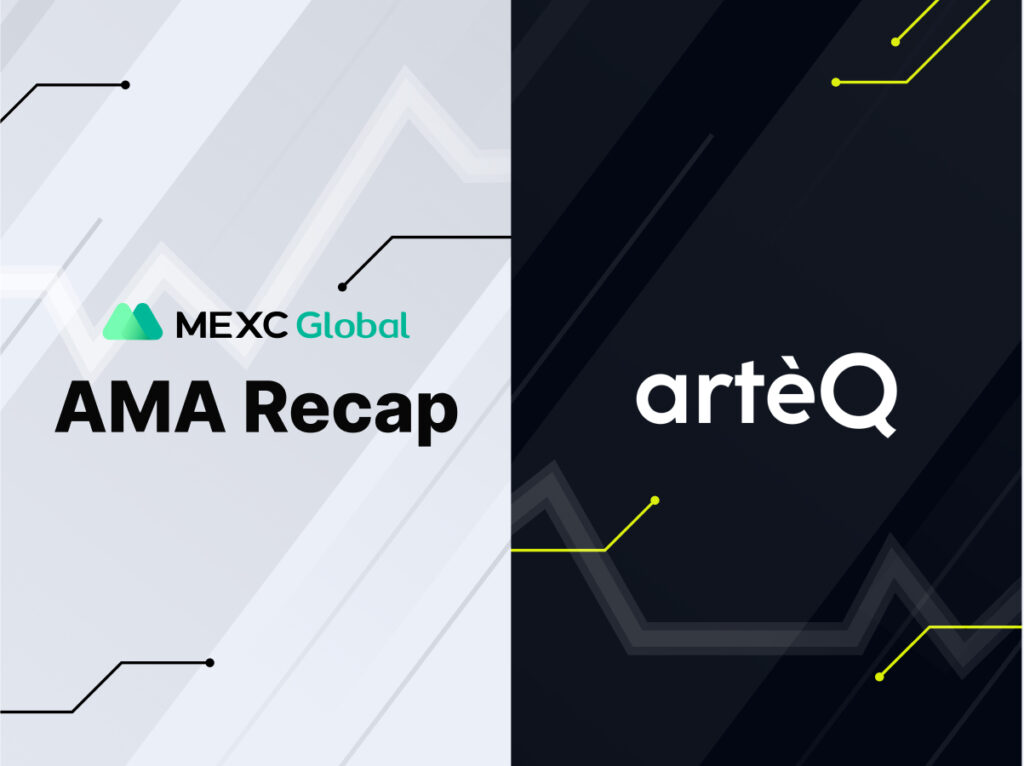 Introduction:
Sure, I am Farbod Sadeghian Founder of artèQ, an international tech&art start-up – arteq.io. Started 20 Years ago after my studies in various tech startups
Due to my passion to art and technology decided to start a capital which makes life of investors in Digital Art and NFTs easier
Since the inception of my first company more than 22 years ago, my vision has remained the same, to develop innovative technologies that simplify the world.
Happy to be hear and invite all art lovers to join us at arteq.io.
Our website: https://arteq.io/
TG-EN: https://t.me/arteQio
Twitter: https://twitter.com/arteQio


Questions from the community:
Lucky Q1. What is ARTEQ? Can you share with us more in detail?
@Farbod_Sadeghian
Farbod Sadeghian : artèQ is the first investment platform for buying and selling shares representing an investment in iconic NFT projects and Digital Artworks.
We build a diversified portfolio of expertlyvetted works curated by our industry leading expert team with investing in artèQ.
We created the first NFT Investment Capital that brings together the finest masterpieces from the analog and digital world to the NFT space. Additionally, we foster cooperation between traditional and digital artists to co-create artworks for the NFT space and establish strategic partnerships with museums and art galleries to launch special NFT projects.
Our curation and investment specialists have many years of experience and an established network of businesses in the regular art market which enables us to acquire artworks with the best pricing conditions. In the virtual space, we use state-of-the-art mechanisms to monitor talented digital artists with track records and strive to learn about exclusive drops before their release.
artèQ wants to pioneer the digital revolution in arts by establishing an ecosystem of related business activities: The Online Auction House, physical and virtual art Galleries, Strategic Partnerships, Digitalization Centers, and the "loanto-value" program; an exclusive lending system for token and NFT holders.
These activities are part of our strategy to create synergy to support and leverage the artèQ NFT Capital.
Lucky Q2. What triggers you to launch ARTEQ? What are some of the real-world problems/ pain points that ARTEQ aims to solve?
Farbod Sadeghian: We want to support artists as the most, thats why if we have any artists in the group please apply to us
The most creative and straightforward approach to invest in the revolutionary potential of NFTs is with artèQ's Coin ARTEQ. The coin serves as a metaphor for how the art world is changing. ARTEQ makes it simple and transparent for people to engage in the appreciation of art, and it also aids digital artists in making money off of their creations.
You can always join our artisist community by applying under: https://arteq.io/acquisitions
artèQ's mission is to transform the booming crypto art market with artèQ NFT Investment Capital into an accessible investment opportunity to cater to investors looking to cash in on NFT-Art as an alternative asset class. artèQ is gathering the best artworks of notable artists from the traditional and digital world. Up until recently, digital art was a specialized field within the art industry. In part because there was no method to collect it, and was long overlooked by conventional art galleries and auction houses.
Lucky Q3. What is the role of the $ARTEQ token ? Would you tell us more about its tokenomics?
Farbod Sadeghian: ARTEQ is a Utility ERC20 token built on top of the Ethereum blockchain with a fixed supply of 10 billion units in infinite circulation.
They are used for operations and decision consensus of the artèQ Investment Capital, with the majority of its applications in the DAO to be implemented.
We are a transparent project with all members and token holders
The token distribution considering the total number of token to be issued will be carried out as follows:
Team & Pre-Sale Marketing: 10 %
Marketing % Development: 3 %
Treasury: 87 %
We will soon announce our strategic partnership with largest chains, dont miss to invest now
Lucky Q4. Are there any exciting news or updates with regards to ARTEQ that you would like to share with the users?
Farbod Sadeghian: Sure in our team we are very busy everyday adding milestones and partnerships
We have recently launched arteQ Pixel https://pixel.arteq.io/collections
fractional ownership of fine art
Further in arteQ Labs we are finalising our Launch of Metaverse auction with reality connection in our house in vienna
3 Large NFT Gallery collabration and most important the largest European NFT Festival for 2023 with a lineup of 3 worldfamous DJs
Anoouncement will be out in september
Our own line of Music and Opera Related NFTs, with world famous Leaders in this field, bringing opera to NFTs https://orpheusdao.com/
Dont miss to get our party gang which give access to major parties in the world:
The Orsetto Gang makes it possible – by being part of this gangster network you will automatically draw for exclusive tickets to the worlds best festivals and parties which are listed below. 20 limited tickets are in the pot each month, so let's fire these events up in the most gangster way possible.
The Orsetto Gang is a collection of 10,000 unique NFTs — digital collectibles living on the Ethereum blockchain. As the most-wanted party bears in the web3 space, the OG NFT can grant you access to the world's top music festivals!
Drop took place on July 23rd
There is lots more to come we are the most active NFT Capital
Lucky Q5. If you were to summarize your project in ONE word, what would it be? Why?👌
Farbod Sadeghian: Revolutionary!
Fist time that a digital fund supports artisit and art projects directly with a token based fund
artèQ's Coin ARTEQ. The coin serves as a metaphor for how the art world is changing.
ARTEQ makes it simple and transparent for people to engage in the appreciation of art, and it also aids digital artists in making money off of their creations.
Keep updated on all arteQ channels dont miss it:
⭕️ https://twitter.com/arteQio
⭕️ https://t.me/arteQio
Free-asking Session
Q1. Where I can get the latest updates or more information about the project?
Farbod Sadeghian:
⭕️ https://twitter.com/arteQio
⭕️ https://t.me/arteQio
Q2. IMPORTANT QUESTION ? Audit is important for both trust and security. Have you done any audit of smart contract?
Farbod Sadeghian:
We always use CERTIK and other 3rd party companies to verify our smart contracts

Q3. Since NFT is popular nowadays, is there a plan for NFT integration?
Farbod Sadeghian:
arteQ Team: We are always looking for the best projects out on the market. You can reach us support@arteq.io
Q4. What is your strongest advantage that you think will make your team leading the market?
Farbod Sadeghian:
Our Team and our Network

Q5. According to the project's roadmap- what are your most important next priorities?
Farbod Sadeghian:
Our great art Collabration with largest masterpieces

Trying to find MEXC AMAs recaps?
It's easy! Explore them in a special section of our MEXC Global blog. Find insights for other recently listed projects at MEXC like artèQ (ARTEQ)

Start your travel on MEXC Global