Solvent Token (SVT) was featured on MEXC M-Day.

Let's explore the M-Day recap: token review and its MEXC listing performance!
A Solvent is a platform to convert NFTs to fungible tokens known as droplets, giving the user instant liquidity. From 11 to 12th of January, MEXC Global launched the trading round and MX round for SVT Tokenx under M-day events.
What Solvent does with instant liquidity?
Instant liquidity for NFTs can provide users a platform where they can trade NFTs faster than they do today. Droplets can be traded on AMMs and Serum order books on Solana. Users can trade the droplets owned by them to redeem NFTs in the SVT buckets or swap droplets for $USDC directly from the platform. They can also stake their liquidity of the droplets into liquidity pools and earn liquidity rewards. Features like lending, loans, NFT derivatives, and more exciting integrations are to be released soon.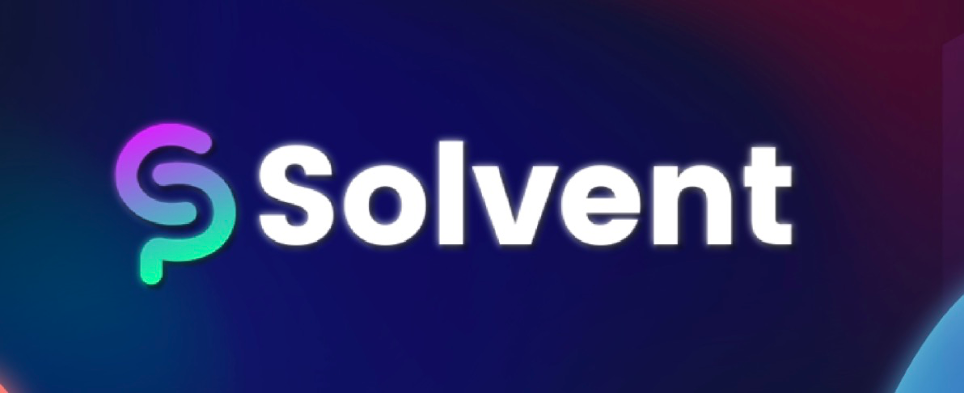 The distinct features to trade on Solven

t Token
The advantages for the user to choose Solvent instead of marketplaces like Solanart for liquidity are:
Instant price discovery – If the users choose to list their NFT on Solanart or other marketplaces, they will have to come up with a price for which they can list the asset, whereas Solvent can provide an instant quote on the price they'll receive in exchange for depositing their NFT.
Instant liquidity – Solvent can provide instant liquidity to the NFT depositors once they deposit their NFTs whereas, in the case of other marketplaces, the seller has to wait for the buyer to pay the amount and buy it from them, for the seller to receive the liquidity.
How can Solvent Token enable NFT?
Fractionalized exposure to NFT projects: Owning a Degen ape with a floor price of 60 SOL is not affordable to many but the ability to own fractions of droplets of Degen ape project from Serum can help onboard many newcomers to the NFT world and allow fractional ownership. There are a bunch of other ways where fractionalized ownership of the NFTs makes more sense if done via mechanisms like fractional.art, but liquidity can be a major problem with such mechanisms for run-of-the-mill NFT projects that do not have high demand. With a floor price discovered for an NFT project with Solvent, Martingale share fractionalization can also be made possible for these NFTs.
Lending NFTs: The floor price indicated by the droplet of the NFT project can be used as a stabilized AMM-based source of a floor price for calculating the value of the NFT asset that can be lent.
Passive income by NFT: assets can also be used for earning passive income early on when the droplets that are minted from depositing the NFTs are staked into the liquidity pools of those droplets.
Collateral loans with NFTs: Similar to lending, an AMM-based floor price can also be used to calculate the collateralized value for an NFT for giving out loans on those NFTs.
Floor perpetuals on NFTs: Floor perpetuals are perpetuals with a modification that they track the floor price of the NFT project as its index price. Solvent will enable a stable floor price for the NFT project that is AMM-based and not based on capitally inefficient marketplaces.
SVT Token Distribution
SVT is the native governance and utility token for Solvent. The total SVT token supply is 100,000,000.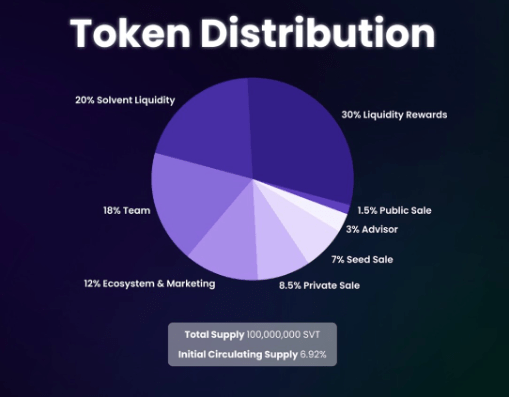 SVT Token on MEXC M-Day
SVT tokens could also be utilized for staking, thus allowing the ecosystem's liquidity providers (LPs) to stake these to gain benefits, including:
SVT Token distribution is enabled by a portion of the platform's fees being used to buy back SVT tokens.
Depending on the number of SVT tokens staked, users will get discounts on minting fees on the platform.
Since issued on January 12 in the Innovation Zone, the highest price hit 1.5 USDT with a 0.1 USDT opening price, up 1500%. Total Tokens Allocated to MEXC M-day are 180,000 SVT. According to the lucky draw rules, for the trading round, there were 1,200 winning tickets with 100 SVT each ticket. For the MX round, there are 1800 winning tickets with 100 SVT each ticket.
---
Looking for new crypto GEMs? Find them at MEXC Global!
Interested in altcoins or native tokens? Looking for the next GEMs after the SVT token? You can check articles tagged with alts. New to blockchain and trading? If you want to know more about MEXC products and crypto trading, visit our Academy to learn how to start trading on MEXC Global.
Start your travel on MEXC Global