Thousands of delighted supporters greeted Argentina's squad like heroes in the early hours of Tuesday. Just like the plane that carries Lionel Messi from Qatar to Buenos Aires, Messi singlehandedly carried ARG and PSG.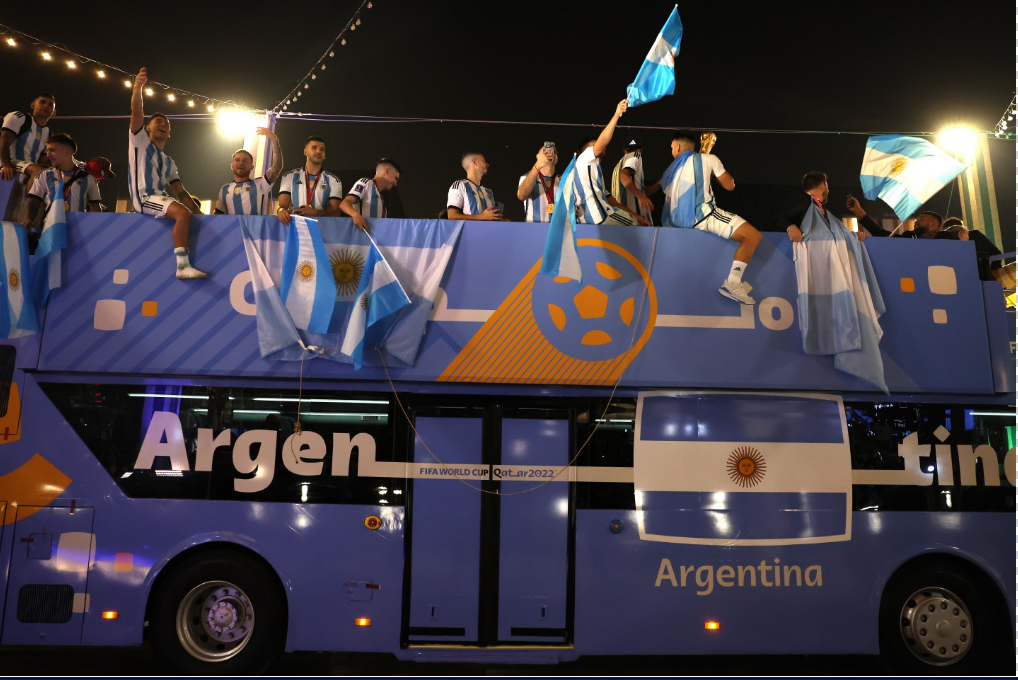 The Argentine capital was in high spirits following their stunning triumph against France in Sunday's World Cup final. Furthermore, it was the first world cup victory for Argentina after Diego Maradona lifted the trophy 36 years ago. Crypto fans and fan token holders were also in high spirits. Lionel Messi and Argentina's victory brings ARG and PSG up a new notch before cooling down. We are talking about a 30% increase in token price. Do you see the value in fan tokens now?
Everyone watching football knows that the World Cup final was a clash between giants. We have the all-time favorite Messi representing Argentina and the rising star Kylian Mbappe fighting for France. It is a no-brainer that ARG tokens will rocket to the moon. However, did you know that both Messi and Mbappe actually plays for the same team in their full-time career?
PSG Fan Tokens
Messi and Mbappe are both in a forward position for the French football team Paris Saint-Germain (PSG). As they clash in the finals, PSG fan tokens saw only an upwards trend. As Messi scored the first goal in the 23rd minute, PSG fan tokens spike up by 7.78%. Of course, Mbappe did not give up and scored 2 equalizing goals, driving the token up once again by 9.10%. During the final 30 minutes of extra time, the star players both scored 1 goal and tied the game to penalty shootouts. However, PSG tokens gave yet another rise of 14.57%.
For the total length of the match, PSG tokens saw a total 31.45% increase. Their token price went from $6.008 all the way up to $8.413. Before the match started, the total trading volume was merely 2.47k on MEXC. After the match, there was an accumulated trading volume of 34.62k. It is unfortunate for France supporters as Mbappe's efforts did not win them the cup. However, PSG fans were definitely ecstatic to see their performance and the fan token's amazing performance.
Thankfully, it is never too late to get your hands on some fan tokens. Check out the live price of PSG now and learn how to buy the fan tokens right away!
ARG Fan Tokens
Argentina became the new World Cup champions after defeating France in a 4-2 penalty shootout. The defending champions lost their throne and gave way to perhaps one of the most exciting finals in World Cup history. Simultaneously, their performance brought great joy to a lot of ARG fan token holders! As Messi scored the first goal in the 23rd minute, ARG tokens gained 3.25%. 13 minutes later, Angel Di Maria scored the second goal that many fans thought was enough to secure victory. Instantly, ARG grows by another 4.82%.
Unfortunately, Mbappe perform beyond expectations and tied the game into extra time. In less than an hour, Messi scored another goal and the team won at penalty shootouts. Argentina became the world champion and ARG fan tokens pumped up by 20.99%. We were looking at grown men crying from joy and ARG tokens going to the moon. In total, the tokens grew by 29.06% with a trading volume of 48.95k before calming down.
Never knew fan tokens could have so much potential right? Don't miss out, check out the live price of ARG and how to buy ARG fan tokens now!
What's Next on the Fan Tokens Watchlist
FIFA World Cup was a great competition to showcase the power of fan tokens. True fans and token holders are well rewarded for their confidence and persistence. Thankfully, as one door closes, another will open. There are a huge amount of football fan tokens, but not all are football. We have Formula 1 racing such as the Alpine F1 Team fan token (ALPINE), tennis such as the Davis Cup fan token (DAVIS), and Esports, namely the OG fan token (OG). Now, our watchlist lies on OG.
OG Fan Token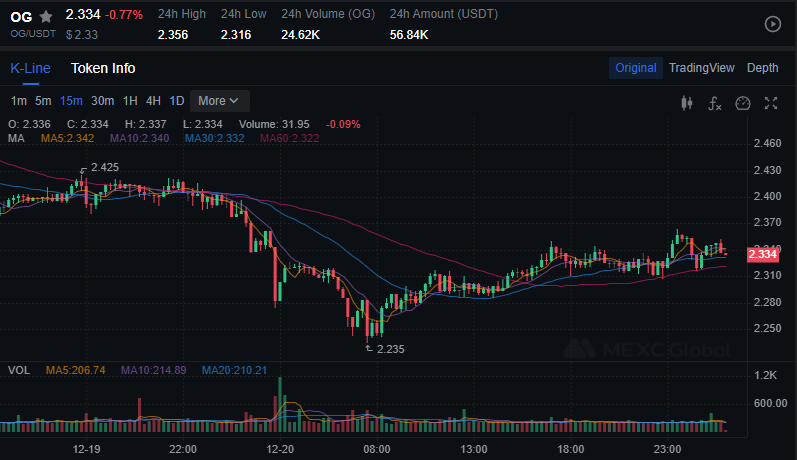 Here is a bit of background on the esports gaming team OG. It is a European esports organization founded in 2015 by Johan "NOtail" Sundstein. It is one of the most reputable DOTA 2 teams with a huge fan base. Furthermore, they were the only team in the history of Dota 2 to achieve back-to-back champions status for The International (TI) in 2018 and 2019, bringing home $26.6 million. For comparison, The International is equivalent to FIFA World Cup for Dota competitions.
According to the charts above, the OG fan token has been on a slow rise despite the market downtrend. The growth came from the contributions of the founder and their retired winning players. In 2018 and 2019, Ana, Topson, Ceb, Jerax, and NOtail shocked the world with their back-to-back victories. Soon, the players announced their retirement in 2020.
However, the OG fan base went wild on December 2022. Their star players, NOtail, Topson, and Ceb came out of retirement to form a sub-division called Old G. Furthermore, Old G was crushing it at DPC WEU Tour Division Qualifiers, showing fans that they are still a dream team and powerhouse. Now, OG consists of two teams, the main division OG and sub-division Old G. With one of the best young players "Yuragi" leading the first team and "Ceb" taking the second, everyone is excited to see how far can they go for Major Qualifiers on 2023.
Time for you to start your esports fan token journey with OG fan tokens! Check out their live price and how to buy OG fan tokens now!
Closing Thoughts
Who knew fan tokens are so popular and so interesting right? All tokens have their unique backstory and dreams. Fans themselves are giving their all to support the fan tokens. Time for you to explore all the fan tokens available in MEXC now! MEXC has more than 30 fan tokens from a variety of sports just for your picking.
In the meantime, check out our MEXC trading page and find out what we have to offer! You can learn more about crypto industry news and interesting articles to get you up to speed with the crypto world. Happy trading!
Start your travel on MEXC Global