When other cryptocurrencies are suffering from the red zone, Polygon (MATIC) has been having a sustained price rally in the past few days. This is due to the positive news related to MATIC and its advanced scaling system. Investors reacted quickly based on the market news. So what exactly happened? On November 2, Web 2 giant Meta (formerly named Facebook) announced that they will launch a toolset which enables users to mint and sell non-fungible tokens (NFT) powered by Polygon on Instagram. It is worth mentioning that Polygon is Meta's first partner for the new NFT feature. Now let's take a look at recent MATIC price performance.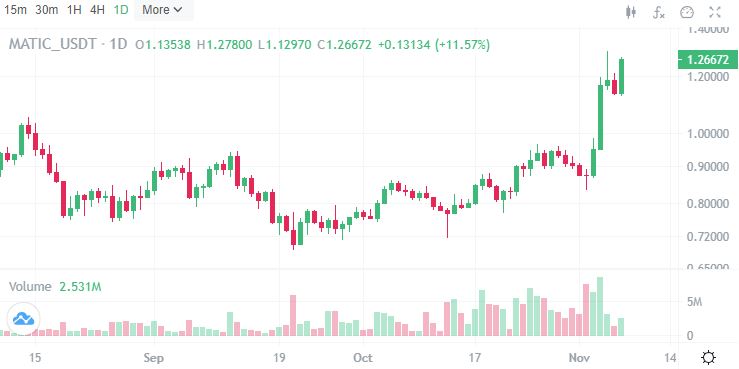 As we can see right after the announcement from Meta, MATIC price had a 3-day rally. Especially on November 4, the price increased by 22.77% in a day. In November, the price of MATIC increases 39.38% compared to last month. The rally is not over, MATIC price hikes 11.57% today at the time of writing, reaching a high at $1.278, the new high price in 6 months!
According to Meta's announcement on last Wednesday:
"Creators will soon be able to make their own digital collectibles on Instagram and sell them to fans, both on and off Instagram,"

"We will have an end-to-end toolkit – from creation (starting on the Polygon blockchain) and showcasing to selling."

Meta
On the same day last week, financial services giant JPMorgan successfully implemented its first decentralized trade on the Polygon network. The subsequent rebound in MATIC indicates that investors are still willing to purchase coins with promising fundamental developments despite persistent worries about the state of the world economy. Meta also claimed that they will not charge fees from NFT creations and sales until 2021. On the other hand, there will be a 30% sales deduction on the store fees.
A Brief Introduction of Polygon (MATIC)
MATIC (MATIC/USDT – trade it here), also known as Polygon native token, is a token built on the Ethereum blockchain. It serves as a vehicle of payment and settlement underlining every transaction on the Polygon network. Polygon is a layer-2 solution that solves the scalable problem of the Ethereum blockchain aimed at reducing the cost and speed of transactions in the blockchain ecosystem using the proof of stake consensus protocol.
Closing Thoughts
This is not the first time that Polygon came across Meta. Back in August 2022, Meta updated that they would support blockchains, including Polygon, Ethereum and Flow in regards to digital collectible shadings on Instagram.
We can see that MATIC is still on the bull run while the rest of the market is experiencing the negative impacts on interest rates hike in November. Will it be sustained? I am excited to see how it will work out with Meta and what the future holds for Polygon. Not sure how to buy MATIC? Check out MEXC's buying instruction article, you are in good hands. If you would like to stay tuned in the crypto market, feel free to visit our daily industry news!