–Follow M-Ventures & Labsto discover early-stage projects and learn the latest dynamics of the crypto market.
*The dollar sign in this article refers to US dollars.
According to MEXC Research, from October 3 to October 9, 2022, 25 projects in the Web3 space raised a total of $185.2 million. Among them, Metaverse, NFT and GameFi projects have raised $62.5million; DeFi and Web 3 projects have raised $70.9million; The infrastructure projects raised $51.8 million financing.
Last week, there were several events worth noting:
1.The users on the MEXC platform exceeded 10 million.
2.MEXC listed XEN Crypto(XEN/USDT), a joint virtual mining project based on Proof of Participation,with deposit ranking the Top 1 on the entire network.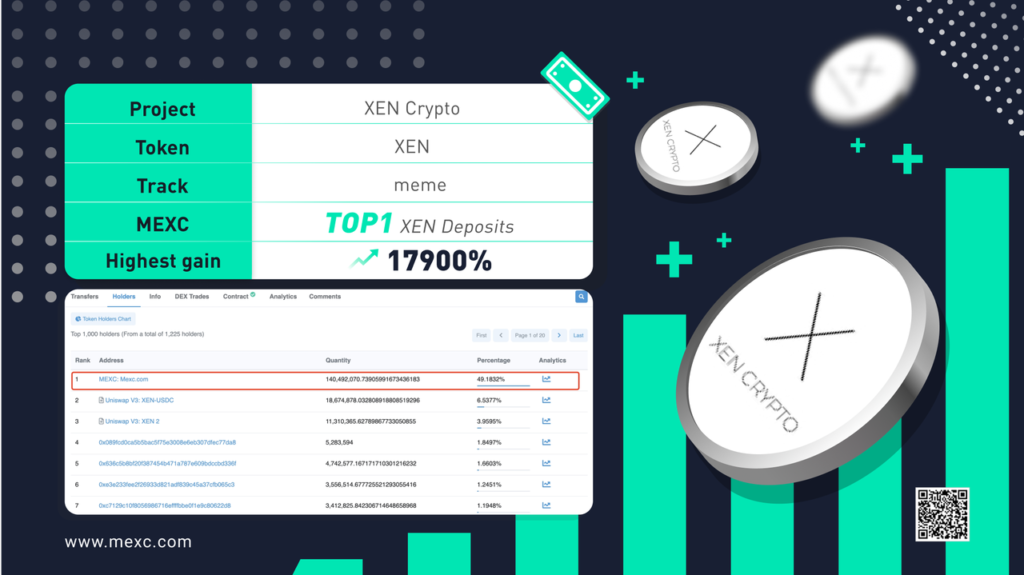 Metaverse & NFT & GameFi
NFT project Pokers announced the raise of $6 million
The NFT project Porkers announced the completion of $6 million in financing, with participation of Bandai Namco, Bandai Gashapon JP, and a group of investors from Tencent Games.Funds raised will mainly go into the prize and liquidity pool during the final phase, which is Snapshot 5/5.
NFL superstars back Coolkicks founder's $6 million raise for collectible trading platform
The team behind the legendary Coolkicks sneaker chain has raised $6 million for their new web3 endeavor, MynaSwap. Investors include the Avalanche ecosystem fund Blizzard, Spartan Capital, Wave Financial and NFL superstars Odell Beckham Jr. and Kyler Murray, according to a company release.
Built on the Avalanche network, MynaSwap is a trading and vaulting platform for collectibles, such as sneakers, sports cards and watches.
NFT utility company Lasso Labs closes $4.2 million seed round,led by Electric Capital
NFT utility tracking company Lasso Labs announces $4.2 million seed round ,led by Electric Capital,with participation of Ethereal Ventures,Village Global,OpenSea and Page One Ventures.
Lasso Labs primarily provides tools for NFT owners to track their digital assets and the benefits of owning those assets . Its platform can capture real-time data from on-chain and off-chain sources, identify digital asset and NFT utility instances, and share them with users information . Users can also track NFT airdrops, mint windows, exclusive content, etc.
Blockchain Gaming Startup Horizon Raises $40 Million Round Led by Brevan Howard, Morgan Creek
Horizon Blockchain Games said it secured $40 million as it continues to build out the Sequence developer platform, Niftyswap digital-asset marketplace and Skyweaver virtual trading card game.Brevan Howard Digital and Morgan Creek Digital led the Series A funding round for Toronto-based Horizon, which was founded in 2017.
AlterVerse Secures Funding from Binance Labs, Polygon Ventures & Ankr to Launch New Virtual World, 'Sky City'
AlterVerse, the developer of an expansive Metaverse game experience, announced that Binance Labs, the venture capital arm and accelerator of Binance, is an early participant in its private funding round. Additional support for the ongoing raise came from Polygon Ventures, Ankr, Baselayer Capital, and EnjinStarter.
DeFi & Web 3
DeFi rating project Exponential completes $14 million seed round, led by Paradigm
DeFi rating project,Exponential announced on Monday that it had raised $14 million in a Paradigm-led seed round to build a new DeFi investment platform. Other contributors included Haun Ventures, FTX Ventures, Solana Ventures, Polygon, Circle Ventures, plus over 80 angel investors.
DeFi startup Arch raises $5 million to become the 'BlackRock of web3',co-led by Digital Currency Group and SoftBank spinoff Upload Ventures
Decentralized finance (DeFi) startup Arch has raised $5 million to try to achieve the lofty goal of becoming the "BlackRock of web3."
The oversubscribed seed round was co-led by Digital Currency Group and SoftBank spinoff Upload Ventures. Other investors included the venture arm of Latin America blockchain firm Ripio, TechStars and GBV, Arch said in a company release.
Web3 hotel platform Blackbird completes $11 million seed round, led by Multicoin Capital
Serial entrepreneur Ben Leventhal has raised $11 million in a seed round for his new web3 hospitality platform Blackbird.
The round for Blackbird is co-led by Union Square Ventures, Shine Capital and Multicoin Capital, Leventhal said. Other backers include Variant, Circle Ventures and IAC, according to a statement from the company.
Decentralized music platform Stems raises $4 million pre-seed round,led by Ideo CoLab
Stems, a decentralized music platform, closed a $4 million pre-seed funding round.
The investment firm Ideo CoLab Ventures led the funding round, with additional participation from Collab+Currency, Village Global and Polygon Studios. Notable crypto firms such as Merit Circle and Yield Guild Games participated as well, along with FireEyes, NoiseDAO, Jump, GSR, Akatsuki and others.
Infrastructure
a16z leads $40 million raise for crypto protocol Golden
Golden, a crypto firm building a data protocol with web3 tools, raised $40 million in a Series B funding round led by a16z crypto, bringing the total amount raised to date to $60 million.
Other participants in the round include Solana co-founder Raj Gokal, Dropbox co-founder Arash Ferdowsi and Postmates founder Bastian Lehmann. Also among the investors was Matt Bellamy, the lead singer of rock band Muse and a partner at Helium-3 Ventures.
Scale3 Labs, has raised $5.3 million in seed funding,led by Redpoint Ventures
Two former Coinbase employees have raised $5.3 million in a seed funding round for their web3 infrastructure startup.
Scale3 Labs emerged from stealth today alongside the fundraising announcement. The round was led by Redpoint Ventures, with participation from Mysten Labs and Howard University.
NFT trading and pricing protocol Waterfall raises a $4M seed round led by Electric Capital and Pantera Capital
NFT trading and pricing protocol Waterfallannounced it raised a $4M seed round led by Electric Capital and Pantera Capital to build an NFT trading and pricing protocol.
Waterfall aims to solve the problem of unclear and unfair NFT pricing. It hopes to price NFTs by introducing price risk, thereby bringing more liquidity to NFT transactions and improving the efficiency of the NFT market.
IV. Hot News
BNB Chain was hacked, and the damaged funds are expected to exceed 70 million US dollars
Hackers exploited a native cross-chain bridge between BNB Beacon Chain (BEP2) and BNB Smart Chain (BEP20 or BSC), known as "BSC Token Hub. " Initial estimates from BNB Chain said hackers took between $70 million and $80 million. The company estimated $7 million of the seized funds had already been frozen.
Interbank clearing system SWIFT and Chainlink Labs cooperate to develop cross-chain interoperability agreement
SWIFT, the interbank messaging system that allows for cross-border payments, is working with Chainlink, a provider of price feeds and other data to blockchains, on a cross-chain interoperability protocol (CCIP) in an initial proof-of-concept.
CCIP will enable SWIFT messages to instruct on-chain token transfers, helping the interbank network to be able to communicate across all blockchain environments.
Cosmos Hub 2.0 white paper draft released, adding interchain security and supporting ATOM liquid staking
The Cosmos Hub 2.0 white paper draft has been officially announced on its governance forum.This document marks the transition to the next phase of the Cosmos Hub as an infrastructure service platform, and a renewed role for ATOM as preferred collateral within the Cosmos Network.
It describes two pieces of app-specific functionality, the Interchain Scheduler and Interchain Allocator, which together form a flywheel for accelerating interchain growth.
This paper also describes a new issuance regime optimized for Liquid Staking, where after a 36 month transition period, exponential issuance is reduced to a constant amount of ATOM issued per month.
Moonbirds parent company Proof will launch Moonbirds DAO in early 2023
Moonbirds parent company Proof has announced that it will launch the Moonbirds DAO in early 2023,Proof will fund Moonbirds DAO with $2.6M. Including $2 million worth of ETH, $500,000 in funding to buy Moonbirds NFTs, and 7 Moonbirds NFTs worth about $100,000.
Ethereum account abstraction proposal EIP-4337 adds signature aggregation
Ethereum account abstraction proposal EIP-4337 adds signature aggregation.The signature aggregation feature allows builders and batch submitters to also aggregate signatures (eg. BLS, later with SNARKs), greatly reducing the data that goes on chain. This is a critical cost-saving feature for rollups, where data costs dominate.
Stablecoin issuer MakerDAO to Invest $500M in US Treasurys, Corporate Bonds
The community governing MakerDAO, the decentralized autonomous organization (DAO) behind stablecoin DAI, has allocated $500 million for investing in U.S. Treasurys and corporate bonds.
The funds will be come from its overcollateralized stablecoin, with 80% going toward U.S. short-term Treasurys and 20% to investment-grade corporate bonds. MakerDAO's community voted in favor of the allocation proposal, which was presented in late June.
Cross-chain DEX aggregator Transit Swap was hacked, with over $21 million in assets stolen
TransitSwap has been attacked by hackers,with over $21 million in assets stolen. The technical team has urgently suspended the service.The hacker's account address is 0x75f2aba6a44580d7be2c4e42885d4a1917bffd46 and currently holds about $4.1 million in ETH and $16 million in BNB.
About MEXC:
MEXC is the world's leading cryptocurrency trading platform, providing one-stop cryptocurrency trading services for spot, ETF, futures, Staking, NFT Index, etc.,and serving more than 10 million users worldwide. The core team has a solid background in traditional finance, and has professional financial product logic and technical security guarantees in terms of cryptocurrency products and services. In October 2021, MEXC Global won the title of "Best Cryptocurrency Exchange in Asia". Currently, it supports the trading of more than 1,400 cryptocurrency, and is the trading platform with the fastest launch speed for new projects and the most tradable categories. Visit the website and blog for more information, and follow MEXC Global and M-Ventures & Labs.
Start your travel on MEXC Global