From MEXC's overall trading data of spot trading, ETF trading and futures trading, the most popular mainstream tokens are BTC, ETH,XRP,MATIC and SOL; other popular tokens are XX,BONE,EVMOS,DICE,HAM, AZERO,SHIB,LOVELY,SHIT and MX.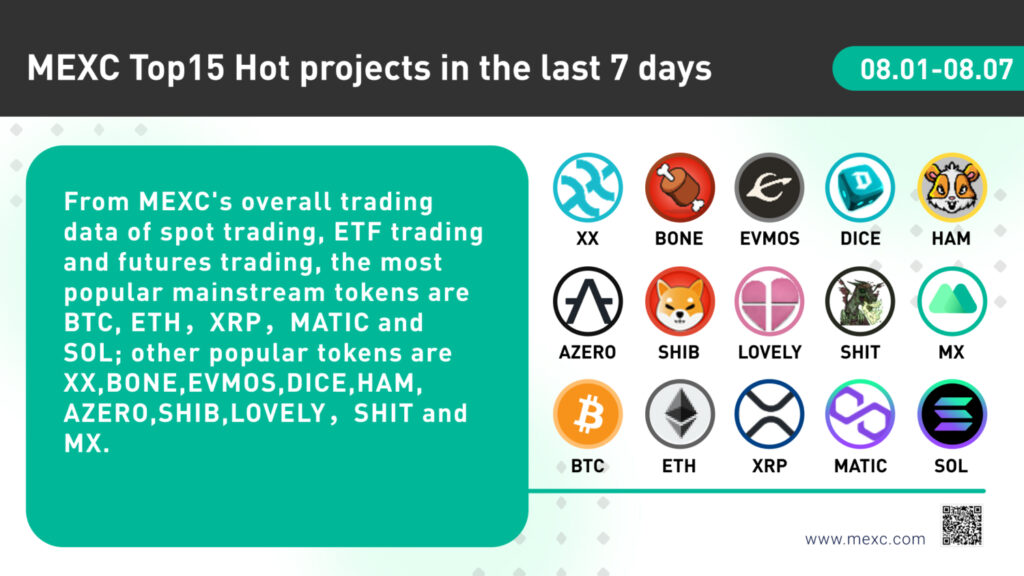 The xx network (XX) is made up of a fast, low-fee, quantum-ready layer 1 blockchain and the most private communications network in the world. The project was founded by cryptographer David Chaum, the godfather of digital currency and privacy technology. Using the xxDK, any application or blockchain can route their traffic through the xx network's communications layer and provide metadata-protected privacy and quantum-secure, end-to-end encryption to their transactions.
The highest yield after listing on MEXC was 1440%.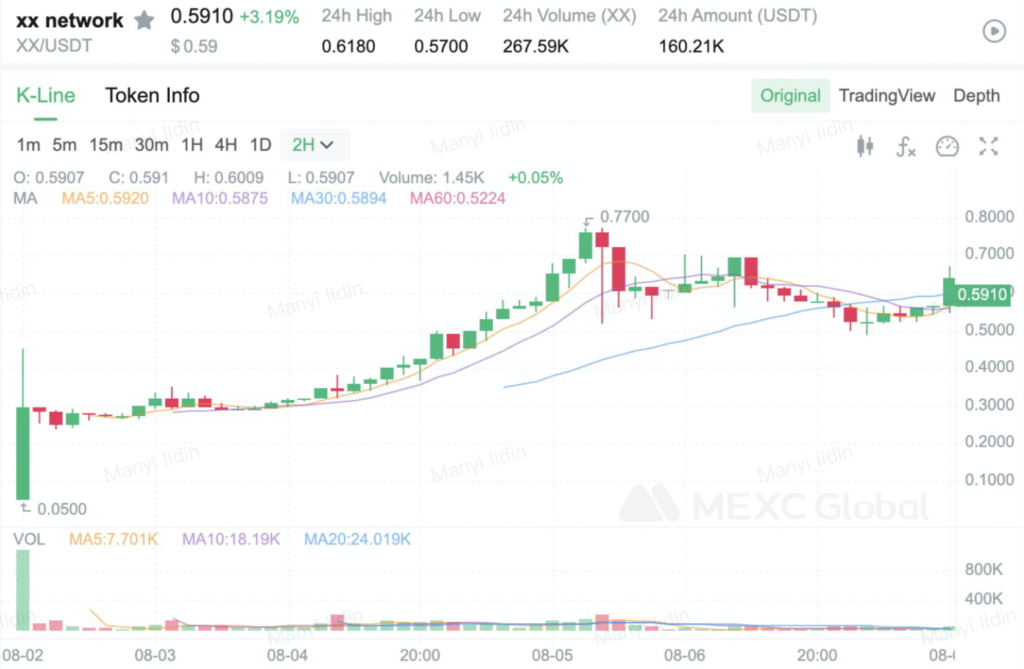 Bone ShibaSwap(BONE) is a governance token of Shibaswap ecosystem which will allow the #ShibArmy to vote on upcoming proposals. The more BONE the user holds, the more weight their vote carries in these future endeavours. BONE has 250,000,000 tokens, and is designed to fit perfectly between the previous two tokens in regards to circulation supply.
Evmos(EVMOS) is an Inter-Blockchain Communication protocol, a.k.a. IBC; the IP layer for blockchains. IBC is currently the safest and most secure and decentralized way to move assets across different blockchains, unlocking interoperability across multiple chains.Evmos leverages the Cosmos SDK serves as the first IBC-compatible EVM-based chain, bringing composability, interoperability, and fast finality to Ethereum.
Klaydice(DICE) is a project that connects the rapidly growing virtual worlds (P2E games, SNS, metaverse, etc.) into one world using the KLAYDICE NFT. KLAYDICE is a P2E version of its traditional version mobile game, Dicast: Rules of Chaos, which has 800K global users and 1M downloads on app stores and will be the first P2E game launched this year.
In addition to KLAYDICE, various P2E games such as Tank Royal, Hero Dash, and Jewel Island, will be launched this year. The in-game NFTs will be sold at its own NFT marketplace, and can be purchased with the DICE tokens, the key currency of the KLAYDICE ecosystem.
Klaydice has attracted seed round investment from OKX Blockdream Ventures,along with 6 other investments.
Hamster Coin(HAM) is decentralized and supported by a community of enthusiasts. HAM encourages consistent open communication and believes trust, transparency, and community are the 3 pillars to building professional success.
HAM tokens that are unlocked within certain periods of 50% of the supply will be burned for Jack (CEO Twitter). 50 % of the supply for pancakeswap sales has no main owner. All decisions have been taken solely in favor of the Hamster community. The HAM token strives to be useful for society and works hard to be useful for the community forever.
Aleph Zero (AZERO) is a privacy-enhancing, Proof-of-Stake public blockchain with instant finality. Its enterprise-ready, high-performance network is built on a novel, Directed Acyclic Graph (DAG)-based consensus protocol that has been peer-reviewed and presented at an ACM conference. Aleph Zero uses the DAG as an intermediary data structure, but can still be categorized as a blockchain. To date, Aleph Zero raised $20 m for continued development, integrating with the Substrate stack, and expanding the team.
The highest yield after listing on MEXC was 3009%.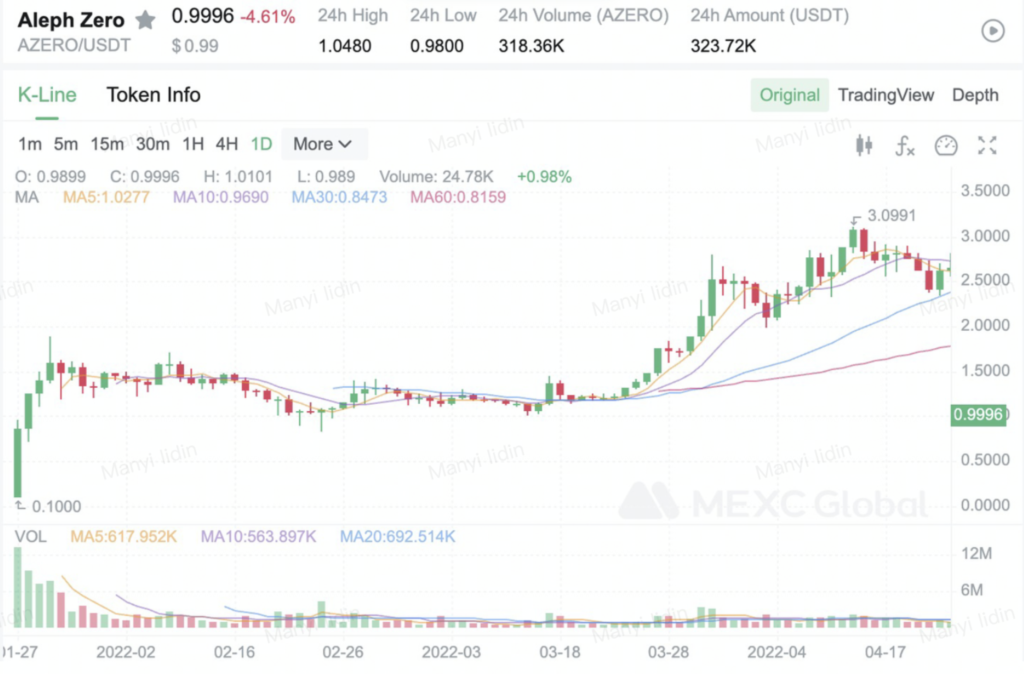 Shiba Inu(SHIB) is a meme token created anonymously in August 2020 under the pseudonym "Ryoshi." This meme coin quickly gained speed and value as a community of investors was drawn in by the cute charm of the coin paired with headlines and tweets from personalities like Elon Musk and Vitalik Buterin. Shiba Inu aims to be the Ethereum-based counterpart to Dogecoin's Srypt-based mining algorithm.
Lovely Inu(LOVELY) is fully decentralized and owned by its love and vibrant community. Lovely Inu welcomes and embraces diverse perspectives to build LOVELY into the best community in crypto. LOVELY's mission is to bring popular cryptocurrency concepts to the mainstream. Unlike older, comparable projects, LOVELY introduces holders to next-gen concepts such as frictionless yield, NFTs, decentralized exchanges, and more.
ShitCoin (SHIT) is a community hotspot NFT with novel gameplay. It has been in the top 10 of Opensea's leaderboard for several consecutive days. Its content is a pile of shit. Its core concept is to challenge the previous BAYC and Azuki: everything is shit. ShitCoin expresses its dissatisfaction with the market in a sarcastic manner, and its launch has aroused great emotional resonance among the crypto market and users.
Ethereum(ETH)is a decentralized open-source blockchain system build by Vitalik Buterin. It allows the operation of smart contracts and Dapps. As the second high market value asset, ETH2.0 network upgrade has become the focus in 2022.Ethereum will switch to proof-of-stake(PoS) with its Ethereum 2.0 update.This will not only change the infrastructure but also improve the efficiency a lot.It is reported that Ethereum developers plan to merge ETH 2.0 on September 19.
For the last testnet proof-of-stake transition, Goerli will merge with Prater. The combined Goerli/Prater network will retain the Goerli name post-merge. The merge will consist of two steps. The first is Bellatrix upgrade on the Prater Beacon Chain . This is expected to start at 12:24pm UTC on August 4,2022.Paris, the execution layer's portion of the transition, will trigerred by reaching a Terminal Total Difficulty(TTD) of 10790000 on Goerli, expected between August 6-12,2022.
Since the announcement of merge date, the Ethereum ecosystem increased a lot.The below chart compares the price changes of the top projects on Ethereum ecosystem.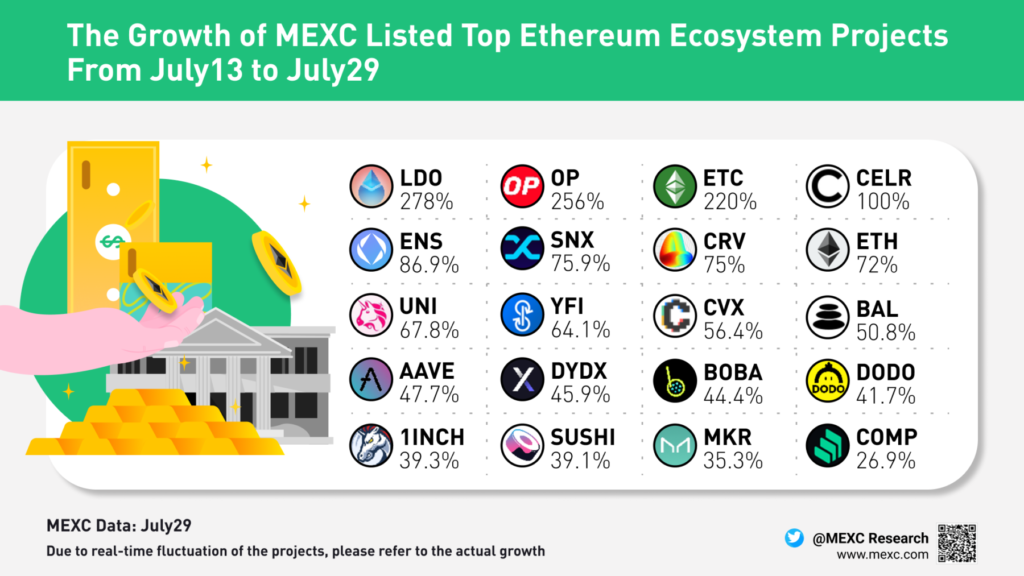 About MEXC Global
Established in April 2018, MEXC Global is a digital asset trading platform with over 7 million users, which offers users one-stop services, including spot, margin, leveraged ETFs, derivatives trading and staking services. The core members of the team come from international enterprises and financial companies and have experience in blockchain and financial industries.
For more information, please visit our website and blog. Follow MEXC Global at Twitter and Telegram.