Bitcoin price has been tumbling around high 18k and low 19k for a month in the crypto winter. However, Bitcoin reached its 6-week high at $21008.12 on Wednesday, increasing by 3.25% in 24 hours at the time of writing. So what are the reasons? Started with the under-expected interest rates hike from Bank of Canada (BoC), and the weakened new home sales performance in the US both affect the price of BTC and ETH.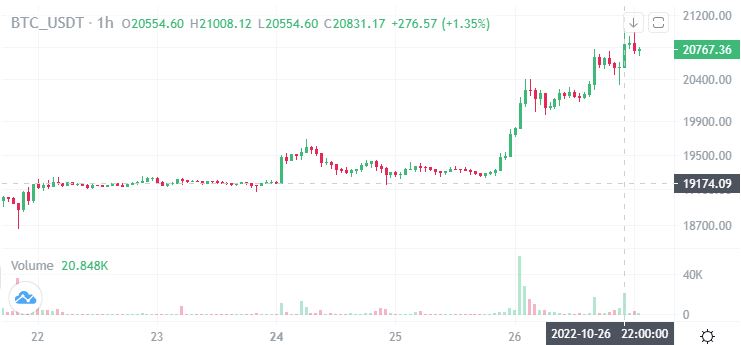 After raising interest rates by 75 basis points in September and 100 basis points back in July this year, people were expecting another 75-point hike. Surprisingly, the Bank of Canada only increases 50 basis points to 3.75% in interest rates. The bank's statement mentioned that they are some concerns about economic growth that tightening monetary policy will depend on solving supply issues and slowing demand.
Not too long after BoC's rate hike, the US Census Bureau reported a 10.9% decrease in new home sales in September. This is because the much higher interest rates have led the mortgage rate to go up as well, which makes housing less affordable for new home buyers.
This soft economic data may contribute to the Federal Reserve's decision of slowing down tightening monetary policy. In other words, this could be a signal indicating a potential bullish trend for Bitcoin (BTC). Good things come in pairs. The second largest crypto by market cap – Ether (ETH) had an even bigger hike this week, almost reaching $1600 today, up 6.38% in 24 hours.
Closing Thoughts
Personally, I think controlling over-heated inflation without slowing down the economy is impossible. Is this the bullish call for BTC and ETH? I am honestly not sure. It really depends on the decision of central banks. Do they want to solve the long-term challenge of inflation? Even though the market is down and people are struggling with getting a job. On the other hand, if they decide not to implement strict monetary policy, the inflation will get worse therefore devalue currencies and is harmful to the economy.
What's your prediction on the market? You can short the price of BTC or ETH (ETH/USDT – trade it here) if you think the price will go down, or long it if you think otherwise. If central banks cannot solve the problem of inflation with conventional tools, can crypto be the remedy? I am excited to see what the future holds for crypto. Do your own research and start your crypto journey now with MEXC!