From MEXC's overall trading data of spot trading, ETF trading and futures trading, the most popular mainstream tokens are BTC, ETH,XRP,MATIC and SOL; other popular tokens are DC,CHZ,ARTEQ,VLM,EVMOS AZERO,BRISE,LOVELY,BONE and MX.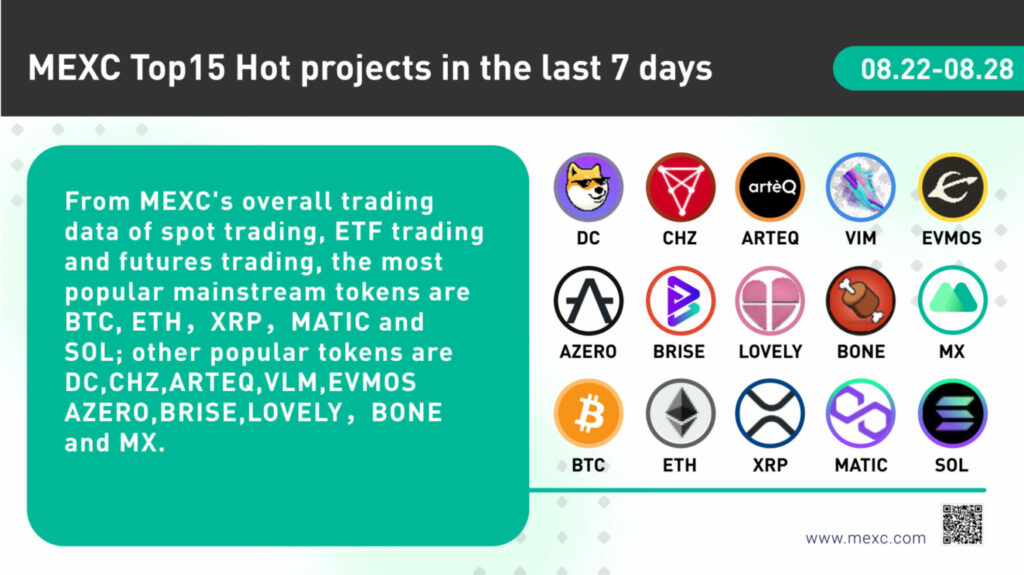 Dogechain(DC) is designed to bridge the gap between the meme coin and Web3.Dogechain supercharges Dogecoin to bring crypto applications like NFTs, games, and DeFi to the Dogecoin community. Unfortunately, Dogecoin cannot support any of these applications (or any other dApps). Dogechain fixes this. With Dogechain, Dogecoin holders can do more than simply hold and wait for Dogecoin to moon.
After listing on MEXC Global, the highest gain was 3575%.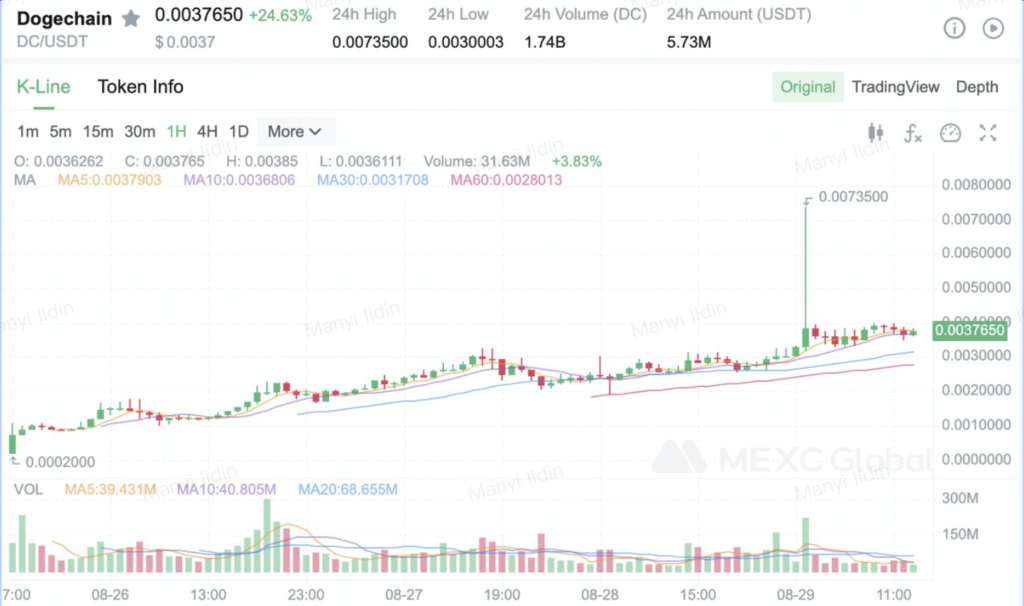 Chiliz(CHZ) is the leading digital currency for sports and entertainment by the eponymous Malta-based FinTech provider. It operates the blockchain-based sports entertainment platform Socios, which enables users to participate in the governance of their favorite sports brands. For sports clubs and associations, fan tokens offer a way of connecting with their fans and unlocking new revenue streams.
Due to the upcoming World Cup, Chiliz and its Fan tokens ecosystem got incredible gains.The top five gainers from August to date are POR (397.62%), SANTOS(226.15%), PORTO (174.09%), LAZIO (146.52%) and OG (85.68%). CHZ got a 72.73% increase from August to date.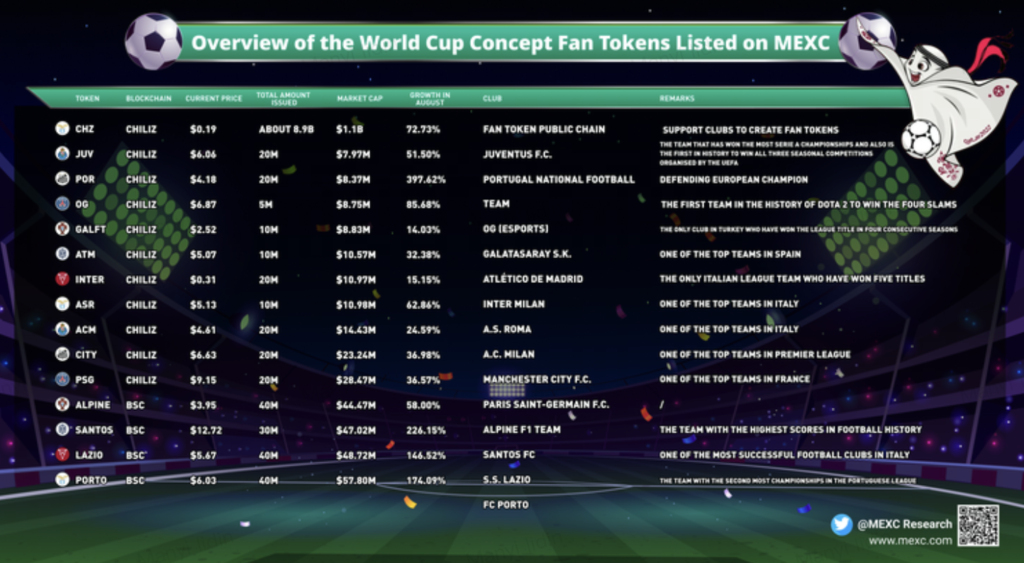 artèQ(ARTEQ ) is the first investment platform for buying and selling shares representing an investment in iconic NFT projects and Digital Artworks. It builds a diversified portfolio of expertly vetted works curated by industry leading expert team with investing in artèQ.
VicMove(VLM) is a web3 fitness and lifestyle mobile app with inbuilt NFT gaming and Social-fi elements where users earn rewards in Crypto/NFTs just by movement like walking, running and cycling. First, mint an NFT in the form of sneakers, then by walking, running, and cycling users will earn in-game cryptocurrency, which can either be used for in-game activities or cashed out for profit.
Evmos(EVMOS) is an Inter-Blockchain Communication protocol, a.k.a. IBC; the IP layer for blockchains. IBC is currently the safest and most secure and decentralized way to move assets across different blockchains, unlocking interoperability across multiple chains.Evmos leverages the Cosmos SDK serves as the first IBC-compatible EVM-based chain, bringing composability, interoperability, and fast finality to Ethereum.
Aleph Zero (AZERO) is a privacy-enhancing, Proof-of-Stake public blockchain with instant finality. Its enterprise-ready, high-performance network is built on a novel, Directed Acyclic Graph (DAG)-based consensus protocol that has been peer-reviewed and presented at an ACM conference. Aleph Zero uses the DAG as an intermediary data structure, but can still be categorized as a blockchain. To date, Aleph Zero raised $20 m for continued development, integrating with the Substrate stack, and expanding the team.
The highest yield after listing on MEXC was 3009%.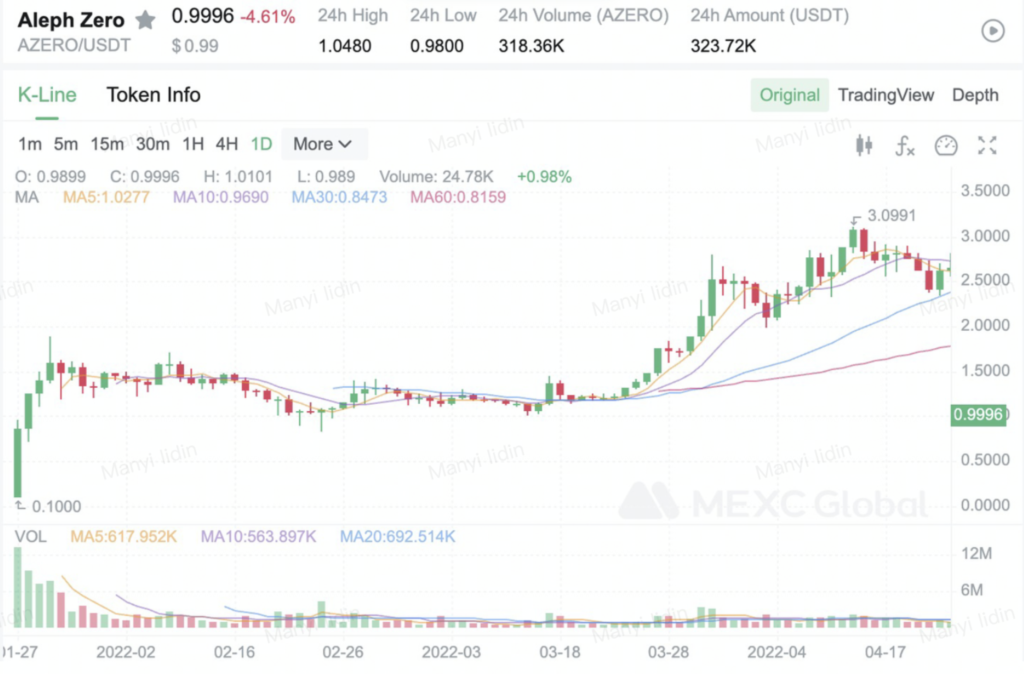 Bitgert (BRISE) is a crypto engineering project launched in July 2021 that specializes in blockchain products and auditing solutions. Initially, Bitgert was built on BSC chain and used BNB to pay rewards. However, one of the most significant Bitgert developments was presented in 2022: the BRC20 blockchain.It offers near-zero gas fees and high speed cross-chain transactions. More specifically, the gas fee is $0.0000000000001 per transaction, while the supported throughput is up to 100,000 TPS.
After listing on MEXC, the highest gain was 464%.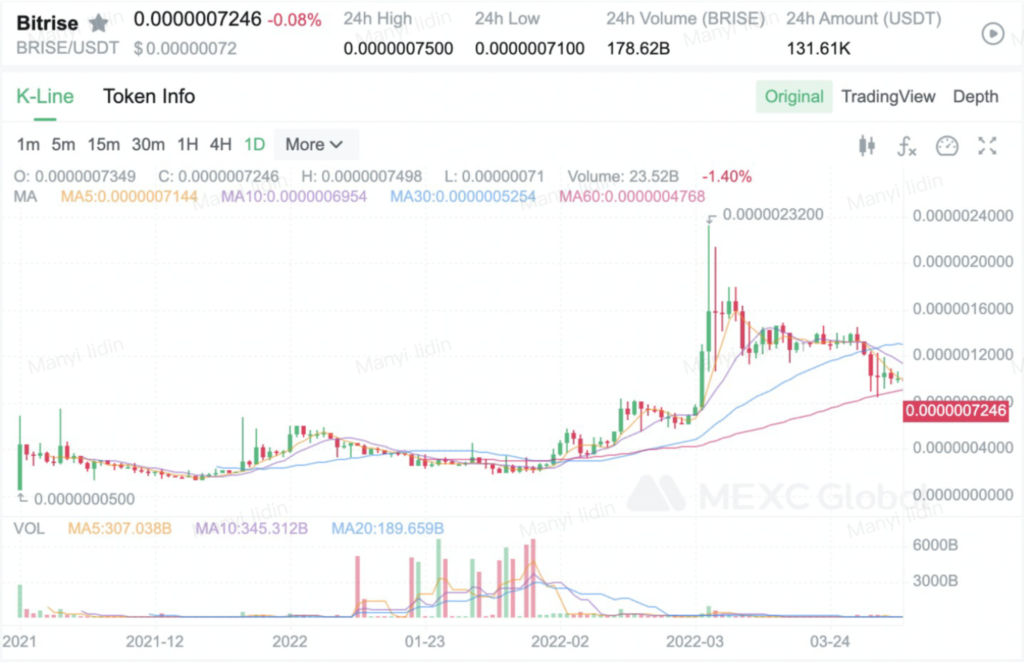 Lovely Inu(LOVELY) is fully decentralized and owned by its love and vibrant community. Lovely Inu welcomes and embraces diverse perspectives to build LOVELY into the best community in crypto. LOVELY's mission is to bring popular cryptocurrency concepts to the mainstream. Unlike older, comparable projects, LOVELY introduces holders to next-gen concepts such as frictionless yield, NFTs, decentralized exchanges, and more.
Bone ShibaSwap(BONE) is a governance token of Shibaswap ecosystem which will allow the #ShibArmy to vote on upcoming proposals. The more BONE the user holds, the more weight their vote carries in these future endeavours. BONE has 250,000,000 tokens, and is designed to fit perfectly between the previous two tokens in regards to circulation supply.
Ethereum(ETH)is a decentralized open-source blockchain system build by Vitalik Buterin. It allows the operation of smart contracts and Dapps. As the second high market value asset, ETH2.0 network upgrade has become the focus in 2022.Ethereum will switch to proof-of-stake(PoS) with its Ethereum 2.0 update.This will not only change the infrastructure but also improve the efficiency a lot. Ethereum developers recently announced the newest merge date will be on September 6.
For the last testnet proof-of-stake transition, Goerli will merge with Prater. The combined Goerli/Prater network will retain the Goerli name post-merge. The merge will consist of two steps. The first is Bellatrix upgrade on the Prater Beacon Chain . This is expected to start at 12:24pm UTC on August 4,2022.Paris, the execution layer's portion of the transition, will triggered by reaching a Terminal Total Difficulty(TTD) of 10790000 on Goerli, expected between August 6-12,2022.
About MEXC
MEXC is the world's leading cryptocurrency trading platform, providing one-stop cryptocurrency trading services for spot, ETF, futures, Staking, NFT Index, etc.,and serving more than 7 million users worldwide. The core team has a solid background in traditional finance, and has professional financial product logic and technical security guarantees in terms of cryptocurrency products and services. In October 2021, MEXC Global won the title of "Best Cryptocurrency Exchange in Asia". Currently, it supports the trading of more than 1,400 cryptocurrency, and is the trading platform with the fastest launch speed for new projects and the most tradable categories. Visit the website and blog for more information, and follow MEXC Global and MEXC Research.
Start your travel on MEXC Global