Seems like the dogecoin-related project is getting pumped by its community again. On Oct. 21 Friday, the community-oriented layer 2 for DOGE, Dogechain announced their proposal on 80% burn of their native token DC on their weekly Twitter spaces. The core contributor Roc Zacharias stated that the team was planning a vote to collect feedback from the community in regards to reduction of $DC's total supply.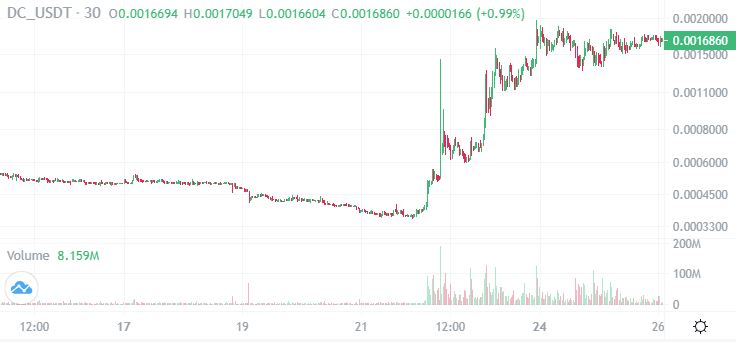 Within 72 hours after the announcement, the price of DC soared over 217.1% to a high of $0.0019704. At the time of writing, DC price is around $0.001689, reaching a high at $0.0017689, which has increased by 71.75% in 5 days. As a new project launched in August this year, I certainly did not expect there would be such a price hike.
In order to put the proposed burn into perspective, if it is approved and 80% of the available supply is destroyed, it will be the biggest burn in the history of cryptocurrencies. To illustrate more, it will be wiping out more than $1 billion in Fully Diluted Market Cap (FDV) at the present value from the chain.
I am sure a lot of you have heard about Terra Luna's tax burn mechanism in the past few months that LUNC's burn happens over a long time period. Surprisingly, the Dogechain burn will occur immediately. An affirmative governance choice will cause all 80% of the fuel to burn simultaneously. Follow the vote's development and participate here.
Closing Thoughts
With metrics that are comparable to or better than some of the most successful chains' launches, Dogechain has had a very active start. I am excited to see if the DC burning proposal will get the support from the community or not. If the metrics keep rising and the vote passes, encouraged by its increased community support and decreased supply, Dogechain will keep working to become the top-dog cryptocurrency.
Want to be a part of the potential largest burning event in crypto history? Start trading DC (DC/USDT – trade it here) now on MEXC with low trading fees! We also offer daily news to keep you updated in the crypto industry. Feel free to check out MEXC Academy and do your own research before investing!