The CEO of cryptocurrency exchange Crypto.com Kris Marszalek attended an ask-me-anything (AMA) session today on YouTube with users. After the shocking failure of rival company FTX raised concerns about a market contagion, Marszalek tried to reassure customers of his platform. He states that Crypto.com had a "tremendously strong balance sheet", and the company was not involved in any practices that will endanger their business like FTX.
However, Crypto.com disclosed that they sent $400 million worth of Ether (ETH) to another crypto exchange – Gate.io in October. Of course, their users are worried that the funds are at risk. According to a report on CNBC, later Gate.io returned all assets to Crypto.com after they recognized it was a mistake. Crypto.com meant to send it to its cold wallet (offline physical ledger), but sent it to a whitelisted corporate account with Gate.io instead.
That didn't do much to ease investor worries, though, as traders speculated that Crypto.com might be having its own liquidity problems and using customer cash after the FTX collapse. Today, Kris Marszalek responded to accusations that it was stealing users' money by asserting in the AMA that "we do not trade customers' assets."
Marszalek also said:
"We will just continue with our business as usual, and we will prove all the naysayers – and there is many of these right now on Twitter in the last couple of days – we'll prove them all wrong with our actions,"

"We'll continue operating as we have always operated to continue being a safe and secure place where everybody can access crypto."

Kris Marszalek
Crypto.com Users Withdrawn
According to a report from the Wall Street Journal, following the disclosure, the token of Crypto.com lost 20% of its value. Also, the exchange has now had at least $45 million withdrawn. Crypto investors and traders now are more cautious and don't want to put their assets at risks on decentralized exchanges. Giving the facts on the collapse of FTX and its sister company Alameda Research.
You Can Trust MEXC
Although the whole crypto industry was negatively impacted by FTX bankruptcy, MEXC is the only one centralized exchange that has a net inflow of stablecoins. Other exchanges such as OKX, KuCoin, and Binance all had net outflow last week. So what does that mean? It means MEXC has more inflows than outflows even though we are in a bear market. Keep your chin up MEXCers! Please see below for more detail: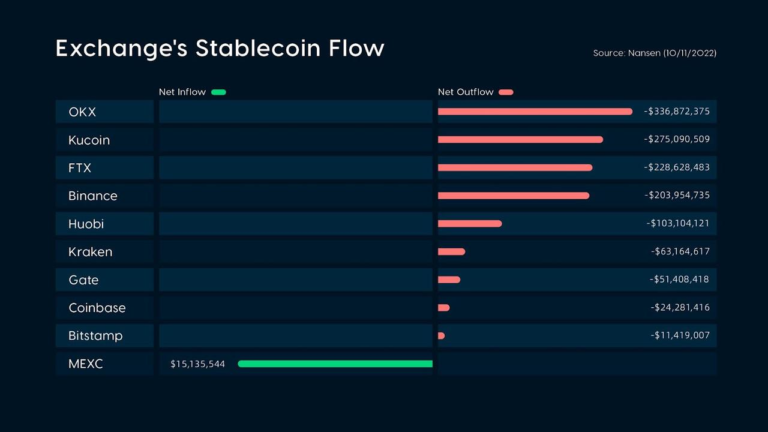 In addition, 20 projects in the Web3 domain raised $141.1 million in total from November 7 through November 13, 2022. To elaborate more, the Metaverse, NFT, and GameFi projects raised $27.6 million; DeFi and Web 3 projects raised $70 million; the infrastructure projects raised $43.5 million financing.
Closing Thoughts
The crash of FTX and its token FTT just happened last week. I am curious how many other crypto companies will be affected? Currently, crypto lender BlockFi stops users withdrawal, and users hold doubtful opinions on Crypto.com. Who is next?
Lastly, don't forget to check out our daily industry news to stay tuned in the crypto market! Don't forget to do your own research and start your crypto journey now with MEXC!