At 8:00 PM EST last night, crypto lender BlockFi tweeted that: "Given the lack of clarity on the status of FTX.com, FTX US and Alameda, we are not able to operate business as usual.", "Our priority has been and will continue to be to protect our clients and their interests.". Here's the important part: "Until there is further clarity, we are limiting platform activity, including pausing client withdrawals as allowed under our terms". What a statement! Protecting users by not allowing them to withdraw funds?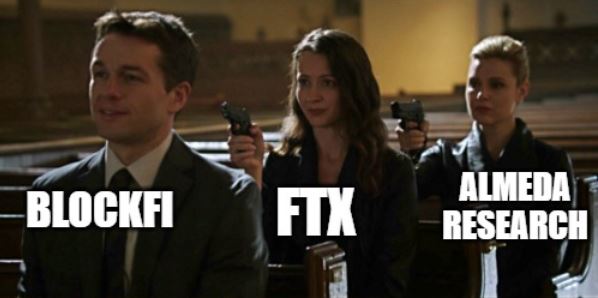 I am very surprised a crypto lender platform told users that they will not have access to their asset through a tweet. Earlier today at 1:15 PM, BlockFi sent an official email to their users about the bad news. The reason why people are so shocked about this news is because BlockFi pretended everything was fine earlier this week. On November 8, founder and COO of BlockFi, Flori Marquez tweeted and said:
"All BlockFi products are fully operational."

"BlockFi is an independent business entity. We have a $400MM line of credit from FTX.US (not FTX.com) and will remain an independent entity until at least 2023."

"We are processing all client withdrawals in line with our Terms of Service. To date, BlockFi has aimed to deliver all client withdrawals faster than our Terms of Service."

Flori Marquez
FTX Bailed Out BlockFi Back in June
Obviously, BlockFi is not fine the whole time. It reached an agreement with FTX US for credit and potential acquisition in June 2022. According to a report on CoinDesk, BlockFi was endangered by exposure to Three Arrows and the wider crypto slump. In late June it resorted to the cryptocurrency exchange FTX for a $250 million credit facility. On July 1, BlockFi CEO Zac Prince stated that business as usual was being conducted and that no credit line had been used.
Crypto Regulation
BlockFi disclosed the announcement a couple hours after the financial protection agency in California became an entity. Texas, New Jersey, and the SEC were all ahead of California regarding investigating into FTX. The agency mentioned that investors should be aware of the potential undisclosed risks under crypto platforms. We can see that the crypto industry may be formally regulated in the near future, given the recent incidents.
Closing Thoughts
Before BlockFi has its current problems, they offer high APY rates for users who are looking for passive income on cryptocurrencies. But now, I just hope BlockFi users can successfully withdraw their funds. Since some people put life savings and children's tuition on the platform.
As an investor, I personally believe trust is the number one key metric for a platform. The way that BlockFi tweeted first instead of informing users by email officially. I am having a hard time to believe people would trust them again.
Are you ready for the crypto winter? Don't forget to do your own research before investing and selecting a platform. Consider buying a cold wallet (physical ledger) just in case. Do check out our daily industry news on MEXC if you would like to stay tuned in the crypto market!