May 22 2022 will mark the 12 year of the first Bitcoin Pizza Day. The day is linked to the first-ever BTC trade. Laszlo Hanyecz made history by buying a couple of pizzas for 10,000 BTC.
On this day in 2010, Florida resident Laszlo Hanyecz made an offer for 10,000 BTC in exchange for two large pizzas. The transaction is well known in crypto circles as the first recorded trade of BTC in a deal with a business for physical goods.
Hanyecz became well known as a pioneer of cryptocurrency transactions but it is highly probable that he now regrets his purchase. The two pizzas would currently be worth $395 million, which makes them the most expensive pizzas in history.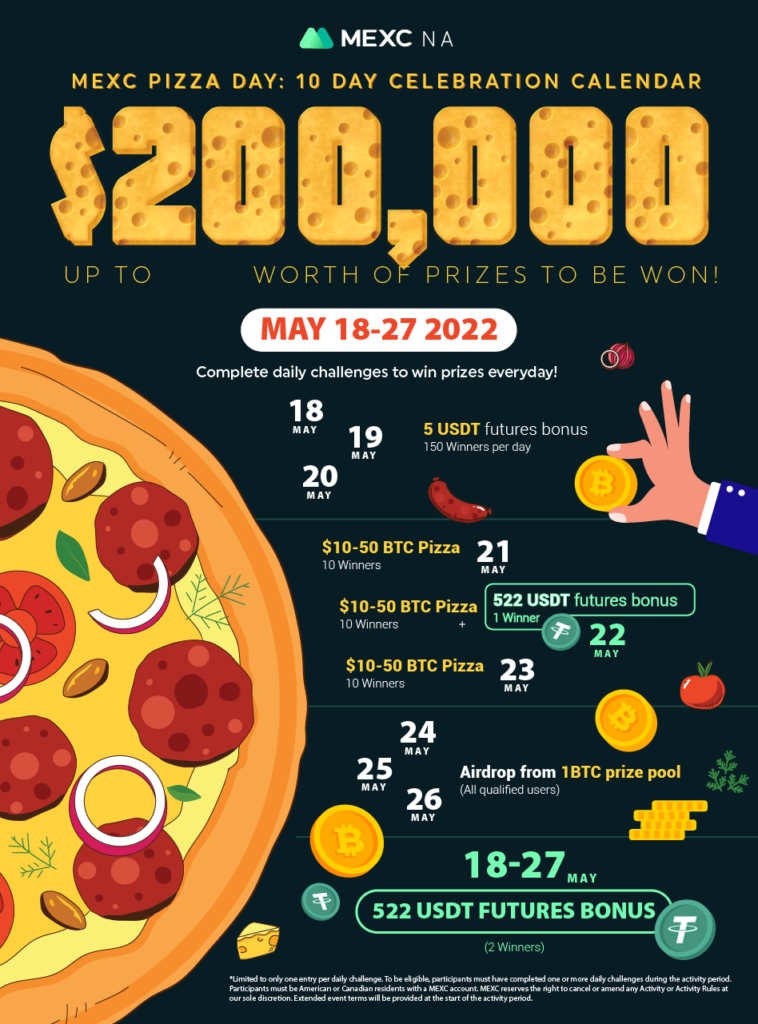 The Bitcoin Journey
Bitcoiners have been looking for reasons to celebrate for as long as the technology has been around. They even celebrate the date of the disappearance of original Bitcoin creator Satoshi Nakamoto, who stepped down as project lead on April 28, 2011. The date has been declared Satoshi Disappear Day.
Bitcoin Pizza Day is a celebration for crypto enthusiasts because just 12 years ago, most people thought that Laszlo Hanyecz would get the better end of the deal if he gets 2 large pizzas for 10,000 Bitcoins. And it took him 4 days before someone got him the pizzas.
Imagining that level of reluctance is hard for most of the young investors playing with cryptocurrency and that is exactly what the long-term miners, creators, and developers are celebrating.
Bitcoin Pizza Day in 2022
Coming back to today, the famous bitcoin pizza transaction is marked in the cryptocurrency world. Different exchanges hold different promotions on the anniversary day (May 22) to celebrate the transaction. The same transaction today can buy someone a lavish home and a range of luxury products to keep in it.
Last year Bitcoin supporter and promoter Anothony Pompliano started a seven day-long pizza drive to mark the eleventh anniversary. The campaign had 10,000 pizzas offered for sale across ten cities. Every pizza supported the Bitcoin Development Fund launched by the Human Rights Foundation.
The journey may have started with pizza but has now expanded to a range of products that you can buy using Bitcoins. Cryptocurrency can now get you anything from a pizza, or Subway sandwich, to luxury clothes and watches, to paying for utilities, to space travel, to buying cars and real estate. Crypto users can also pay their favorite charities with bitcoin and do their good deeds for the day.
MEXC Celebrates Bitcoin Pizza Day
Bitcoin pizza day now has many enthusiasts joining in to mark the day with several users launching pizza-related non-fungible tokens (NFT) to commemorate the day. Competitions to celebrate Bitcoin, pizzas, and cryptocurrencies have grown over the past 12 years.
So for 2022 MEXC is celebrating bitcoin pizza day for 10 long days giving North American (American and Canadian) users a chance to win up to $200,000 BTC
MEXC is holding daily challenges and you can win everyday so follow our official social media channels like Twitter, Instagram and facebook everyday at 10:00 AM UTC to know your daily challenge.
From joining bonuses to pizza prizes to airdrops, prediction prizes to prize pools there's something for everyone. It'll be a smart move to get your accounts activated to be able to avail any campaign offering that grabs your fancy.
Interested in more MEXC updates and news? Visit our special blog section for MEXC Events and happenings!
Start your travel on MEXC Global