Key Points:
Robinhood plans EU crypto trading service following UK brokerage launch.
Robinhood's Q3 earnings report shows dedication to global expansion.
Platform diversifies with new products amid crypto revenue dip.
The trading app Robinhood has announced its intention to enter the European market, revealing an upcoming launch of its cryptocurrency trading services within the EU. This move is a key aspect of Robinhood's growth strategy, as reflected in its latest earnings report from the third quarter of 2023. The company has set its sights on rolling out these services following the inauguration of its UK brokerage operations, expected in the near future.
Despite a downturn in cryptocurrency transaction revenue, which saw a 55% drop from the previous year to $23 million in Q3 2023, Robinhood is not shying away from the crypto sector. Cryptocurrency dealings now constitute a mere 12% of the company's total transaction revenue. Nevertheless, Robinhood is keen on enhancing its international user base by introducing crypto offerings to new markets.
Robinhood's Strategic Move Amidst Crypto Market Fluctuations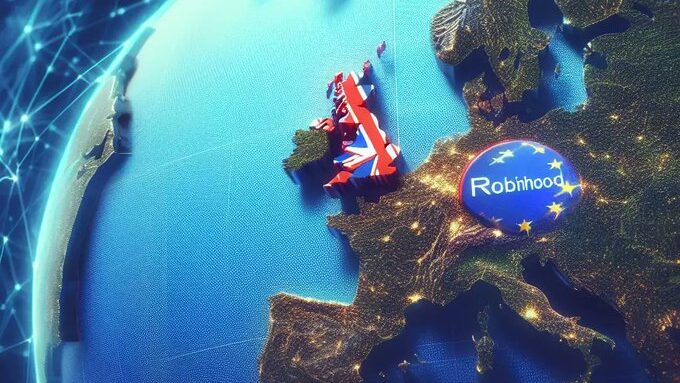 CEO Vlad Tenev emphasized the company's ongoing commitment to innovation and market expansion. "Looking ahead, we remain focused on providing industry-leading products that serve far more customers' financial needs, gaining market share, expanding internationally, and continuing to change the industry for the better," Tenev stated.
Despite a decrease in cryptocurrency transactions, Robinhood has experienced notable growth in other financial areas. The company enjoyed a dramatic increase of 96% in net interest revenue, totaling $251 million, buoyed by advantageous interest rates and increased assets that earn interest. This boost played a significant role in the company's overall revenue, which rose 29% from the previous year's third quarter.
Expanding Services and Products for Increased Engagement
Regarding account growth, Robinhood welcomed 360,000 new funded accounts in the third quarter, raising the total to 23.3 million. This growth comes in contrast to a 16% decrease in monthly active users, which now stands at 10.3 million.
To drive user engagement, Robinhood is enhancing its current offerings, including Gold subscriptions, extended trading hours, and options for retirement accounts. Additionally, the company is looking to diversify its product lineup with the upcoming introduction of futures trading.
Conclusion
As Robinhood gears up for its European venture, it acknowledges the complexities of adhering to varied regulatory standards across different nations. Yet, the company is optimistic that its mobile-centric platform will resonate with new customers in the international arena despite the current unpredictability of the crypto market.
Personal Note From MEXC Team
Check out our MEXC trading page and find out what we have to offer! There are also a ton of interesting articles to get you up to speed with the crypto world. Lastly, join our MEXC Creators project and share your opinion about everything crypto! Happy trading! Learn about interoperability now!
Join MEXC Creators Project or start your travel on MEXC
This article was contributed by our guest writer. Want to share something unique with over 10 million users? Check out the MEXC Creators program.