Creepz Genesis is the work of content creators, digital artists, and NFT enthusiasts called the Cold Blooded Creepz. With over four official NFT collection releases, Cold Blooded Creepz proves to be one of the most successful NFT launches in the past year.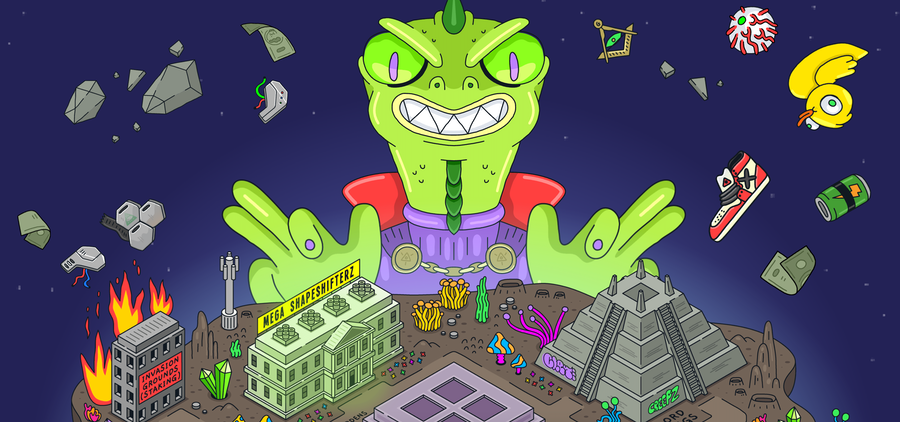 It presents itself in a "lore" wherein an intelligent mutant lizard race led by the Overlord plans to invade the entire planet earth by building an army of lizard Creepz. To do so, one must earn many $loomi coins—the currency used in-game as part of its play-to-earn strategy. This article explores the core features of Creepz Genesis and how one can purchase Creepz Genesis by first purchasing ETH as a base token on the MEXC Exchange.
The Creators of Creepz Genesis
The Cold Blooded Creepz team (also called as CBC) comprises ten members. However, limited information could be found on the people behind the scenes as they assumed an alias to maintain anonymity. There are two founders on the board known as "Dom3xyz" and "Sharkbait," working on blockchain projects. Meanwhile, "Psychrome" is responsible for the design and aesthetics of the NFT collection.
Creepz Genesis Utilities
As the genesis release for the entire Cold Blooded Creepz ecosystem, the Creepz Genesis NFT characters have 800+ traits. About 11,111 of these characters are circulated in the metaverse and allow you to earn 1,500 $loomi per day.
$Loomi coins are part of the CBC token structure, which players could use to their advantage to further their progress within the ecosystem. It can be used for future drops, upgrades, and promising character releases. These coins are precious should you want to survive in the ultra-competitive gameplay structure in this world.
The token will also serve as the gateway to live and virtual experiences, such as parties and exclusive merch.
Recent Creepz Genesis price & performance
In the last 30 days, the cheapest Creepz Genesis NFT sales were below $1444, and the highest sales were for over $2517. The median price for a Creepz Genesis NFT was $1735 in the last 30 days. As per 13th October 2022, there is a total of 11111 NFTs minted, held by 584 unique owners, and has a total market cap of $17,176,633.16.
How to buy Creepz Genesis?
To purchase Creepz Genesis, users can either purchase first on MEXC Exchange following the steps listed below:
Log in to your MEXC account and click [Trade](ETH). Click on [Spot].
Search "ETH" using the search bar to see the available trading pairs. Take ETH/USDT as an example.
Scroll down and go to the [Spot] box. Enter the amount of ETH you want to buy. You can choose from opening a Limit order, a Market order, or a Stop-limit order. Take Market order as an example. Click [Buy ETH] to confirm your order. You will find the purchase in ayour Spot Wallet.
After purchasing your desired amount of ETH, you can send them to your Metamask wallet and then purchase Creepz Genesis on OpenSea.
Interested in buying NFTs? We have more!
MEXC not only provides access to the world's most popular tokens and new GEMs, but also offers unique assets & tools! Visit the hot projects section to find more hot tokens that were listed already. If you would like to know more about crypto trading itself, visit MEXC Academy.