–Follow MEXC Research to discover early-stage projects and learn the latest dynamics of the crypto market.
*The dollar sign in this article refers to US dollars.
According to MEXC Research, from August 29 to September 4, 2022, 23 projects in the Web3 space raised a total of $440 million. Among them, Metaverse, NFT and GameFi projects have raised $ 184million; DeFi and Web 3 projects have raised $76million; The infrastructure projects raised $ 33million financing; Blockchain fund completed financing of US $147 million.
Last week, there are several events worth noting:
MEXC launched Yugapetz NFT whitelist aridrop event.
MEXC offered a Zero Maker Fee promotion for Spot Trading (excluding ETF trading).
Fan tokens had incredible increase due to the coming World Cup . The top five gainers from August to date are POR (397.62%), SANTOS(226.15%), PORTO (174.09%), LAZIO (146.52%) and OG (85.68%).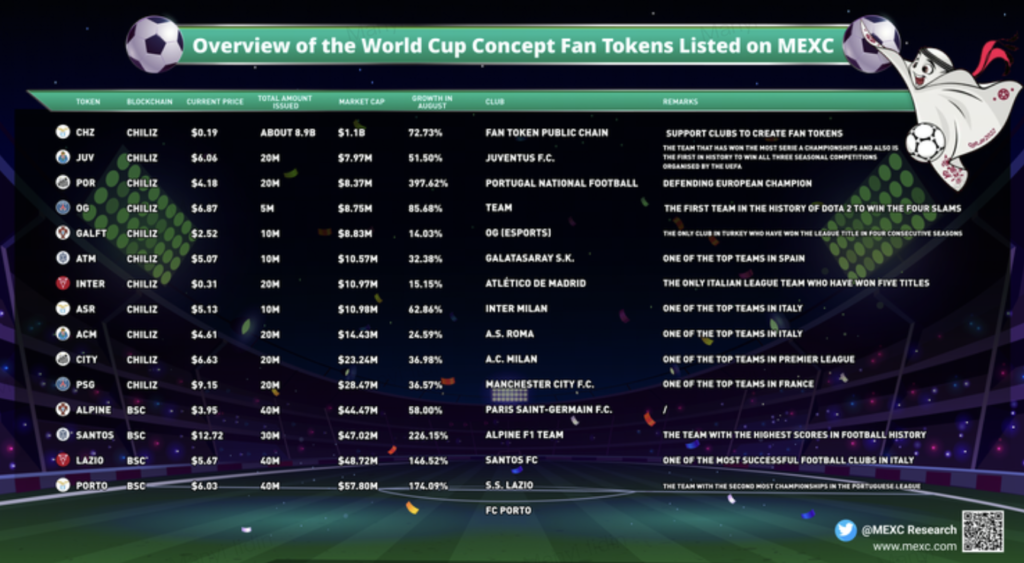 Metaverse & NFT & GameFi
1. PROOF announces a $50 million Series A ,led by a16z
PROOF announced it has raised a $50 million Series A led by a16z crypto with participation from Seven Seven Six, which previously invested $10 million in PROOF, True Ventures, Collab+Currency, Flamingo DAO, SV Angel, and VaynerFund.
PROOF is creating Moonbirds DAO, which will oversee licensing of the Moonbirds name by granting trademark rights and deploying capital to projects that further the Moonbirds mission.
2.NFT security startup Tokenproof raises $5M to keep JPEGs safe from scammers,led by Penny Jar capital
Non-fungible token (NFT) security startup Tokenproof said it raised $5 million in seed funding, led by Penny Jar capital, for its solution to the scourge of scams draining crypto collectibles.
Tokenproof, a token-gating platform, is building a way for NFT holders to prove they own their Bored Apes without putting that high-value NFT at risk. That utility is growing ever more important as real-world opportunities for holders to score ownership benefits – attending events, for example – explode, said CEO Alfonzo Olvera.
3.Limit Break raises $2M over two rounds to build Web 3 MMO games, led by Josh Buckley、Paradigm and Standard Crypto
NFT project DigiDaigaku's parent company Limit Break announces a raise of $2M over two rounds to build Web 3 MMO games, led by Josh BuckleymParadigm and Standard Crypto,participated by FTX,Coinbase,Positive Sum,Shervinator and Anthos Capital.
4.Web3 game developer Xterio raises $40 million in SAFT sale,led by FunPlus,FTX and XPLA
Xterio, a web3 game developer and publisher, has raised $40 million in a funding round co-led by video game developer FunPlus, venture capital firm Makers Fund, FTX Ventures and blockchain gaming platform XPLA. Other investors in the round included Animoca Brands, HashKey, Foresight Ventures, Infinity Ventures Crypto and Matrix Partners.
5.HQ Trivia's NFT reinvention scores $7 million seed round,participated by ParaFi and Uniswap
Internet Game, a project that has described itself as 'HQ Trivia meets NFTs,' has raised $7 million in a seed funding round.
Investors in the seed round include HQ Trivia co-founder Rus Yusupov, ParaFi Capital, Dragonfly Capital, Dephi Digital, Uniswap Ventures, Collab+Currency, Gmoney, Milk Road, Ready Player DAO and Zedd, co-founder of Magic Eden.
The project reinvents HQ Trivia as Internet Game, a crypto-based twist on the original model, the company told The Block.
DeFi & Web 3
1.DeFi Platform RedStone Raises Nearly $7M to Improve Connectivity Between Blockchains, Real-World Data,led by Lemniscap
DeFi oracle platform RedStone has raised nearly $7 million to develop a faster, cost-efficient cross-chain oracle for decentralized finance protocols.
Lemniscap led the seed funding round with support from Coinbase Ventures, Blockchain Capital, Distributed Global, Lattice, Arweave, Bering Waters, Maven11 and SevenX Ventures. RedStone, which currently delivers data feeds to more than 30 blockchains, including Ethereum, Avalanche and Polygon, will use the funds to expedite the rollout of its latest product suite with the aim of improving connectivity between blockchains and real-world data.
2.GammaX Raises $4M to Launch Crypto Derivatives Exchange on Ethereum Layer-2 Solution,led by StarkWare and Dexterity
GammaX, a Singapore-based company building a new high-performance hybrid crypto derivatives exchange, announced the closure of a $4 million seed round, backed by the likes of StarkWare, the developer of zero-knowledge proof technology, and liquidity provider Dexterity Capital.
Other investors in the round include Alphanonce, Cobo, Genesis Trading, Kyber, Ledger Prime, Matrixport, Profluent, Uncorrelated, and 01Node, GammaX said in an announcement shared with Decrypt.
3.Luabase raises $4.5M to get reliable web3 data at scale from investors including Costanoa Ventures and 6th Man Ventures.
Luabase, a start-up that is making blockchain data easier to use, has raised $4.5 million from Costanoa Ventures, 6th Man Ventures, and the founder of Thirdweb, a platform for developers to build applications.
Luabase, which coins itself as "the modern data stack for web3," allows users to mitigate the cost of querying large sums of blockchain data with SQL, analyze it in Notebooks and embed the data in various applications via its API.
4.Pantera leads $13 million round for creator-owned livestreaming platform Stacked
Stacked, a livestreaming platform owned and operated by its community, has closed a $12.9 million Series A fundraising round led by Pantera Capital.Other investors include Z Venture Capital and GFR Fund, according to a release on Wednesday.
Stacked started as a watch party app and found success in Latin America. The startup then pivoted towards web3 streaming more broadly after seeing a gap in the market.
5.Koop protocol has raised $5 million in funding led by 1confirmation and Variant Fund
Koop, a web3 protocol focused on the creator economy, announced its public launch and $5 million in seed funding.
Variant Fund and Nick Tomaino's venture capital firm 1confirmation co-led the round, with Palm Tree Crew, Day One Ventures, Ethereal Ventures, DeFi Alliance, Volt Capital and others participating. Angel investors including crypto influencer Cooper Turley, former Coinbase CTO Balaji Srinivasan and ex-Sequoia partner Liu Jiang also backed the round.
Infrastructure
1.GoGoPool raises $5 million to provide decentralized staking on Avalanche,co-led by Framework Ventures and Coinfund.
GoGoPool, a decentralized staking protocol on Avalanche, raised $5 million in a seed round co-led by Framework Ventures and Coinfund. Other investors in the round include Avalaunch, Republic Capital and Flow Traders.
Staking protocols are vital in helping to secure proof-of-stake blockchains. They enable individuals to stake their tokens to help verify transactions on the network and, in return, to receive rewards.
2.Sei Labs raises $5 million seed round led by Multicoin Capital
Market makers Flow Traders and Hudson River Trading have backed Sei Labs, a crypto startup founded by Goldman Sachs and Robinhood Markets Inc. veterans that is developing a blockchain aimed at speeding up decentralized finance transactions.
The investments are part of a $5 million seed round led by Multicoin Capital, with participation from Coinbase Ventures and GSR, New York-based Sei Labs's founders said on Wednesday. Backers, which also include Delphi Digital and Tangent, will receive a mix of equity and future tokens from the platform.
3.Solana automation network Clockwork raises $4 million,co-led by Multicoin Capital and Asymmetric
Clockwork, a decentralized automation network for Solana, announced the closure of a $4 million seed round co-led by Multicoin Capital and Asymmetric.
Solana Ventures also participated in the round, according to a release on Tuesday. El Cap Ventures is also an investor and participated in a prior round, according to a Clockwork spokesperson.
Blockchain Funds
1.Fair Square Lab attracts 10 billion($7M) investment from Korea Information Certification and Hanmi Global
Blockchain company Fairsquare Lab announced on the 2nd that it has attracted 10 billion won (7M US Dollars) worth of Series A investment from Korea Information Certification and Hanmi Global, a subsidiary of Dow Kiwoom Group.
Fairsquare Lab is a blockchain technology company with expertise in incubating Defi (Decentralized Finance) and Web3 services. It possesses technologies such as virtual asset wallet, trading, node operation, decentralized exchange (DEX), and swap, and is promoting commercialization by applying Web3 concepts and technologies to various areas such as commerce and media.
2.Temasek to Lead $100 Million Funding for Crypto Landlord Animoca
Singapore state investor Temasek Holdings Pte. is joining a $100 million funding for Animoca Brands Corp., betting on one of crypto's most prolific investment houses even after a $2 trillion market meltdown. Temasek will lead the financing through convertible bonds.
About MEXC
MEXC is the world's leading cryptocurrency trading platform, providing one-stop cryptocurrency trading services for spot, ETF, futures, Staking, NFT Index, etc.,and serving more than 7 million users worldwide. The core team has a solid background in traditional finance, and has professional financial product logic and technical security guarantees in terms of cryptocurrency products and services. In October 2021, MEXC Global won the title of "Best Cryptocurrency Exchange in Asia". Currently, it supports the trading of more than 1,400 cryptocurrency, and is the trading platform with the fastest launch speed for new projects and the most tradable categories. Visit the website and blog for more information, and follow MEXC Global and MEXC Research.
Start your travel on MEXC Global