MEXC Global's MEXC Talk Show series "MEXC Talk Show – The World Cup is Approaching. Can Sports Fan Tokens Bring Opportunities for the sports market ?" Twitter Space event was held on August 25 (ET) at 11:00. In this roundtable, we invited professional traders and early practitioners in the cryptocurrency industry to discuss Will the WorldCup2022 bring opportunities to the Sports Fan Token.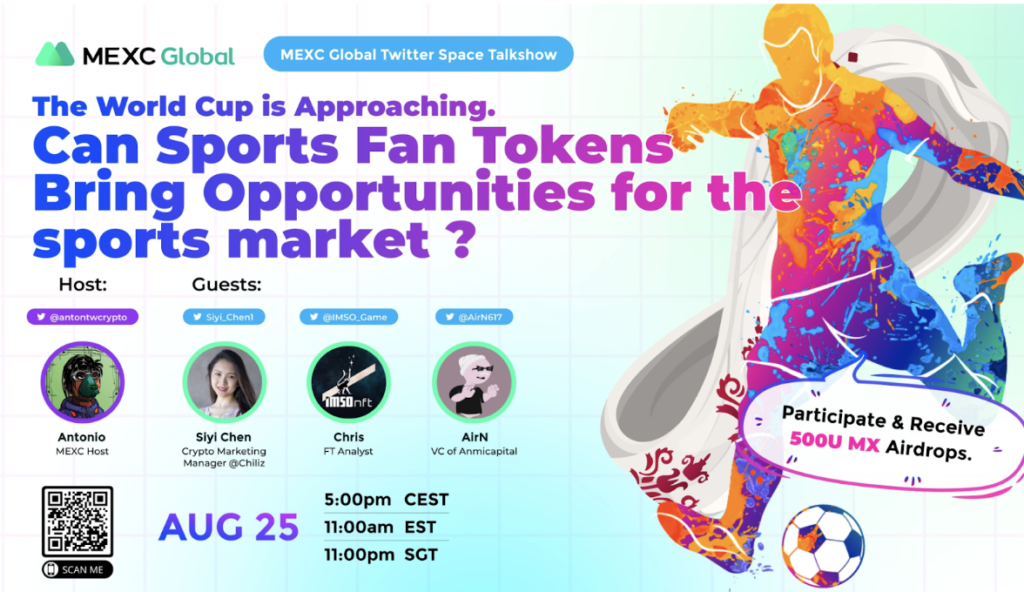 Several guests in this episode were early blockchain practitioners who had experienced several rounds of bull and bear markets in the cryptocurrency industry. They provided our audiences with plenty of investment insights in the MEXC Talk Show.
GUEST INTRODUCTION:
Siyi Chen: Crypto Marketing Manager of Chiliz
Chris: FT Analyst
AirN: VC of Anmicapital
Time:
August 25th, 11:00 (EST)
Venue: MEXC GLOBAL Twitter Space
How to Participate:
Users were in after they completed every requirement stipulated in the event link!
Reward Distribution:
【10ppl * $10】10ppl will be randomly selected from those who have completed the gleam tasks to receive 10USDT MX airdrop.
【20ppl * $15】20 new MEXC users (users who completed the first transaction) will be randomly selected among those who completed the gleam task, each will be rewarded with 15USDT MX.
【5ppl * $20】During the Twitter Space Q&A session, 5 users who ask questions will be selected, and each will be rewarded with 20USDT MX.
The Winners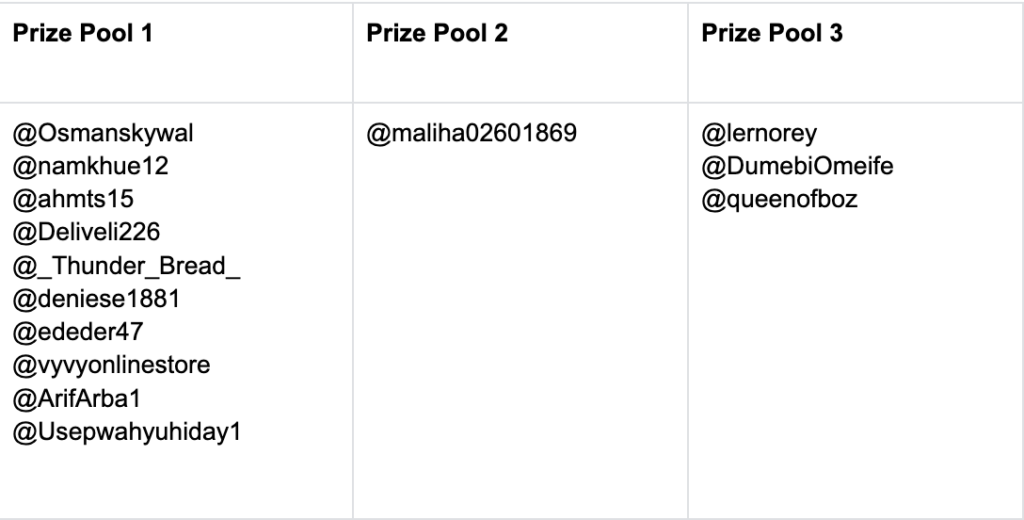 About MEXC Global
Established in April 2018, MEXC Global is a digital asset trading platform with over 7 million users, which offers users one-stop services, including spot, margin, leveraged ETFs, derivatives trading, and staking services. MEXC Global believes in "User first, service foremost" and creates a community where users can access and trade the latest best-in-class digital asset across the world. For more information, please visit the website. Follow MEXC Global on Twitter and Telegram.
Start your travel on MEXC Global