–Follow M-Research to discover early-stage projects and learn the latest dynamics of the crypto market.
*The dollar sign in this article refers to US dollars.
According to M-Research, from December 05 to December 11, 2022, 27 projects in the Web3 space raised a total of $145.7 million. Among them, Metaverse, NFT and GameFi projects have raised $28.4million; DeFi and Web 3 projects have raised $92.15million; The infrastructure projects raised $25.15million financing.
Last week, there were several events worth noting:
MEXC launched the World Cup Futures Individual Trading Competition.The participation time is from 00:00 on November 25th to 23:55 on December 18th (UTC).Users can unlock and share a total prize pool of 100 BTC, share a single-day prize pool of at least 13,500 USDT, and share a daily prize pool of 100,000 USDT turntable rewards.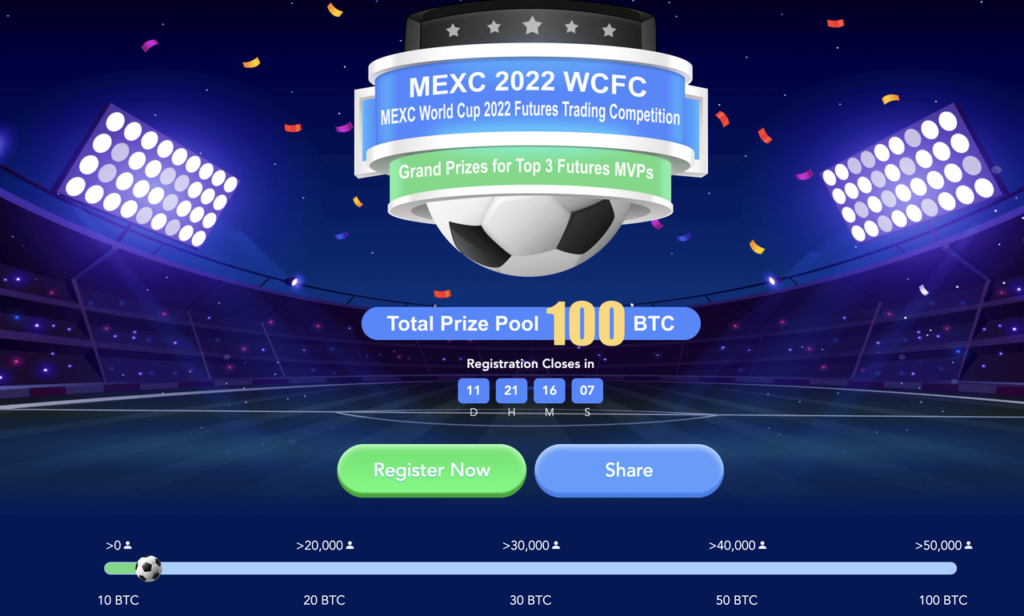 I. Metaverse & NFT & GameFi
NFT lending agreement UnUniFi Protocol completes $1.5 million in seed round, led by Gumi Cryptos Capital
Cosmos ecological NFT lending agreement UnUniFi Protocol completed a $1.5 million seed round of financing, led by gumi Cryptos Capital, with participation from Coincheck, Hyperithm, MZ Web3fund, Arriba Studio and gumi group.
The funds raised by UnUniFi Protocol will be used for continuous development and further scalability. It is planned to launch the NFTFi service with NFT mortgage function in Q4, and release the inter-chain income aggregator for automatic DeFi income, and enable the Cosmos IBC function at the same time.
Gaming community platform Earn Alliance completes a $4.75 million seed round, led by CoinFund and Fabric Ventures
Earn Alliance, a Hong Kong-based Web3 game community platform, announced the completion of a US$4.75 million seed round of financing, co-led by CoinFund and Fabric Ventures, Blockchain Coinvestors, Animoca Brands, Stake Capital, Athena Ventures, NLS Ventures, MAD World Ventures, Guild Alliance and several angel investors followed suit.
The Alpha version of the Earn Alliance platform is scheduled to launch on December 15th of this year. Earn Alliance is currently building a community platform with tools and features including Web3 games, game smart news feed, soul badge and quest system, and articles.
Game public chain Oasys completes a new round of strategic financing, Galaxy Interactive participated
The game public chain Oasys announced the completion of a new round of strategic financing, Galaxy Interactive, Korean game giant Nexon, popular game franchises MapleStory and Dungeon Fighter Online, as well as Presto Labs, MZ Web3 Fund, Hyperithm, Jets Capital, Jsquare, AAG, YJM Games And ChainGuardians and others participated in the investment.
The core goal of this round of strategic financing for Oasys is to strengthen its network of validators while expanding its pool of game partners to enhance the Oasys ecosystem and continue to create more opportunities for the development of Oasys and its different stakeholders.
II. DeFi & Web 3
DeFi derivatives protocol Perennial raises $12 million,co-led by Polychain Capital and Variant
Perennial, a decentralized finance protocol for trading derivatives, raised $12 million in a seed funding round.Polychain Capital and Variant co-led the round, with Archetype, Coinbase Ventures, Scalar Capital, Robot Ventures and others participating. The project has launched its mainnet.
Perennial is a derivatives protocol that offers a super simple trading experience, a flexible and capital-efficient model for providing liquidity, and a developer primitive that makes composing DeFi derivatives easy
Uniswap-based DeFi protocol Panoptic raises $4.5 million,led by Gumi Cryptos Capital
Panoptic, a Uniswap-based decentralized finance protocol for trading perpetual options, raised $4.5 million in a seed funding round.Gumi Cryptos Capital led the round, with Uniswap Labs Ventures, Coinbase Ventures, Jane Street, Avalanche Foundation's Blizzard fund and others participating.
The funding was secured via an equity plus token warrant arrangement.
a16z back Web3 video platform Shibuya in $7M fundraising
Shibuya, announced it has raised a $6.9 million funding round led by venture capital firms a16z Crypto and Variant. The round, which also attracted celebrity investors like Paris Hilton and Kevin Durant, values the company at $50 million.
Shibuya aims to use Web3 services to help filmmakers fundraise and distribute films through fans without relying on the Hollywood production system.
Decentralized recruitment network Outdefine completes $2.5 Million seed funding, co-led by Jump Crypto and TCG Crypto
Crypto startup Outdefine has raised $2.5 million to help web3 talent find jobs, at a time when the industry is grappling with widespread layoffs.
The seed funding round is co-led by Jump Crypto and TCG Crypto. Other investors include Big Brain Holdings, Formless Capital and Blocore, according to a company release. They will receive combined equity and token warrants.
Liquid Access, a Web3 SaaS platform, completes a $3 million seed round led by Flintera
Liquid Access, a Web3 digital asset software-as-a-service (SaaS) platform, announced the completion of a $3 million seed round led by Flintera.
Liquid Access' SaaS platform will help brand organizations and institutions create and manage Web3 digital assets, integrate them into their own businesses, and will also help institutions transfer existing loyalty programs to the chain.
III. Infrastructure
LiquidFactory completes $1.25M financing,led by KuCoin Labs and Republic Capital
LiquidFactory announced the completion of $1.25 million in financing, led by KuCoin Labs and Republic Capital, with participation from IDG, Dinghui, Ascensive Assets, Lapin Capital, and Acheron.
Funding from this round will be used to support LiquidFactory's vision of unlocking liquidity for DeFi, GameFi, and NFTs.
Binance Labs Leads Private Round II for GoPlus Security
According to Binance's official blog, Binance Labs announced that it has led the second round of private placement financing for Web3 security infrastructure GoPlus Security, but did not disclose the specific financing amount.
GoPlus Security is a leading Web3 security infrastructure provider that covers most of the major blockchain networks with multidimensional risk detection to build a safer Web3 environment.
IV. Hot News
1. Ethereum developers target March 2023 for release of staked Ether
Ethereum developers determined that the network's next hard fork, called "Shanghai," will have a target release time frame of March 2023. This upgrade will include code known as EIP 4895 that will allow Beacon Chain staked ether (ETH) withdrawals.
2. Sui Network will launch Wave 2 testnet early next year, focusing on token economics
With Testnet Wave 1 the Sui community took its first step on the journey of building a healthy and vibrant network. This effort paved the way for Wave 2, which will focus on epoch management, tokenomics, and stake delegation. Wave 2 is expected to launch this next Testnet Wave in early 2023.
During the operation of Sui Testnet Wave 1, network tests such as Genesis, Monitoring, Communication, Mitigation and Updates were completed successively.
APE staking system has been launched and the pre-deposit period has been opened
Horizen Labs, a partner selected by the ApeCoin Foundation, announced that the APE staking system has been launched and the pre-deposit period has been opened.The staking system includes single currency staking of ApeCoin, and co-staking with BAYC, MAYC or BAKC. There are a total of 4 staking pools. Each staking pool provides different levels of rewards. The accumulation of staking rewards begin on December 12.
Since the opening of APE Staking for 12 hours, nearly 4 million APE (worth more than $15.7 million) have been staked, of which more than 50% of the BAYC Pool staking.
The highest gain of APE(APE/USDT) on MEXC is 63.9% within a month.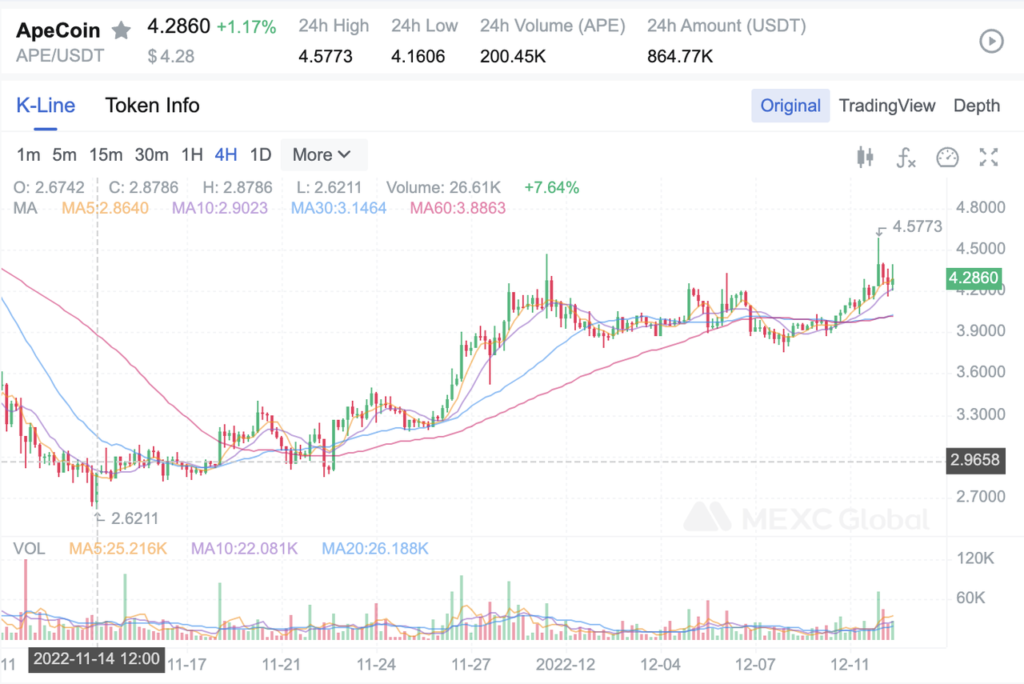 1/3 of the Tokens in Polygon's previous $450 million financing sale have been unlocked
Polygon said in a tweet that one-third of the $450 million in financing completed through Token sales last year had been unlocked and distributed two weeks ago.
Alameda, Software Vision Fund, Red Shirt Capital India, DCG, etc. participated in this financing, among which Alameda invested $50 million .
Optimism announces its second retrospective public product funding round
Optimism announced its second retrospective public product fundraising round, distributing 10 million OP in January 2023 to fund public products that support the development and usage of the OP Stack.
The scope of application includes software for building or deploying OP Stack, helping builders create applications on the Optimism mainnet, spreading the principles of Optimism, etc.
About MEXC:
MEXC is the world's leading cryptocurrency trading platform, providing one-stop cryptocurrency trading services for spot, ETF, futures, Staking, NFT Index, etc.,and serving more than 10 million users worldwide. The core team has a solid background in traditional finance, and has professional financial product logic and technical security guarantees in terms of cryptocurrency products and services. In October 2021, MEXC Global won the title of "Best Cryptocurrency Exchange in Asia". Currently, it supports the trading of more than 1,700 cryptocurrency, and is the trading platform with the fastest launch speed for new projects and the most tradable categories. Visit the website and blog for more information, and follow MEXC Global and M-Ventures & Labs.