In this Telegram AMA recap, you'll find insights about the OwlDAO project. In an event hosted by Iris from MEXC Global, you will meet Emily Palacios, Marketing Chief at OWLDAO.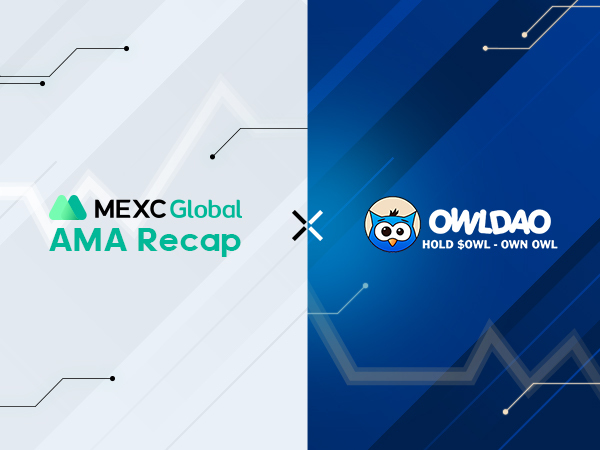 Introduction:
Hi Everyone and Thanks Iris for the invitation! I'm Emily and at the moment I'm the marketing chief of OWLDAO.
I'm very thrilled to be here today sharing a little bit more about our project.🥳
Website: https://owldao.io/
Certik Audit: https://www.certik.com/projects/owl-dao
Twitter: https://twitter.com/OWLDAOio
Telegram: https://t.me/owlDAO
Questions from the community:
Question 1:
Iris: What is OWLDAO? Can you share with us more in detail?
Emily: OwlDAO is a Multi-Chain DAO that joined the crypto scene in 2021 to become the Leading iGaming solution for Web 3.0.
The DAO helps other projects build their own Defi gaming suite with over 3000+ casino games.
Question 2:
Iris: What triggers you to launch OWLDAO? What are some of the real-world problems/ pain points that OWLDAO aims to solve?
Emily: The growth of Web 3.0 has witnessed the creation of countless innovative micro-industries, and blockchain-based gaming has been one of the fastest-growing industries in the crypto space.
When markets are not in favorable conditions, investors seem to lose interest in some of the most common activities such as staking, liquidity mining, and Yield farming.
OwlDAO Provides DeFi projects the chance to participate in the GameFi ecosystem with our Casino Solutions.
Question 3:
Iris: What is the role of the $OWL token in OWLDAO? Would you tell us more about its tokenomics?
Emily: Well, the DAO Shares a portion of its revenue to the OWL token and rewards holders in the form of buybacks and Staking.
The contribution is for buyback and sponsoring the OWL staking pool each month.
$OWL is a cross-chain token. Users can freely bridge $OWL token via OWL Game website.
$OWL token charges a 10% transfer fee, all the tax will be used for auto liquidity providing.
Buy back and burn is done via the monthly contribution by owl.games casino
2. Add liquidity is automatic – there is a 10% tax rate on the transfer. So the token contract itself will store the tax there. Once the tax amount in the contract hits a certain amount, it will sell 100k owl into BUSD and add 100k owl + the BUSD for liquidity.
Users can check out all the contributions made so far by going to www.owldao.io /stats
Question 4:
Iris: Are there any exciting news or updates with regards to OWLDAO that you would like to share with the users?
Emily: Sure, lately we've been expanding the exposure of our Token OWL among different markets, we've had the great pleasure of starting our exchange listing journey with MEXC Global, and we will be increasing our listing catalog throughout the year.
Gaming-wise, we will be incorporating new and exciting PvP Games where users can play among themselves and create tournaments with their favorite currencies as prizes.
Question 5:
Iris: If you were to summarize your project in ONE word, what would it be? Why?
Emily: Revolution
Cause that's what we are doing to the Gambling industry with the help of Web 3.0. By innovating the aspects of traditional casinos and creating a new type of environment.
Gambling has been around for centuries and we believe we are the next step in the way of the gambling revolution.
thanks, Emily! I believe the community has a clearer idea of what OwlDAO is and what you do.
Free-asking Session
Q1. Can you list 1-3 killer features of this project that makes it ahead of its competitors? What is the competitive advantage your project has that you feel most confident about? @EmEmPalacios
Emily :
Great question,
1) All of our games are from Renowned Game providers with all certifications and fully experienced to make sure all games are fair.
2) The huge amount of tokens options to deposit that range from USDT, USDC BTC, to community tokens such as APE, PolyDoge the list is about 49 tokens available for using.
3) The benefits players will get by using the OWL token to play our games.
Q2. Do you have any plan for implementing an NFT on your project? Recently many NFT projects are flying, please explain us your project concern on NFT?
Emily :
Our team is working at the moment to include NFTs into our project, we will be focusing on generating NFTs that interact directly with our platform. So you will be able to have our Blue Owl on your wallets. 😊
Q3. Hello @EmEmPalacios Where can I currently buy Token?
Emily :
At the moment the best choice to buy our token would be on MEXC Global 🥳
Q4. Are you planning to promote your project in countries/regions where English is not good? Do you have a local community for them to better understand your project??
Emily :
Sure, our team is composed of passionate crypto developers and members from all around the world, so we have different language communities such as Japanese, Vietnamese and Portuguese. We will be integrating more communities Throughout the rest of the year.
Q5. Hello, according to the project's roadmap – what are your most important next priorities?
Emily :
Our main goal at the moment is to expand the adoption of the OWL token and continue to create great partnerships with other projects to offer our solutions.
Trying to find MEXC AMAs recaps?
It's easy! Explore them in a special section of our MEXC Global blog. Find insights for other recently listed projects at MEXC like OwlDAO.
Start your travel on MEXC Global