–Follow M-Research to discover early-stage projects and learn the latest dynamics of the crypto market.
*The dollar sign in this article refers to US dollars.
According to M-Research, from November 21 to November 27, 2022, 19 projects in the Web3 space raised a total of $291.5 million. Among them, Metaverse, NFT and GameFi projects have raised $185.9million; DeFi and Web 3 projects have raised $16.3million; The infrastructure projects raised $89.3million financing.
Last week, there were several events worth noting:
MEXC completed the brand color upgrade from "Forest Green" to "Ocean Blue",which is in line with the concept of "User First, Transform for Users."
2022 Qatar World Cup started on November 20, MEXC listed Argentine Football(ARG/USDT),fan token of Argentine Football Association, with the highest gain of 132%. MEXC has listed 18 fan tokens ,and created a Fan Token trading zone. Portugal, Argentina, and other national men's football teams and many famous football clubs in Europe have launched their fan tokens.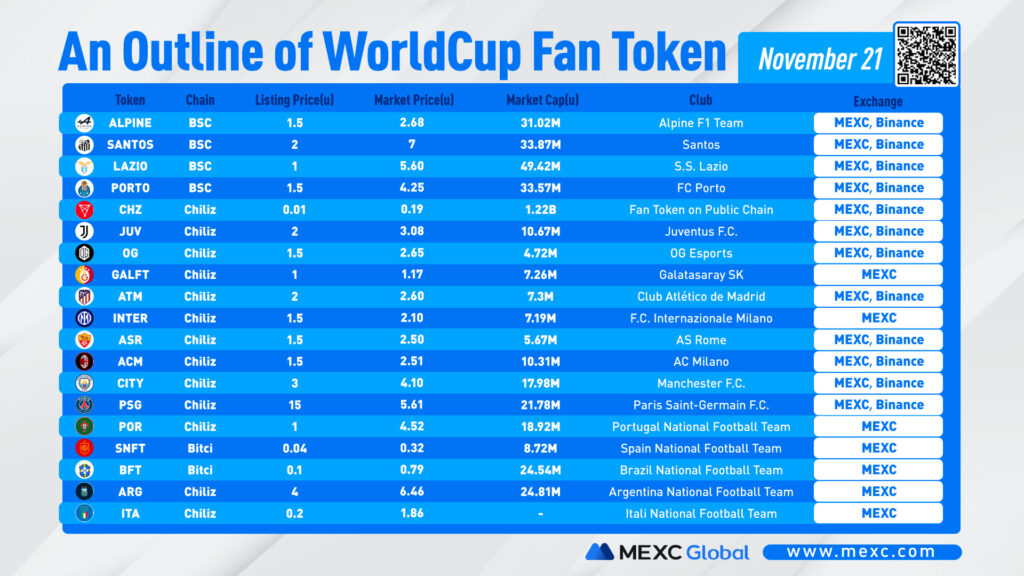 I. Metaverse & NFT & GameFi
nftperp raises $1.7M for Seed Round
nftperp raised a total of $1.7m at the valuation of $17m.Investors include Dialectic, Maven 11, Flow Ventures, DCV Capital, Gagra Ventures, AscendEX Ventures, Perridon Ventures, Caballeros Capital, Cogitent Ventures, Nothing Research, Apollo Capital, Tykhe Block Ventures, OP Crypto, IA, Amplice from Gearbox, Hype.eth, Bharat Krymo from 6529 Capital, Camron from Rarestone Capital, Cristian from Aggero and Danish Chaudhry from FMFW.
nftperp tracks the lowest prices for collections of NFTs, allowing users to go long and short NFTs.
Fenix Games raises $150M for blockchain game publishing
Fenix Games has raised $150 million to create a new kind of publisher for blockchain gaming.The investors include Phoenix Group and Cypher Capital.
Fenix Games plans to acquire, invest and publish both existing games and blockchain games of the future.
Thirdverse raises $15M for Web3 and VR game studio,led by MZ Web3 Fund
Thirdverse announced it has raised $15 million in capital through a third-party funding round so it can make Web3 and virtual reality games.MZ Web3 Fund is the lead investor. This latest round brings the total amount of raised funding for Thirdverse to $33 million.
Tokyo-based Thirdverse will use the money to strengthen its global recruitment of game creators and other professionals. And it will develop new Web3 and VR titles.
Midnight completes a $7.5 million seed round financing,led by Shima Capital
Midnight, a Web3 game development company, announced the completion of a US$7.5 million seed round of financing, led by Shima Capital, with participation from blockchain platform Forte, popular game community Snackclub, guild and modding platform Overwolf, Woodstock Fund, FJ Labs, and Bixin Ventures.
II. DeFi & Web 3
Cosmos-based DeFi protocol Onomy raises $10 million
Onomy, a Cosmos-based decentralized finance protocol, has raised $10 million in a private token funding round.The round was backed by investors including Bitfinex, GSR, Ava Labs, CMS Holdings and DWF Labs.
Onomy aims to converge DeFi and forex markets. Its offerings include a Layer 1 blockchain network and a blockchain bridge, as well as a decentralized exchange called Onex and a non-custodial mobile wallet.
Web3 identity builder Carv completes $4 Million funding, led by Temasek's Vertex Ventures
Carv, a decentralized identity (DID) solution for gamers, completed a $4 million financing at a valuation of $40 million. Temasek's venture capital firm Vertex Ventures led the round. Other investors include EVOS (ATTN Group), SNACKCLUB (Loud Gaming ), Infinity Ventures Crypto, YGG SEA, UpHonest Capital, Lyrik Ventures, Lintentry Foundation, PAKADAO, 7UpDAO and angel investor Aliaksandr Hadzilin (co-founder of NEAR), etc.
Carv is taking a different approach from other all-encompassing DID solutions by zeroing in on the gaming industry first. Its main products include an engine that aggregates gamer data from both web2 and web3 and corrals that information under unique user IDs.
XDAO completes a $2.3 million seed round of financing,
XDao, a startup that helps DAOs expand across different blockchain networks, has raised $2.3 million in a seed round at a $50 million valuation. Investors in the round include Panony, DWF Labs, Telos Foundation and Grizzly Capital, CEO Vlad Shavlidze said in an emailed statement.
The Singapore-based startup enables the creation of decentralized autonomous organizations through its DAO framework. Users can establish a DAO, deposit crypto assets, manage them by voting and directly interact with DeFi protocols.
III. Infrastructure
Encrypted payment infrastructure company XanPool completes $41 million in financing, led by Target Global
XanPool—a cross-border payments infrastructure provider—is accelerating expansion plans across Europe, Middle East, North Africa and Latin America after raising $41 million this year from investors led by London-based Target Global.
XanPool is a payment and liquidity network that enables a non-custodial crypto-to-crypto (C2C) network composed of liquidity providers, including crypto funds, money service operators, and traditional export businesses, whose crypto Loose funds in your wallet, e-wallet, or bank account.
The Ethereum cross-chain bridge Across Protocol completes a financing of $10M, and Hack VC participated
The Ethereum cross-chain bridge Across Protocol completed a financing of US$10 million at a valuation of $200 million. Hack VC, Placeholder and Blockchain Capital participated in the investment.Proceeds from the investment will fuel the development of the cross-chain bridge, further improving capital efficiency and expanding the permissionless relay network.
Polkadot-based protocol t3rn raises $6.5 million,led by Polychain Capital
t3rn, a Polkadot-based blockchain interoperability protocol that aims to facilitate cross-chain transactions, has raised $6.5 million in a strategic funding round.Polychain Capital led the round, with Huobi Ventures, Figment Capital, Blockchange Ventures, Lemniscap and others participating.
t3rn started in 2020 to offer cross-chain transactions across Polkadot's ecosystem and beyond.
IV. Hot News
Celer Network has integrated with zkSync 2.0 testnet On November 21, zkSync released five latest developments in the ecosystem,including cross-chain infrastructure Celer Network has integrated with the zkSync 2.0 testnet, confirming the addition of asset bridging and messaging in zkSync's launch Alpha milestone.
Metamask launches a new NFT pricing feature
Cryptocurrency wallet MetaMask is rolling out a new NFT pricing feature.This feature will allow users to select an NFT and view an estimated price of the NFT's current value using data provided by NFTbank.ai.
dYdX has released an internal testnet, covering leverage, fees and liquidation
On November 22, the decentralized derivatives protocol dYdX announced the completion of the second of the five milestones of dYdX V4 (dYdX Chain): the internal test network.
Currently, dYdX V4 has two permanently running internal blockchain networks, one as a developer testnet and the other as a general purpose testnet, allowing core trading functions including leverage, fees, oracle price updates, hourly funding fees rate and liquidation.
42% of NEAR is staked, with a total of 131 validators
As of November 18, nearly 469 million NEARs were pledged, accounting for about 42% of the total supply.The total number of validators reached 131, an increase of nearly 4% compared to the previous month (126).Among the 131 validators, a total of 15 validators hold 50% of the pledged tokens, and 8 of them hold 154 million NEAR (accounting for 33%). 116 validators hold the remaining 50% of staked tokens.
Devnet 3 of Ethereum scaling solution EIP-4844 will be released on November 30th
On November 25th, Ethereum developer terence.eth tweeted that," We are working closely on rebasing 4844 on top of Capella hardfork, adding all the new networking changes, and integrating the new KZG library. We are excited to kick-off devnet 3 for 4844, which is aimed to launch on Nov 30.Arbitrum is fully supportive of 4844 and a believer in the rollup-centric roadmap. As It will benefit from 4844 by lowering the data gas fee, there's great synergy, and this is a great win."
About MEXC:
MEXC is the world's leading cryptocurrency trading platform, providing one-stop cryptocurrency trading services for spot, ETF, futures, Staking, NFT Index, etc.,and serving more than 10 million users worldwide. The core team has a solid background in traditional finance, and has professional financial product logic and technical security guarantees in terms of cryptocurrency products and services. In October 2021, MEXC Global won the title of "Best Cryptocurrency Exchange in Asia". Currently, it supports the trading of more than 1,400 cryptocurrency, and is the trading platform with the fastest launch speed for new projects and the most tradable categories. Visit the website and blog for more information, and follow MEXC Global and M-Ventures & Labs.
Start your travel on MEXC Global